Casio announced new MT-G with new design featuring multi-layer carbon
Casio and G-SHOCK fans alert! Casio announced new MT-G with new design featuring multi-layer carbon! The latest additions to the G-SHOCK line-up of shock-resistant watches, the new MTG-B2000YBD and MTG-B2000XD are part of the MT-G line of watches that feature a construction that makes the most of the properties of both metal and resin, along with a bezel component made of multi-layer carbon.
The new G-SHOCK MTG-B2000YBD and MTG-B2000XD are based on the MTG-B2000 model, which features a Dual Core Guard structure that gives added strength while highlighting the appeal of the materials. The new G-SHOCK watches employ a newly developed bezel frame, the top is made of carbon materials, all these create a beautiful exterior design while also reducing weight.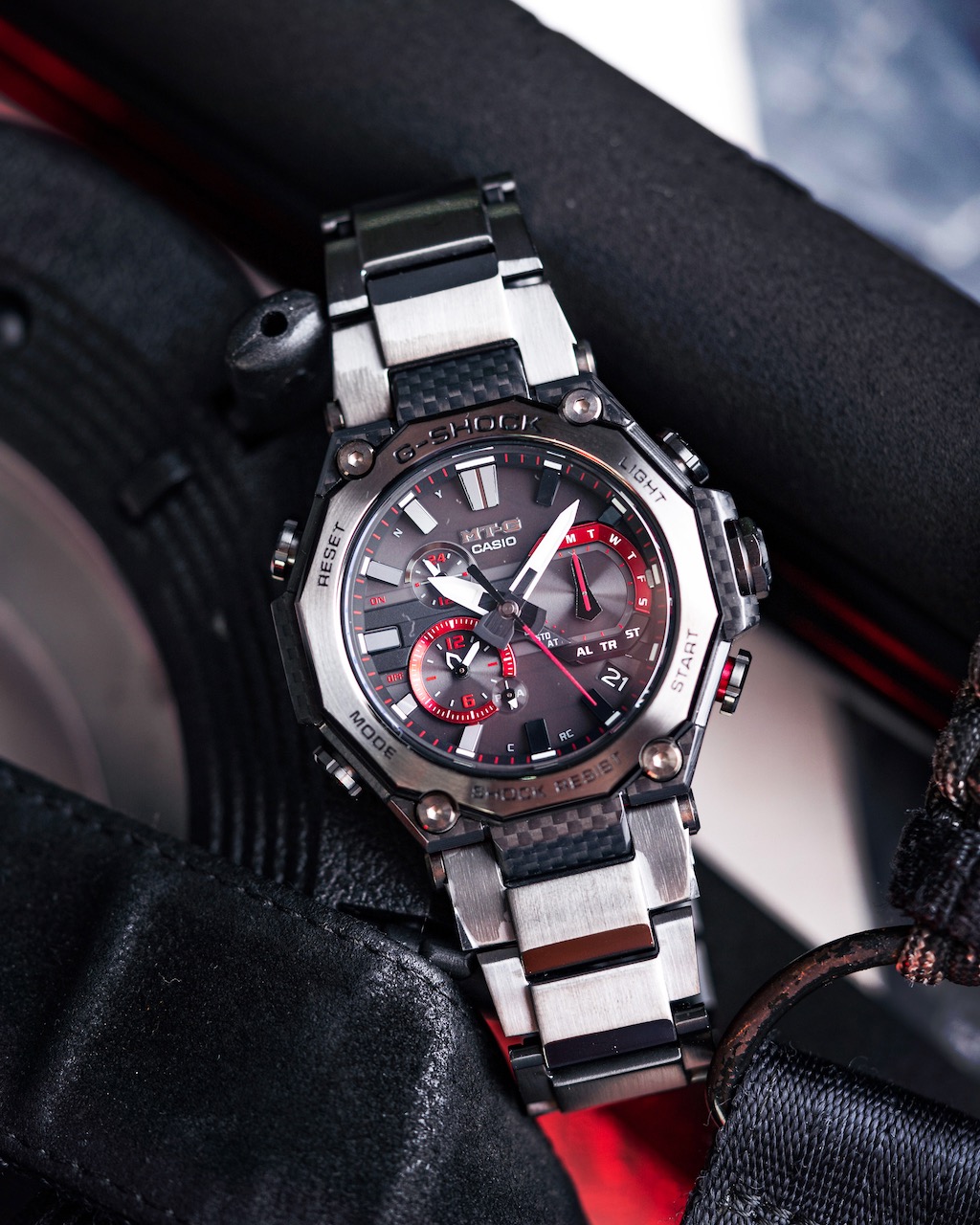 For the MTG-B2000YBD, this new watch has a bezel frame at its sides that is formed by layering and machining multiple carbon and fibre glass sheets. The new bezel frame is 77% lighter than the stainless steel one used in the MTG-B2000. The top-layer carbon sheet is wrapped around the side, and cylindrical carbon sheets are wrapped around the lugs for enhanced durability. A polygonal crown complements the bezel design. Fibre glass layers in G-SHOCK red provide a stylish accent around the sides of the case, with red indicators accenting the watch face.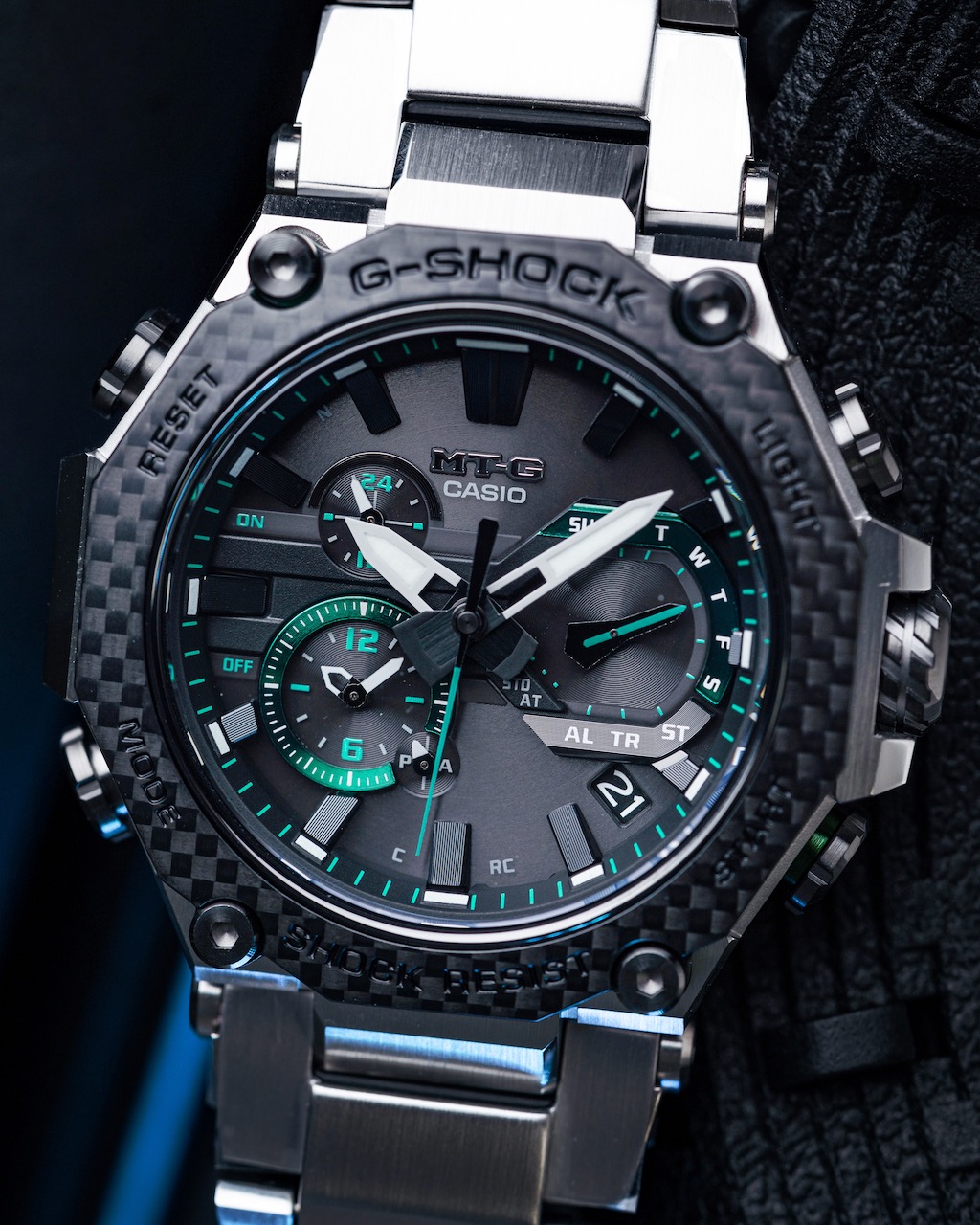 As for the MTG-B2000XD, the bezel top has a complex shape made by using advanced pressing and cutting processes on the multilayer carbon material. The side view of the bezel reveals fibre glass layers in an all-new original green, giving the watch a sporty and refined look.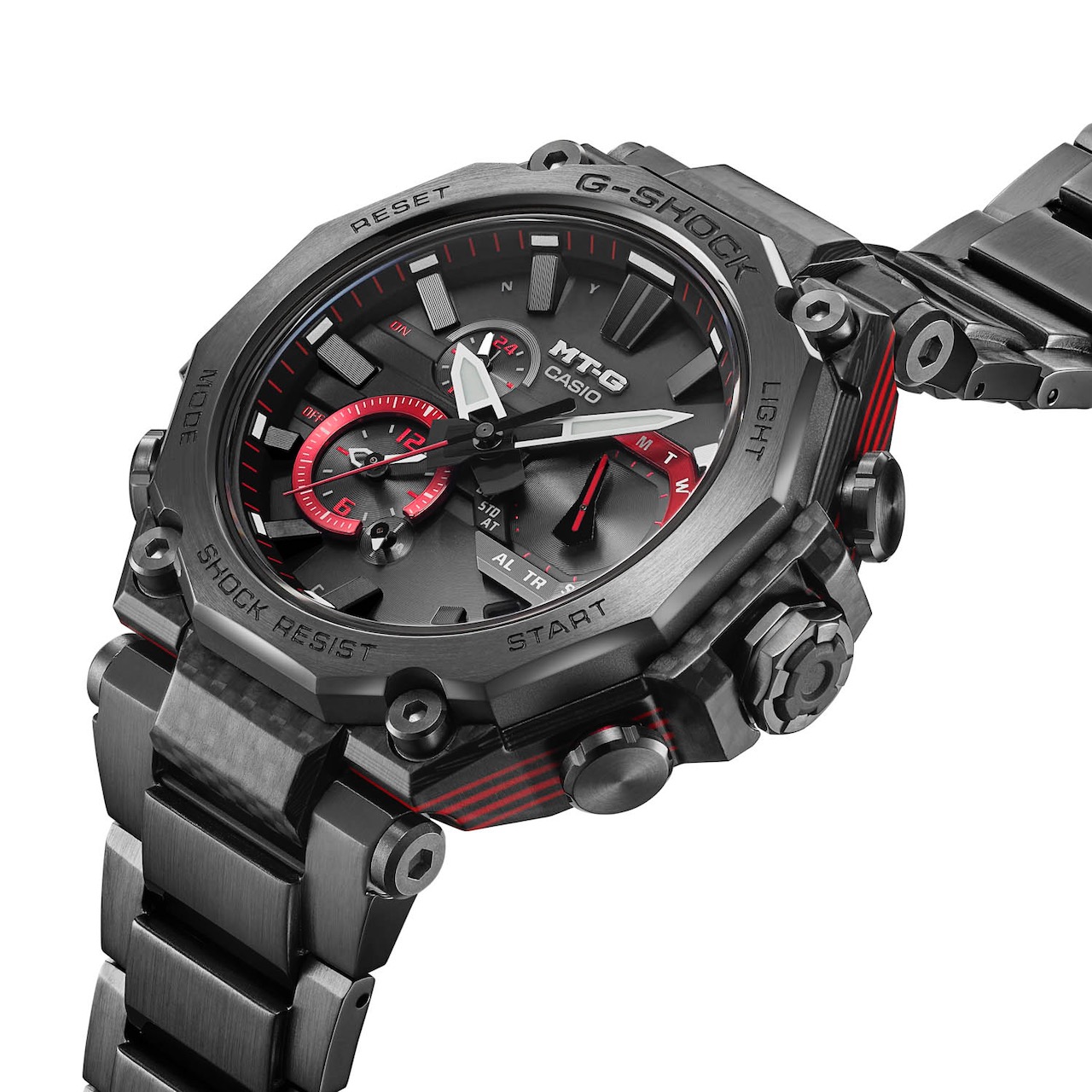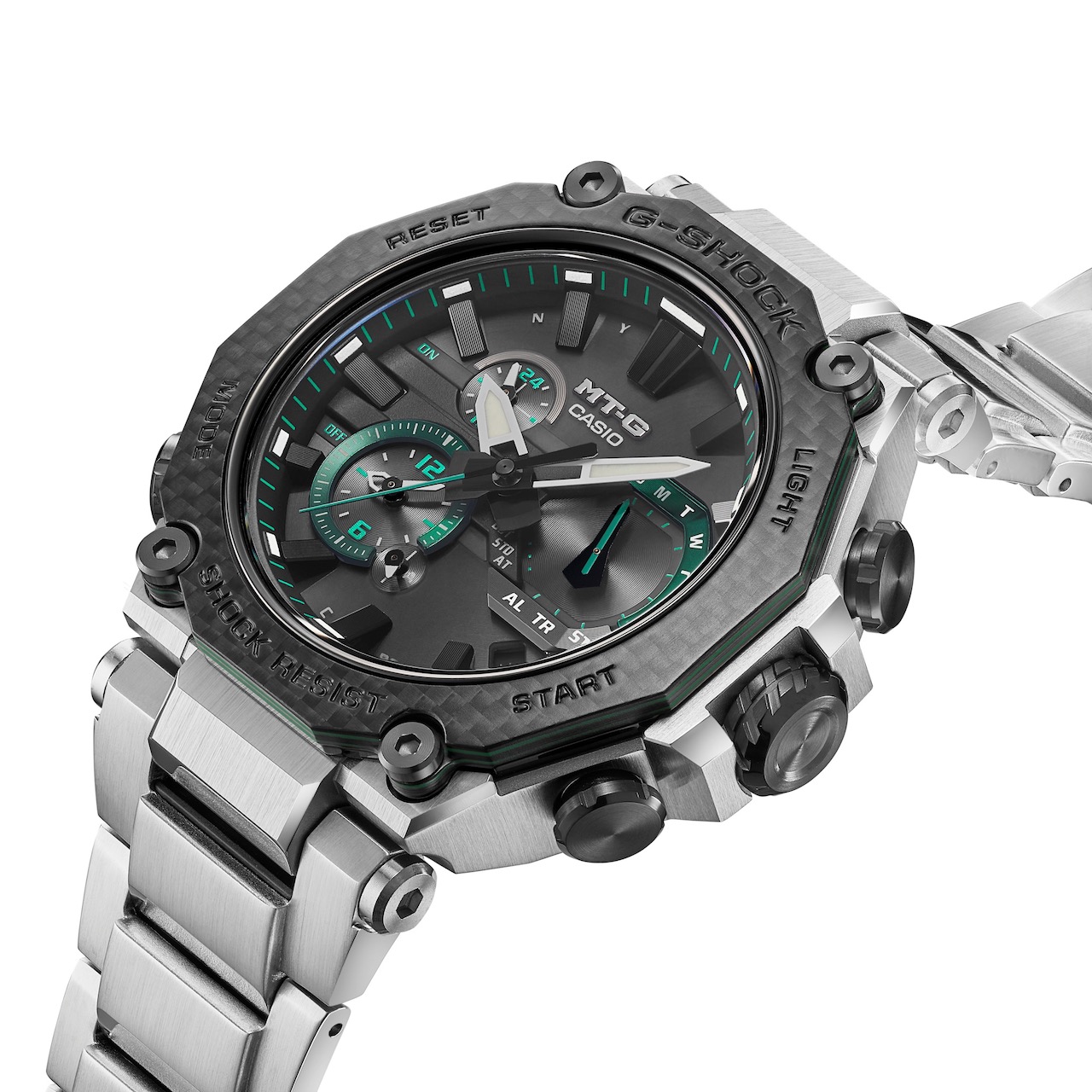 For both MTG-B2000YBD and MTG-B2000XD, the two new watches deliver full-on functionality including radio-controlled time-calibration signal reception and Mobile Link pairing with a dedicated smartphone app, as well as automatic time correction when the paired smartphone is near. A high-brightness LED light maintains watch readability in the dark for optimum convenience.
Pricing and Availability
The new MTG-B2000 watches featuring multi-layer carbon bezel will be available on https://gshock.casio.com/sg/ and at all G-SHOCK stores from 17 November 2021.
| | | | |
| --- | --- | --- | --- |
| Models | Band | Color | Price |
| MTG-B2000YBD-1ADR | Layered composite | Red | SGD1,839 |
| MTG-B2000XD-1ADR | Layered composite | Green | SGD1,699 |
Technical Specifications
MTG-B2000 
Construction

Triple G Resist (shock-resistant, centrifugal force-resistant, vibration-resistant)

Water Resistance

200 meters

Radio Frequency

77.5 kHz (DCF77: Germany); 60 kHz (MSF: UK); 60 kHz (WWVB: USA); 40 kHz (JJY: Fukushima, Japan) / 60 kHz (JJY: Kyushu, Japan); 68.5 kHz (BPC: China)

Radio Wave Reception

Automatic reception up to six times a day (except for use in China: up to five times a day); manual reception

Communication
Specifications

Communication
Standard

Bluetooth

®

low energy

Signal Range

Up to 2m (may differ depending on surrounding conditions)

Stopwatch

1 second; measuring capacity: 24 hours

Countdown Timer

Measuring unit: 1 second (maximum 24 hours)

Other Functions

Mobile Link functions (automatic time adjustment, easy watch setting, world time: over 300 cities, phone finder, watch status display, self-check function); auto hand home position correction; hand shift feature; daily alarm; dual time (27 time zones, home time swapping, auto summer time [DST] switching); power saving; full auto-calendar; LED light (super illuminator and afterglow); day and date display

Power Source

Tough Solar power system (solar-charging system)

Continuous Operation

About 5 months after full charge, using all functions but without solar charging

About 29 months with the power-saving function ON after full charge

Size of Case

MTG-B2000YBD: 55.1 × 49.8 × 15.9 mm

MTG-B2000XD: 55.1 × 49.8 × 15.9 mm

Total Weight

MTG-B2000YBD: Approx. 131g

MTG-B2000XD: Approx. 150g
* Information and pictures courtesy of Casio and Brand Cellar *