ROG Announced Top-end Strix G35 Gaming Desktop in Singapore
ASUS Republic of Gamers (ROG) recently announced top-end Strix G35 gaming desktop in Singapore. For all those into competitive esports, gamers and beyond, this gaming desktop would be of great interest to you! This is a top-of-the-line gaming desktop engineered for esports and gamers to be able to sustain their smooth gameplay under serious pressure and also the flexibility to produce top-quality streams as well developing games.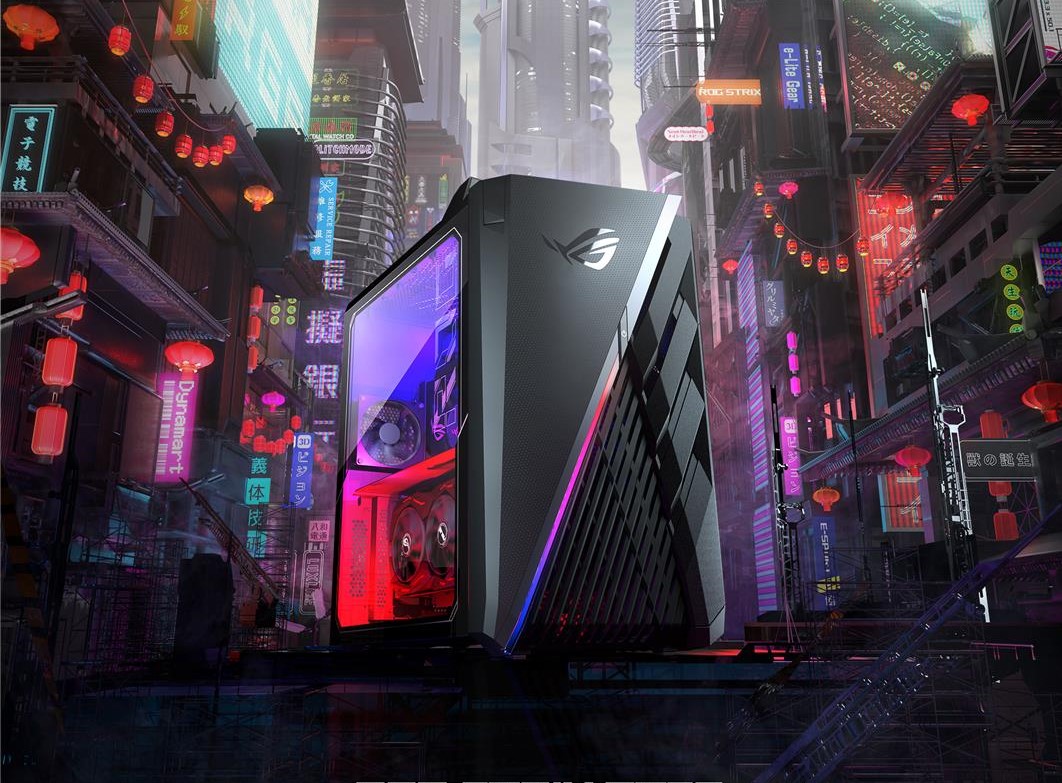 RTX Graphics Boost 
For those into gaming experience, graphics is the heart of the whole gaming experience. In the modern gaming arena, a powerful graphics card is required, especially at 4K resolution. Competitive esports players also need the ultra-high refresh displays allowing them to see and respond to gaming actions within milliseconds.
Armed with up to an NVIDIA® GeForce® RTX 2080 Ti graphic card, the ROG Strix G35 delivers reliably high frame rates for the latest games. The GPU in this top-of-the-line card is based on the NVIDIA® Turing™ architecture, which mixes CUDA cores for traditional rasterization with RT cores for ray tracing, and Tensor cores for accelerated AI, including noise removal. When paired with compatible games like Battlefield V and Shadow of the Tomb Raider, this combination enables faster antialiasing and higher-quality lighting, shadows and reflections.
The ROG Strix G35 elevates the latest NVIDIA® graphics prowess with a huge 2.7-slot heatsink capped by three Axial-tech fans that help the card maintain high clocks in the heat of battle.
Ready for Tournament
With the ROG Strix G35 Gaming Desktop, esports players are ready to enter esports competitions. Armed with convenient side features, they make ideal tournament machines. At esports competitions, games and player profiles are typically stored on 2.5inch SSDs. With ROG Strix G35 two hot-swap drive bays behind a spring-loaded door on the front of the chassis, organisers are able to have an easy way to load data onto different systems quickly through adding and removing of SSDs without having to open the case or break out any special tools.
Very Powerful Gaming Machines
The ROG Strix G35 equipped with the latest 10-core, 20-thread 10th gen Intel® Core™ i9 CPU, it breezes through even the most intensive tasks with serious speed. This powerful CPU is unlocked for overclocking, meaning you can boost your frequencies for a faster, more responsive system.
The AI Overclocking, available directly within the UEFI, simplifies the process by analyzing your clock speeds and cooling over time, and optimising them to ensure peak performance. With this AI-enhanced system, it's easy for user to unleash the full power of their PC and take their game to the next level.
With 32 GB of high-performance DDR4-3200 memory, the ROG Strix G35 can simultaneously handle smooth gameplay while live-streaming, recording, and multitasking. An NVMe SSD with up to 1 TB of capacity offers plenty of space, and select models further accelerate throughput using the latest PCI Express® 4.0 interface.
Advanced Cooling Features
The ROG Strix G35 gaming desktop combines robust component cooling with a chassis optimised for superior airflow. They have the Wind Shear design that features widened air vents that help to draw more air through the internal cooling system. Three internal chambers divide the CPU, graphics card, and power supply into separate zones to minimise thermal interference.
The ROG Strix G35 provides greater power from your CPU with liquid cooling. Coolant channels heat off the processor and through a 240mm radiator that has two 120mm fans to quickly dissipate heat from the system. Within the multi-zone chassis, the fans are positioned between the CPU and PSU chambers to efficiently exhaust air from both sections simultaneously.
Easy to Upgrade
For esports and gamers who wish to upgrade the ROG Strix G35 gaming desktop down the road, it's possible and easy to upgrade. The CPU and motherboard both support the latest PCI Express 4.0 standard, allowing next generation devices double the bandwidth of PCIe 3.0. There are two PCIe x 16 slots that are connected directly to the CPU and support multi-GPU configurations, allowing users to potentially double their graphics power by adding a second card to boost their frame rates and speed up demanding tasks like 3D rendering.
A second SSD storage can also be added with the availability of one of the motherboard's dual M.2 slots being available and the chassis has room for two 3.5inch HDDs that can exponentially increase total storage capacity.
Personalise to Perfection
The ROG Strix G35 is the first ROG desktop to feature Keystone II technology, this is an NFC-enabled key that can be docked in compatible devices to quickly access customised settings linked to a user's ROG ID. Keystone II can also be configured to switch the system into a specific operating mode, launch an individual game or application, or unlock a hidden Shadow Drive for private files.
The ROG Strix G35 also features customisable RGB lighting inside and out. Aura Sync lets users coordinate colouzers and effects across all compatible components, including the motherboard and graphics card. The internal lighting showcases the components through the transparent side panel.
OG Armoury Crate software offers tons of tuning options for lighting, Keystones, and other system settings. It can be used to create Scenario Profiles that automatically load personal preferences when specific games and applications are launched. Scenario Profiles detect the active application and adjust system cooling, lighting, and other settings to ensure ideal performance for the task.
Gear Up and Go
The ROG Strix G35 has front panels for esports players and gamers selected devices to have convenient access. There are also gold plated audio jacks that sit within easy reach fro players who need to plug in quickly at esports events. Dual USB 3.2 Gen 2 Type-C ports provide fast access to speedy external storage, while dual USB 3.2 Gen 1 Type-A ports are ready for conventional devices.
At the back, there are six additional ports, including one more USB 3.2 Gen 2 Type-C, all ample capacity for a full suite of USB gear, from gaming peripherals to drawing tablets to VR trackers.
On the graphics card, there are dual HDMI 2.0b ports, allowing gamers to run a VR headset alongside a 4K monitor or TV for immersive virtual experiences. A DisplayPort 1.4 outputs offer connectively for NVIDIA G-SYNC™ gaming monitors that make gameplay even smoother.
With the Intel® I211-AT Gigabit Ethernet offers a lower latency connections for multiplayer gaming, while Wi-Fi 6 provides fast wireless access for everyday streaming and web browsing. The Wi-Fi card also integrates Bluetooth 5 to cut the cord for compatible devices. While the ROG Strix G35 excels in the arena of competitive esports, it is flexibly equipped for content creation, streaming, and more.
Pricing and Availability
The ROG Strix G35 is now available at the ASUS Exclusive Store, ASUS Online Store and all authorised retailers. The ROG Strix G35 retails from $3,998.
Do share this information on the new top-of-the-line ROG Strix G35 Gaming Desktop with your fellow esports, gamers, loved ones, family and friends! Pass It On and Pay It Forward, sharing is caring!
* Information and picture courtesy of ASUS Singapore *