SHARP New Year Sale 2023 (Till 3rd February)
Chinese New Year (CNY) 2023 is just round the corner, it's starting on Sunday 22nd January 2023. This would be a busy time with spring cleaning, buying goodies for your CNY reunions, gatherings and celebrations. If you haven't bought your new home or kitchen appliances/gadgets for your home yet, don't worry! Sharp's New Year Sale 2023 is here (till 3rd February)!

Shoppers rejoice! You can enjoy exciting deals for selected products such as the SHARP 4K AQUOS TVs, Washers, Dryers, Fridge, Air Purifier and Microwave Oven! Buy 1 Free 1 promotions for selected items are also exclusively available for this ongoing sale!
SHARP 4K AQUOS TVs (Panels Made in Japan)
SHARP is the No. 1 TV Brand in Japan, its 4K AQUOS TVs come with 7 enhancements that includes 4K up-converter, digital noise reduction, colour optimiser, 6 axis colour management, 4K HDR and comfort mode. 4K TVs have become a preferred choice among buyers as more 4K movies and shows are available in ultra-high definition. Its resolution and cutting-edge image processing technology are able to produce more precise and stunning 4K images. The result is an astonishing clarity that brings all pictures to life.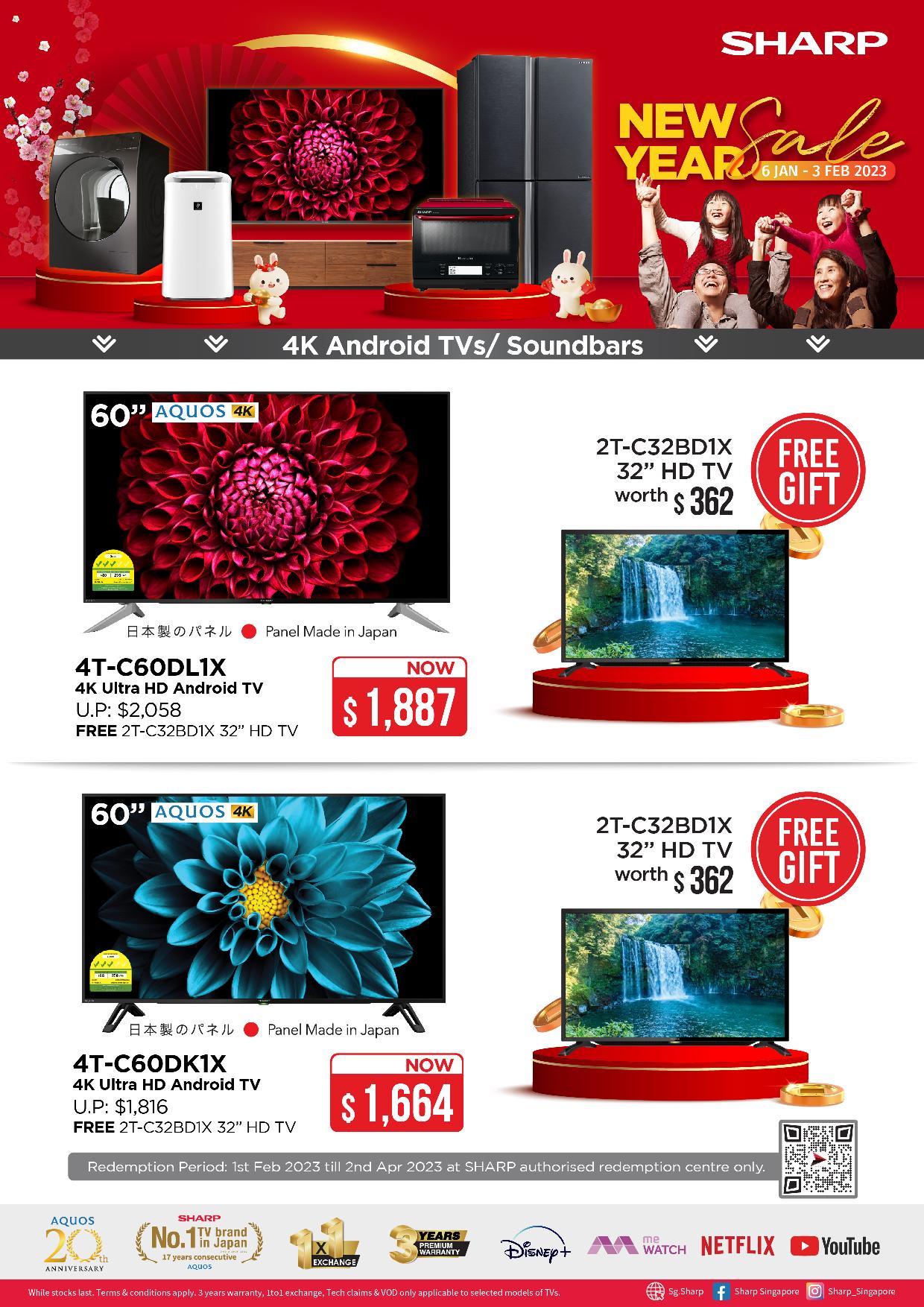 4K TV Promotion:
Enjoy up to $170 off selected SHARP TVs
Free SHARP 32" HD TV (2T-C32BD1X) with purchase of selected SHARP TVs
SHARP Multi Door / Side by Side Refrigerator
Trusted by users worldwide, 100 million units of SHARP's products with Plasmacluster Technology have been sold worldwide. SHARP's Plasmacluster Technology is a world-renowned technology that eliminates 99% airborne bacteria and 97% airborne mould in the refrigerator. Placed at the top interior of the fridge, ions are released to protect your foods from contamination and keep them fresh for longer.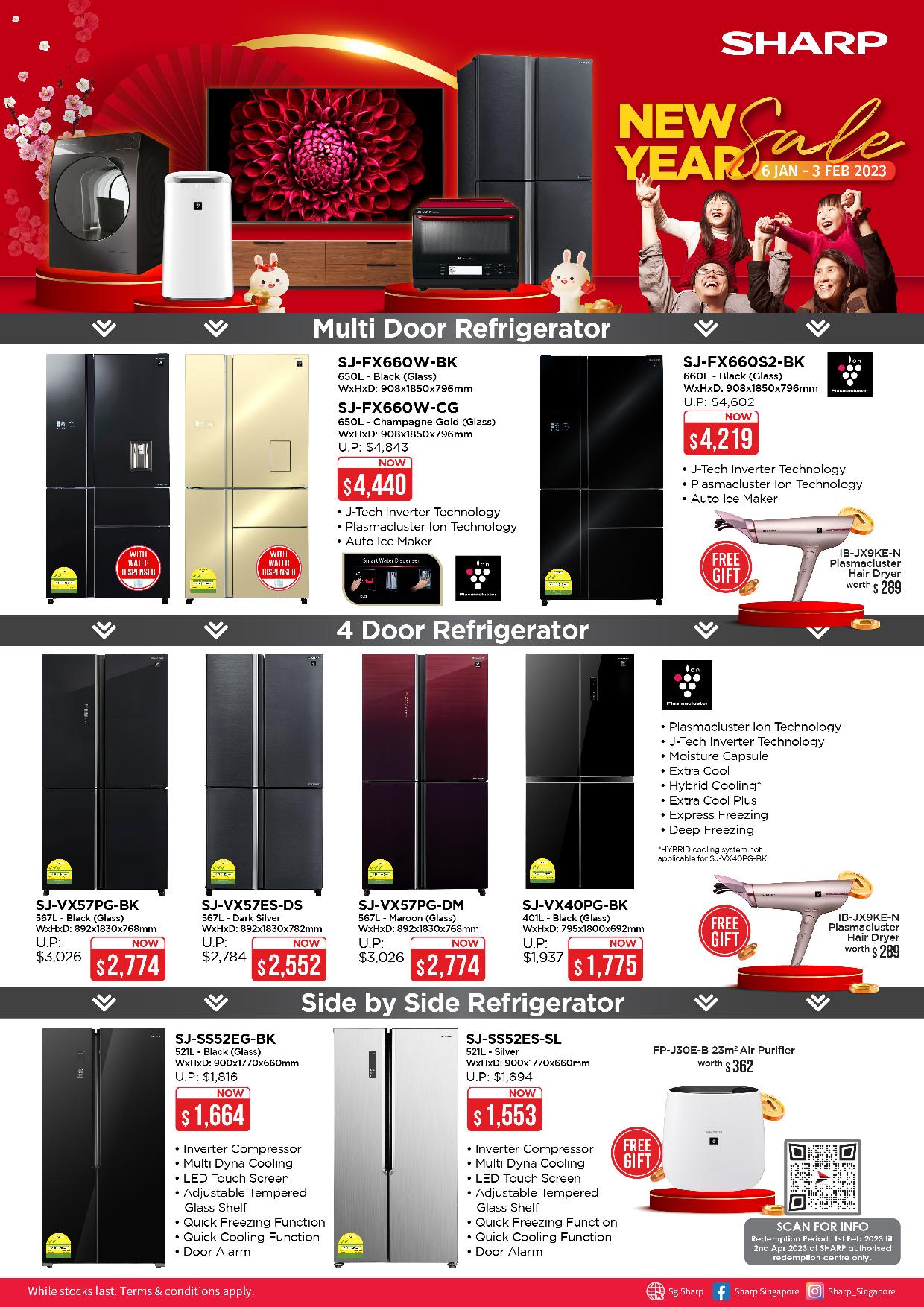 Promotion:
Enjoy up to $400 off selected SHARP Refrigerators
Free SHARP Air purifier (FP-J30E-A) or SHARP Plasmacluster Ion Hair dryer (IB-JX9KE-N) with purchase of selected SHARP Refrigerators
SHARP Front Load Washer / Dryer
SHARP Washer is equipped with J-Tech Inverter Technology, which comes with a steam care function. It removes allergen, comes in a guided control panel with 10 different programs. With a Water Efficiency Rating of 4 Ticks, this washer is also able to take up a load of 10.5kg!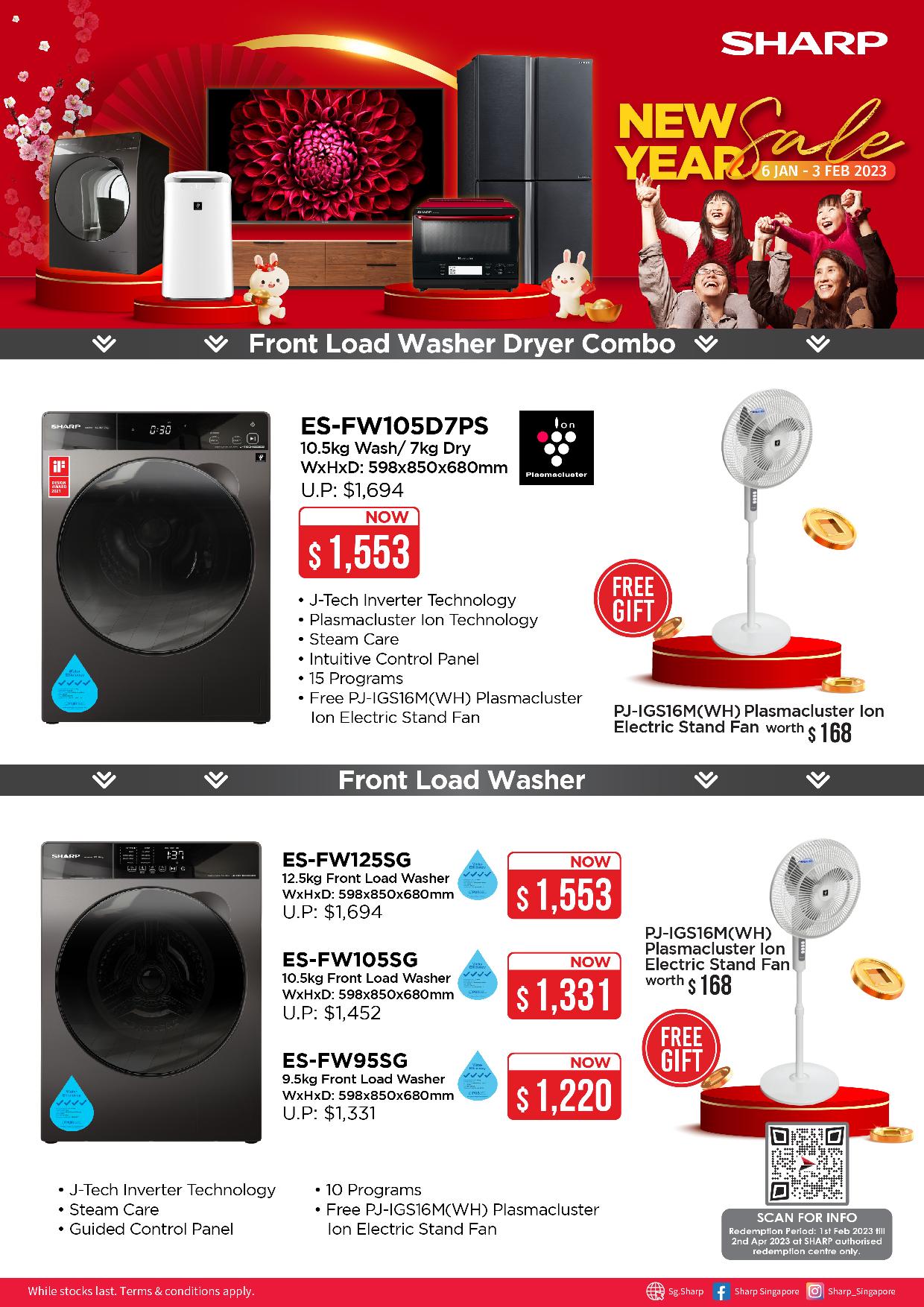 SHARP Dryers comes in a stunning, sleek design front load drying with glass touch panel to reflect your exclusive lifestyle. Other than being elegant and durable, it also provides an express 34 minutes tumble dry mode, which comes in 15 different programs. With a delicate wave cabinet, it also comes with Energy Efficiency Rating of 5 Ticks!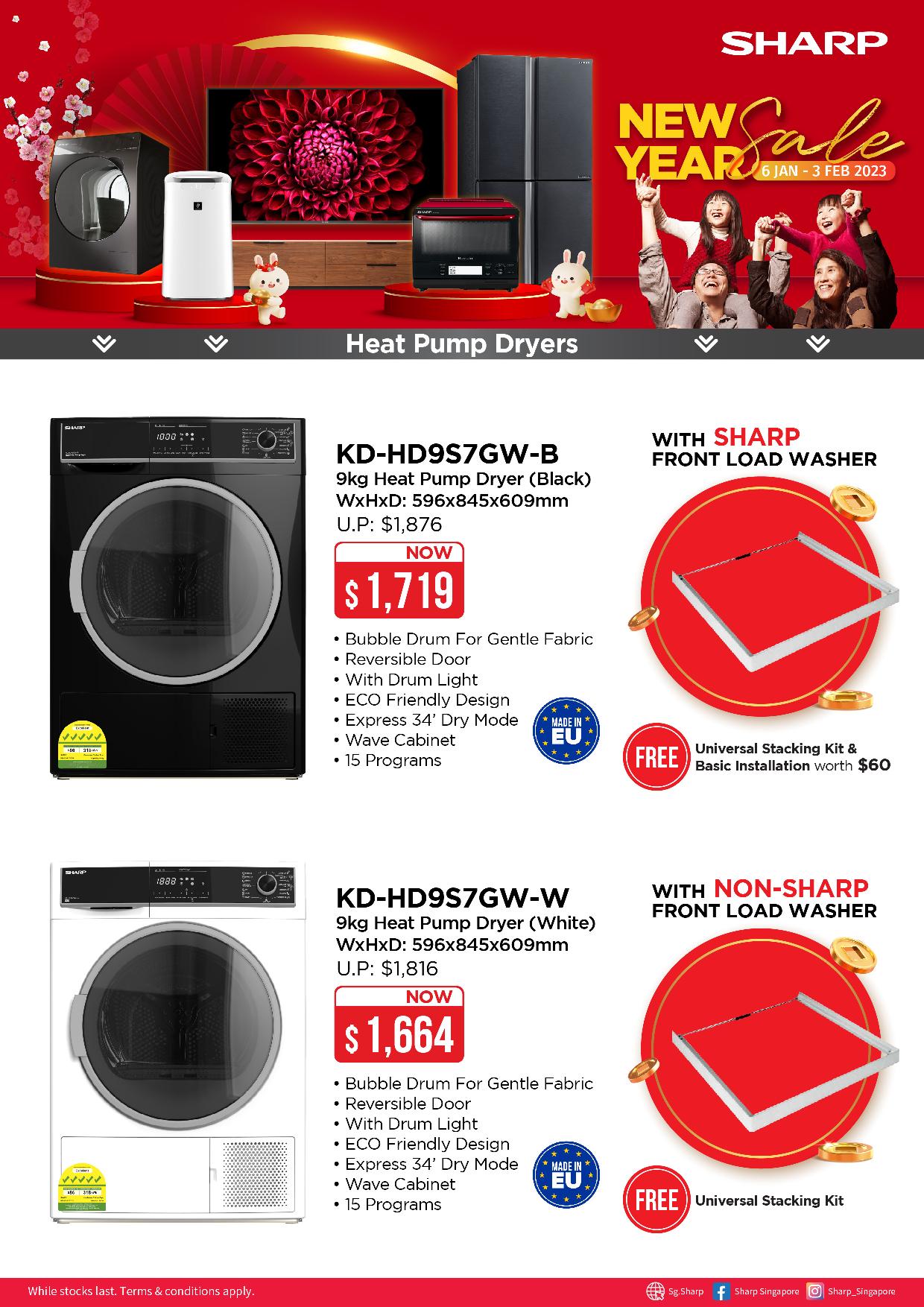 Promotion:
Enjoy up to $140 off selected Washers/Dryers
Free SHARP Plasmacluster Ion Electric Stand Fan (PJ-IGS16M(WH)) with purchase of selected SHARP Washers
Purchase selected SHARP Dryers to enjoy complimentary Premium Stacking Kit & Basic Installation with selected existing SHARP Front-Load Washer
Purchase selected SHARP Dryers and receive complimentary Universal Stacking Kit to pair with non-SHARP Front-Load Washer
SHARP Plasmacluster Air Dehumidifier
Sharp's air dehumidifiers are equipped with their revolutionary Plasmacluster Ions. Plasmacluster technology generates and emits the same positive and negative ions that occur in nature. Dehumidifying maintains ideal humidity levels by removing excess water content in the air. It eliminates the musty odour and prevents the growth of mildew or molds. In addition, it also can dehumidify and deodorise the laundry with rapid action.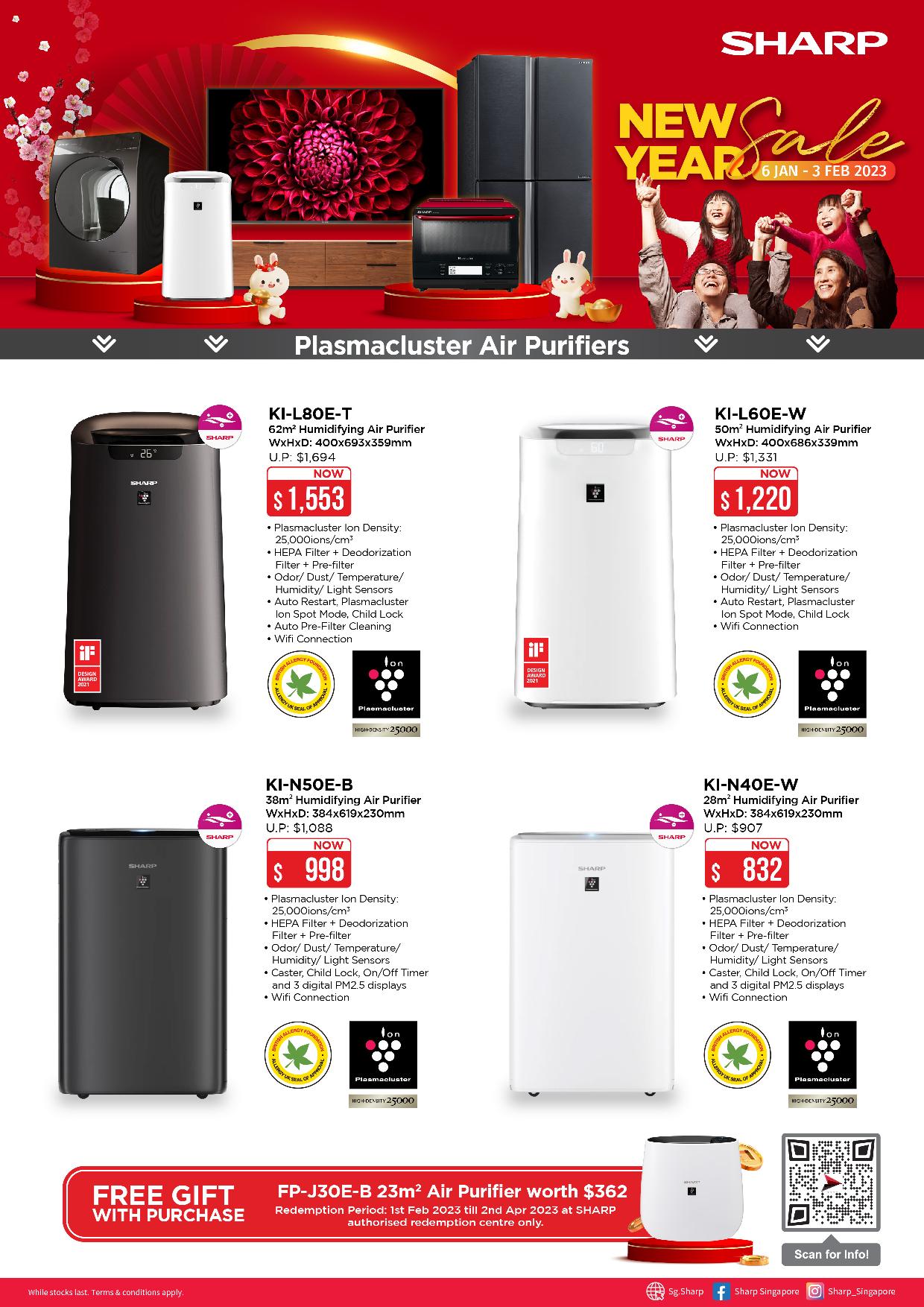 Promotion:
Enjoy up to $140 off selected Sharp Air Dehumidifier
Free SHARP Plasmacluster Air purifier (FP-J30E-B) with purchase of selected SHARP Plasmacluster Air Dehumidifier
SHARP Donabe Microwave Oven
Designed with a flat and wide table design, the Donabe Oven is the modern-day cook's cheat sheet to delicious, wholesome meals prepared in a matter of minutes. It not only heats food up effectively, but it also manages quick and easy auto cooking with 26 auto cooking menus. Enjoy fuss-free meal preps with 26 pre-programmed cooking menus to whip up your favourite dishes, featuring seven rice functions to cook rice and six features to cook a variety of vegetable, pasta and stew dishes with speed and ease. Its multiple power settings also mean you can control the amount of energy and time required to defrost, reheat and cook your food.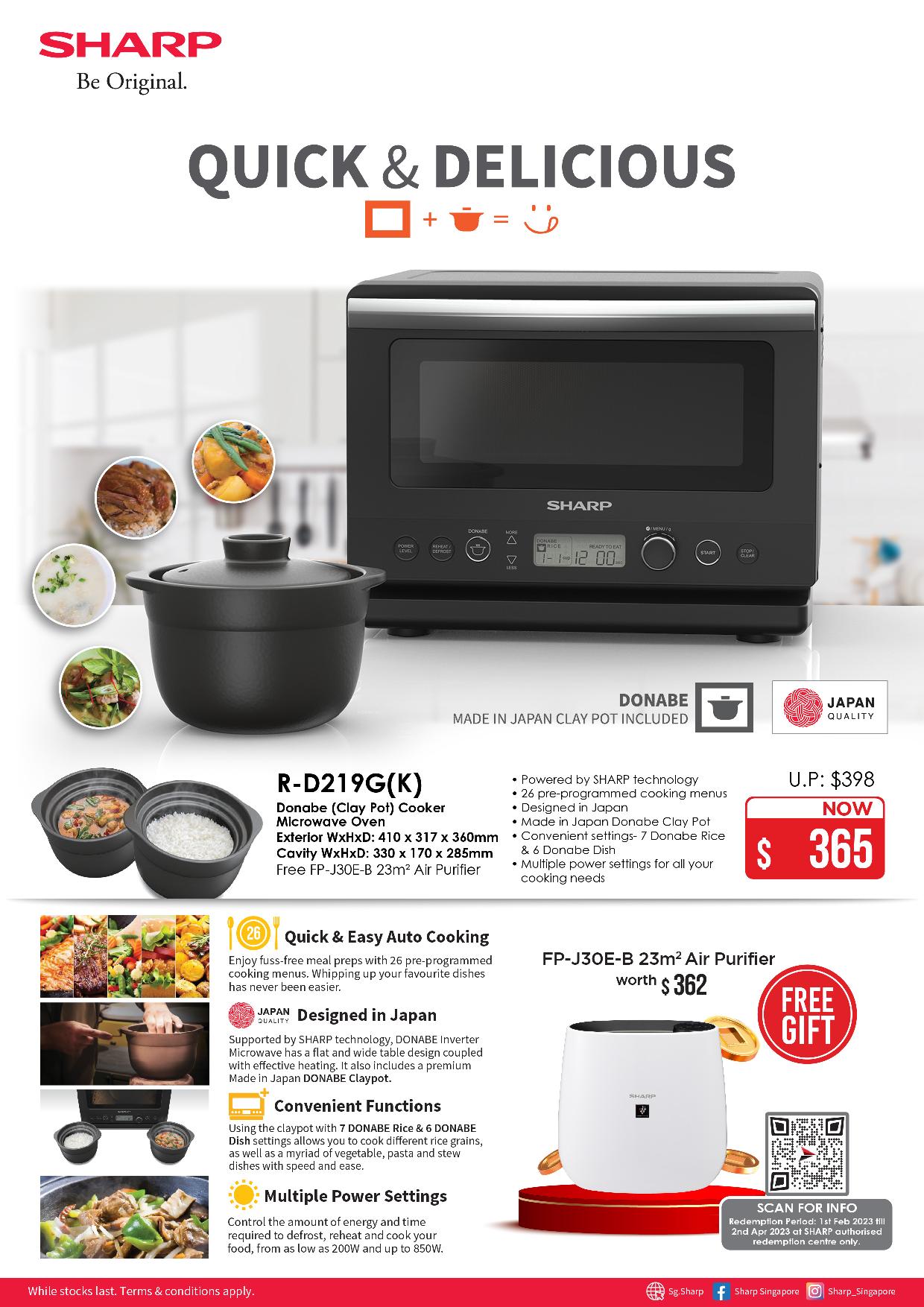 Promotion:
Enjoy $30 off SHARP Donabe Microwave Oven
Free SHARP Air purifier (FP-J30E-B) with purchase of SHARP Donabe Microwave Oven
Promotion Period: 6 January 2023 to 3 February 2023. While stocks last.
Redemption Period: 1 February 2023 till 2 April 2023.
You may find redemption form here:

https://bit.ly/SHARP_RF21A
For more information on SHARP New Year Sale 2023
For more information on SHARP New Year Sale 2023, you can simply visit SHARP official online stores: Shopee, Lazada, Qoo10 and authorized retailers' stores.
Wishing all a Happy Chinese New Year 2023! Happy New Year and Chinese New Year Shopping with Sharp!
* Information and pictures courtesy of SHARP and Brand Cellar *