Singtel brings FIFA World Cup Qatar 2022™ football action to Singapore
Football fans in Singapore alert! FIFA World Cup Qatar 2022™ is starting soon in November 2022! Singtel brings FIFA World Cup Qatar 2022™ football action to Singapore as they secured the broadcast rights to bring in the world's most-watched football event to football fans in Singapore. Singtel will offer comprehensive live coverage of all 64 matches in full high definition through Singtel TV and CAST, its video streaming app, for customers to enjoy non-stop FIFA World Cup Qatar 2022™ football action from 21st November to 18th December 2022.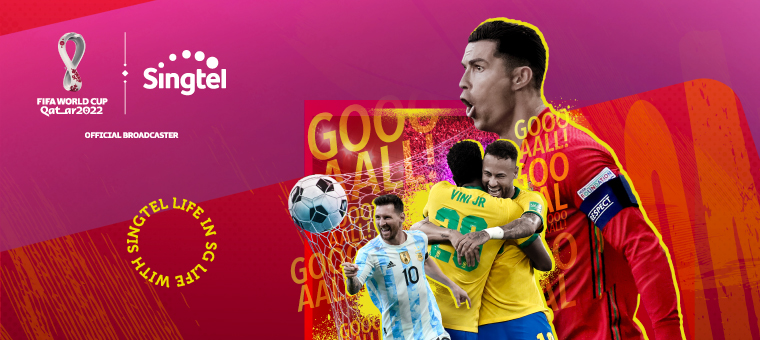 There is an exclusive first for the screening of FIFA World Cup Qatar 2022™ in Singapore, Singtel will be applying network slicing technology for subscribers of its video apps, CAST and Singtel TV GO. Singtel 5G subscribers will enjoy dedicated capacity for video streams via Singtel's 5G SA network which has since achieved nationwide coverage. With network slicing on the Singtel 5G standalone network, football fans can experience the most stable and superior viewing experience even in high-traffic areas. Whether at home with Singapore's number one fibre broadband network or on the go, Singtel subscribers can enjoy seamless streaming of the World Cup and not miss a single moment of the exciting action.
Ms Anna Yip, Chief Executive Officer, Consumer Singapore, Singtel, said, "Since we first brought the 2010 FIFA World Cup™ to Singapore, Singtel has sought to enhance the viewing experience of our customers, offering more ways to catch the football action, across our Singtel TV, Singtel TV GO and CAST apps. We are pleased to work with our broadcast partners to bring the action to our football fans over the 28 days. Our customers can expect a seamless and high-quality viewing experience powered by our ultra-fast broadband and 5G network, this time further boosted by network slicing technology, to deliver enhanced connectivity, speed, and capacity. With this year's World Cup held in Qatar, we believe the favourable time difference will bring even more football fans together to share in the excitement."
From 30th October to 18th December 2022, customers who re-contract or sign up for any 24-month Singtel TV plan at S$52.90 (1) and above will enjoy the World Cup as a value-added bonus in addition to their favourite channels to Singtel TV such as Jia Le, e-Le, Astro Ria, Astro Prima, Discovery Channel, Vijay TV, Star Gold and Star Plus.
Subscribers will also be able to watch matches on their Singtel TV GO app at no additional cost, allowing them to catch the action on the move.
For customers who wish to watch just the World Cup matches, they can sign up for the early bird promotion of S$98, valid until 6th November 2022, or at the regular price of S$118 thereafter. They can also choose to watch all 64 matches on the go with the CAST app at the same prices.
All the FIFA World Cup Qatar 2022™ football matches will be telecast live on Singtel TV and Singtel TV GO channels 141 and 142, as well as on CAST. Customers can also catch matches via the video-on-demand features on their favourite Singtel platforms.
For more information on Singtel's World Cup packages, please visit singtel.com/worldcup.
Notes:
(1) Customers may choose to combine Singtel TV Pack subscriptions so that the total value of the subscriptions amounts to and/or exceeds S$52.90 per month
* Information and pictures courtesy of Singtel *