Singtel recently launched a wellness platform, StepUp, with AIA, a partnership to reward customers for keeping active. This wellness platform announcement was a very interesting and exciting partnership, from both technological, wellness and how companies are changing and adapting in this current internet and digital era.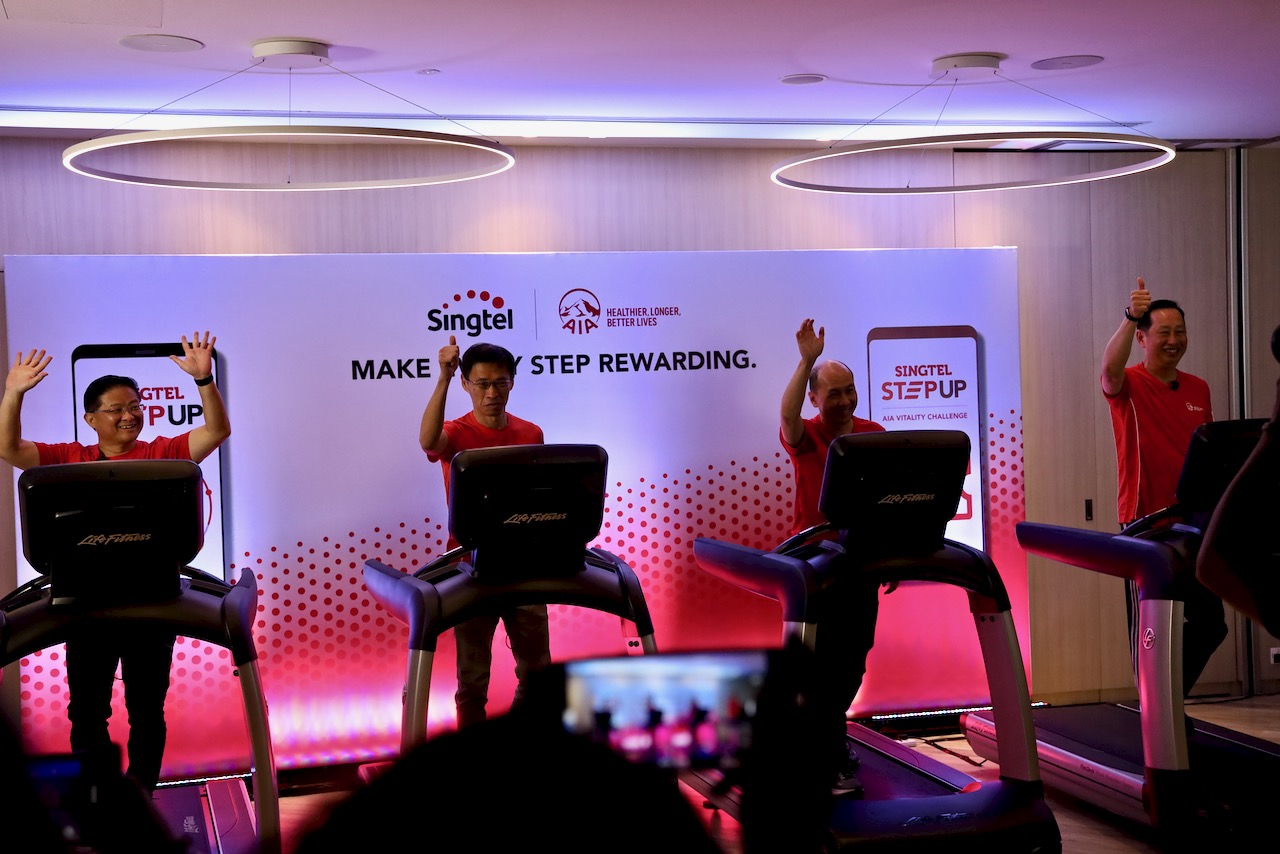 Singtel has been on the forefront in making big decisions and changes in this fast changing economy marked with lots of changes to technology, social media and consumer behaviour. They are not just a telecommunications company, they are now moving closer towards being a one step consumer lifestyle portal.
At the official media launch of the StepUp wellness platform by Singtel, in a strategic partnership with AIA, I got to learn more about the StepUp wellness platform and its benefits provided by both Singtel and AIA. Moving into wellness, healthy lifestyle, fitness and nutrition segments, they would able to connect with their customers even better as the modern customers have started to take note of their health, fitness and wellness.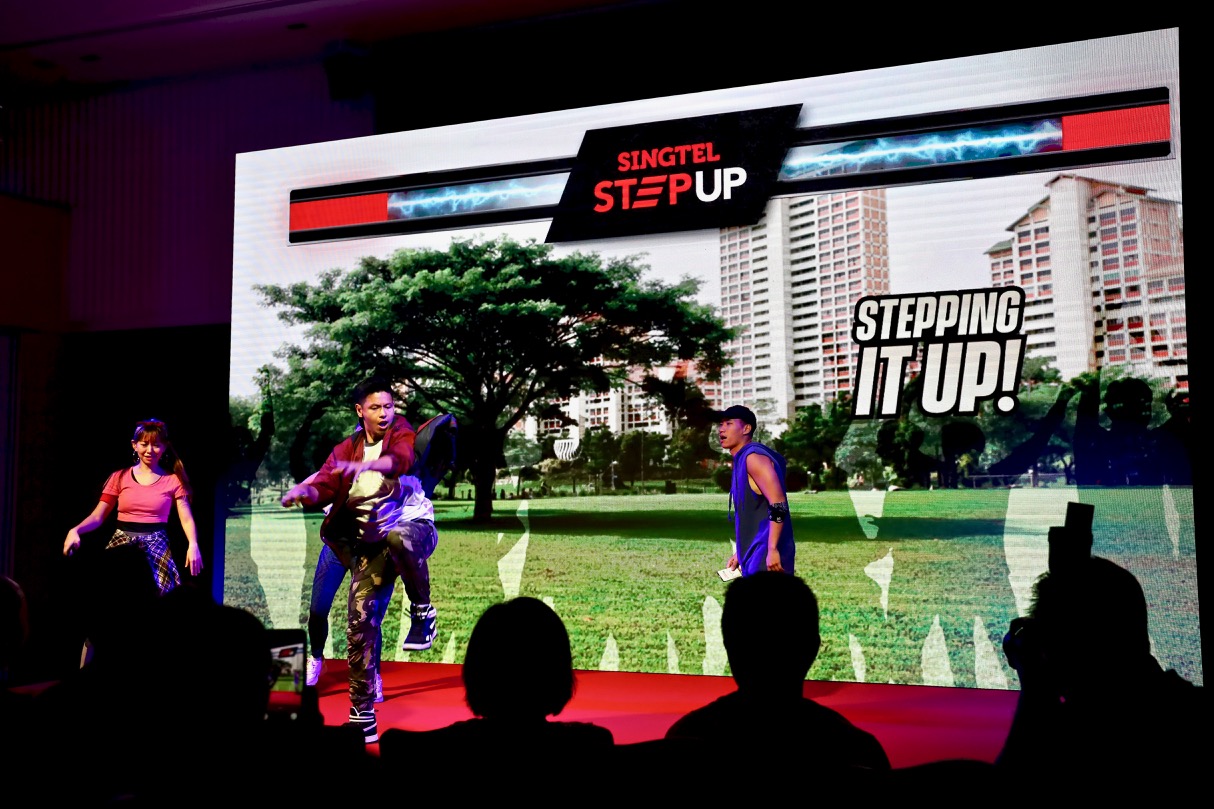 As a Singtel customer myself, I like this wellness platform StepUp because I walked a lot almost everyday, my daily target is 10,000 steps a day. With StepUp, I am able to earn up to 3GB of mobile data per month, just by walking and achieving my daily goal of 10,000 steps. This would add up to my current mobile data plan with Singtel, a great booster for me to have mobile data to use and keeping fit, active and healthy!
With StepUp, Singtel shows their willingness to engage their customers even further and closer, beyond just being a traditional telecommunications company. This is Singtel's first time doing such a partnership together with AIA, two big brands in Singapore and in the regional markets coming together to provide win-win solutions for both of their customer base.
If you are a Singtel postpaid Combo, XO and SIM Only plan customers, don't miss out on Singtel's newly launched wellness platform StepUp with AIA! Just by walking and clocking 10,000 steps a day, you can redeem up to 3GB of local mobile data each month. Remember to Pay It Forward and Pass It On, this StepUp wellness platform!
Let me share with you more information below:
Mr Yuen Kuan Moon, CEO, Consumer Singapore, Singtel said, "We want to encourage healthy lifestyles and wellness, and with StepUp, customers will be rewarded for their efforts to keep fit. We are always trying to find ways to offer customers products, services and perks to complement their digital lifestyles. Our partnership with AIA marks a shared commitment to champion the importance of staying active for life."
Singtel's strategic partnership with AIA is a first-of-its-kind between two industry leaders in communications technology and life insurance in Singapore. The companies will team up to digitally engage their customers on the wellness front and also co-create innovative insurance products relevant to customers' increasingly digital lifestyles.
"Our partnership with Singtel redefines what it means to enable healthier, longer, better lives in today's digitally-enriched world. Through leveraging Singapore's digital advantage, our common shared value is to make a real difference in people's lives, particularly when Singaporeans are spending more time on their digital devices such as their mobile phones and living sedentary lives. With StepUp, individuals and families can now take charge of their own health and integrate more active lifestyle habits into their daily lives," said Mr Patrick Teow, Chief Executive Officer, AIA Singapore.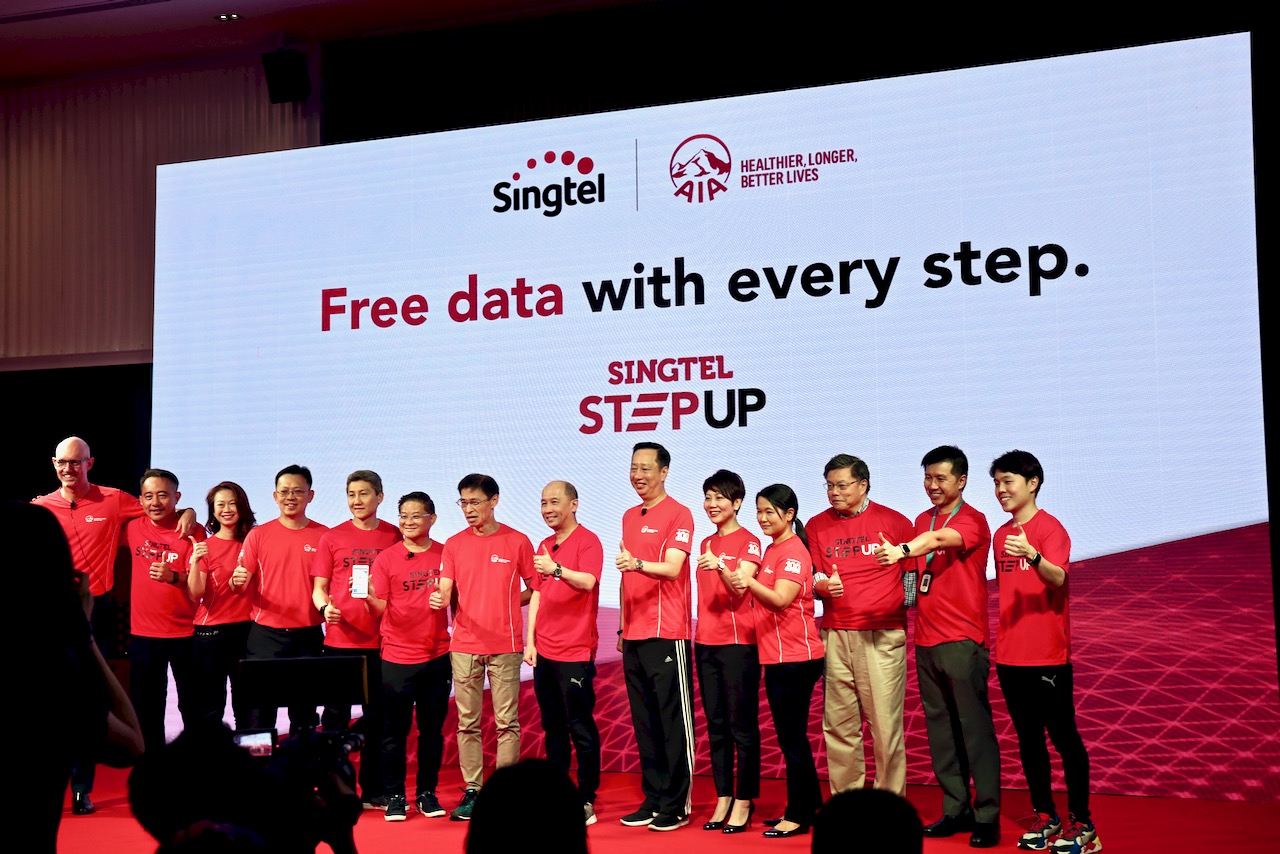 In addition, from 1 August, Singtel customers can also take on the AIA Vitality Challenge on StepUp to claim lifestyle rewards such as movie tickets, gourmet coffee and ride-hailing vouchers. Launched in 2017, the AIA Vitality Challenge is designed to get members more active through incentives for hitting activity targets. More than 178 billion steps have been taken by AIA Vitality members[1] to date – the approximate equivalent of Singapore's entire population walking from the Causeway to Harbourfront[2].
[1] As at 31 December 2018
[2] Based on an average stride of 0.8m per step, Singapore's population of approximately 5.6 million, and an approximately 25km walking distance between the Causeway and Harbourfront
To kick-start their StepUp journey and begin earning mobile data, all customers need to do is to log into My Singtel app, activate StepUp and sync their steps from their iOS or Android smartphones. In the next few months, customers can also look forward to more reward options such as a free Diet & Sports DNA kit by GeneLife to help customers eat and exercise well based on their DNA, as well as other rewards from PUMA and SingSaver.
To celebrate the launch of StepUp, customers who clock 10,000 steps a day at least once from now until 31 August will stand a chance to win an Apple Watch Series 4 or Samsung Galaxy Watch.
For more information on how to StepUp, customers can visit https://www.singtel.com/personal/products-services/lifestyle-services/stepup.
How to Sign Up and Start Using StepUp:
Launch My Singtel App, click on the StepUp banner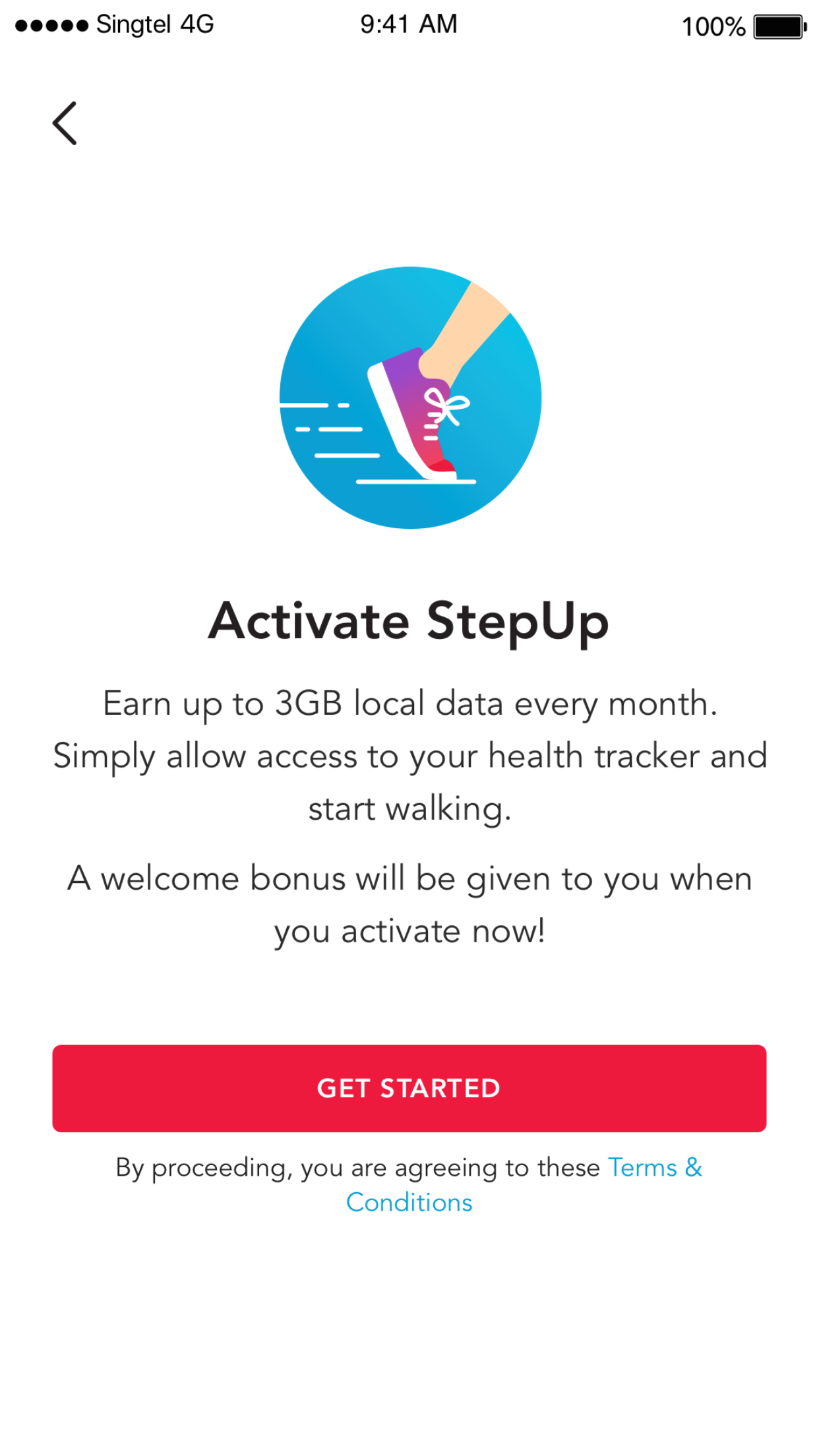 Fill in the details, follow the instructions to complete your registration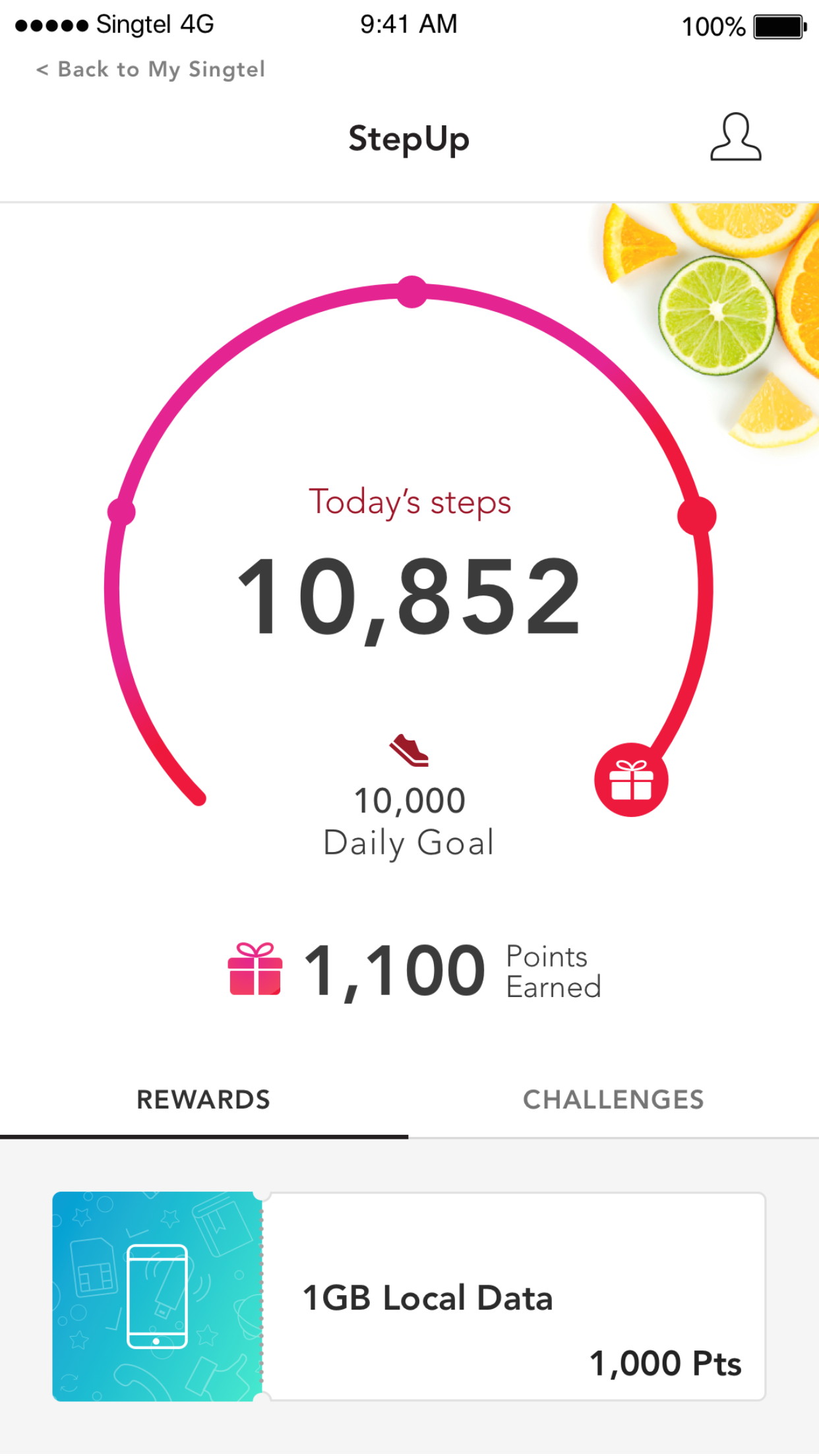 Once registration is completed, you can keep track of how many steps you've taken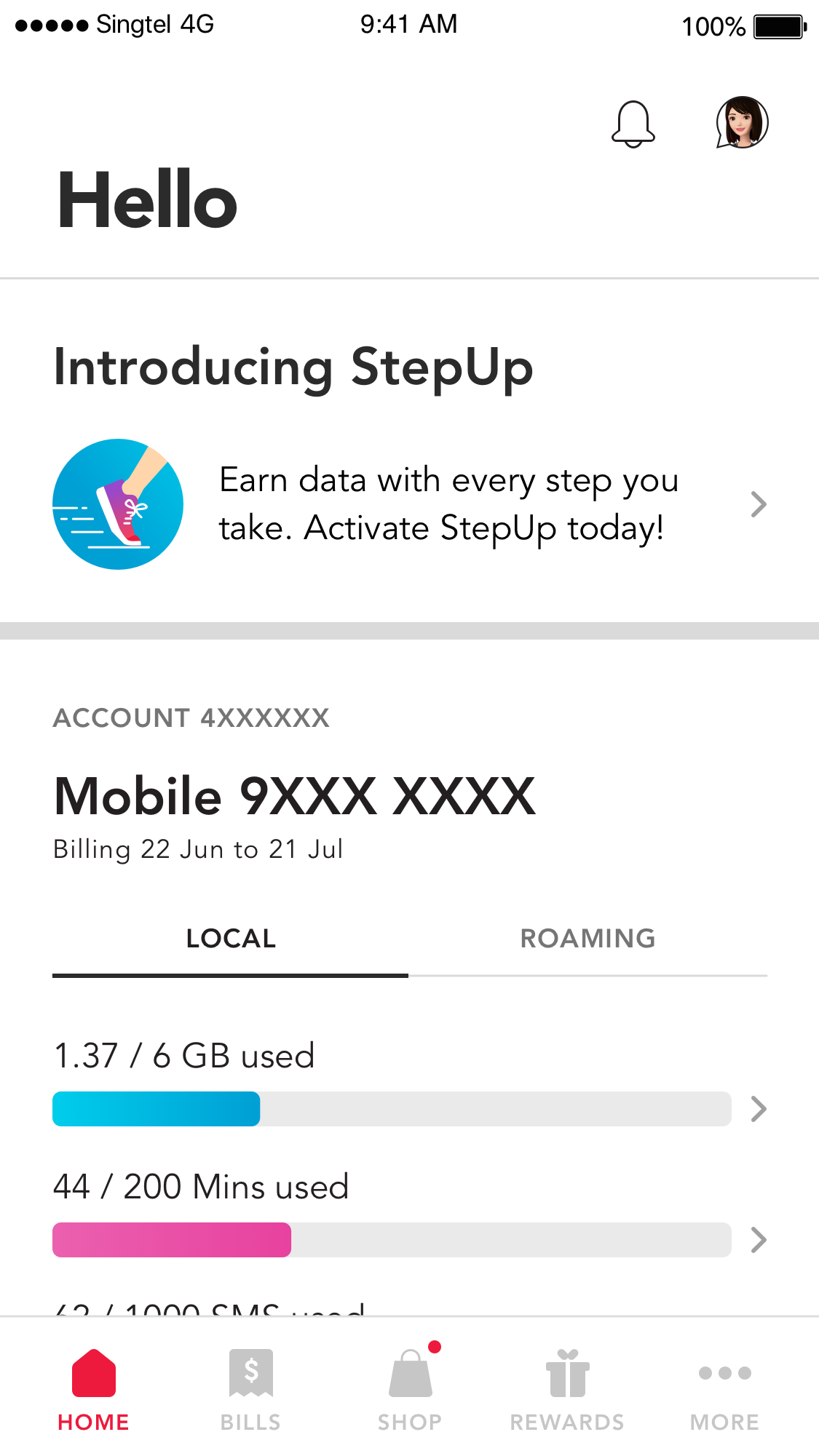 Question: Can everyone use Singtel StepUp?
Answer: Singtel StepUp is available to Singtel postpaid Combo, XO and SIM Only plan customers.
Rewards Tier
Participants will be awarded points based on the number of steps they take each day. The more steps they take, the more daily cumulative points will be awarded.
| | | |
| --- | --- | --- |
| Daily Steps | Points Awarded | Cumulative Points for the Day |
| 2,500 | 10 | 10 |
| 5,000 | 20 | 10 + 20 = 30 |
| 7,500 | 30 | 10 + 20 + 30 = 60 |
| 10,000 | 40 | 10 + 20 + 30 + 40 = 100 |
| Maximum Daily Points | 100 | 100 |
Participants can still track steps after the 10,000 step mark but will not receive points thereafter.
1,000 points will qualify a participant for 1GB of mobile data.
Participants can redeem up to 3GB of local mobile data each month (3000 points).
Example scenario: A participant clocks an average of 7,500 steps a day, and is thus awarded 60 points a day. In a month of 30 days, he accumulates a total of 1,800 points (60 points x 30 days), qualifying him for 1GB of mobile data (worth 1,000 points).
The local mobile data earned through StepUp will be provisioned in the next billing cycle.
Partner Programmes:
Participants can also participate in partner reward programmes using the same set of steps and redeem partner-sponsored prizes.
AIA Vitality Challenge on StepUp
The AIA Vitality Weekly Challenges will be available on the My Singtel app from 1 August 2019.
Details outlined below:
Challenge
Steps Required
Reward
3-Day Challenge
10,000 Steps for 3/7 days
2 x $3 Golden Village Vouchers
4-Day Challenge
10,000 Steps for 4/7 days
Choice of 1 of the following:

2 x $3 Golden Village Vouchers

1 x $5 Grab Voucher

1 x Singtel Mobile Data Voucher (2GB local/1GB Roaming Data)

5-Day Challenge
10,000 Steps for 5/7 days
Choice of 1 of the following:

2 x $3 Golden Village Vouchers

1 x $5 Starbucks Voucher

1 x Singtel Mobile Data Voucher (2GB local/1GB Roaming Data)
* Information and pictures courtesy of Singtel Corporate Communications *