Crowdsourced Threat Intelligence at ConnecTechAsia Summit 2019
ConnectTechAsia 2019 was recently held in Singapore from 18th to 20th June 2019 at Marina Bay Sands and Suntec Convention Centre, ConnecTechAsia comprised of CommunicAsia, BroadcastAsia and NXTAsia. Besides exhibitors showcasing their latest technological products and services, there were also ConnecTechAsia Summit with an extensive and diverse range of topics being brought up for keynote address, engagement sessions, panel discussions with industry experts. One of the sessions was "Crowdsourced Threat Intelligence at ConnecTechAsia Summit 2019".
What was this particular session all about? Let me share the details below before going into the keynote address and sharing by the panel session.
Date: 20th June 2019
Time: 11:50am (Started later due to earlier sessions overran their schedule)
Location: Marina Bay Sands, Level 4, 4303 
Future of Work & Innovation Track – Blockchain & Enterprise Digitalisation
Topic: Crowdsourced Threat Intelligence
Synposis:
As our world becomes increasingly interconnected, the critical need for cybersecurity for protecting consumers and organizations of all industries from fraudulent transactions and malicious threats has become one of the key challenges of our era. During this discussion, executives from various industries will discuss how Blockchain security affects end users worldwide, as well as the importance of cybersecurity.
Panellists:
John Kirch, Chief Evangelist, Uppsala Security
Dr. David Nguyen, CEO, Regulus
Chad Lynch, Head of Crypto Security, Horangi Cyber Security
Moderator: Sebastiaan Wahlers, Emerging Technologies Lead for ASEAN, Accenture
* Information from ConnecTechAsia Website *
Why did I choose this particular topic to attend and cover? The day before this Crowdsourced Threat Intelligence summit session, I met up with Uppsala Security for a coffee session, very informative and enriching session with the cybersecurity experts from Uppsala Security, thanks to a special arrangement by WE. I would be sharing more on my coffee session with a continuation into part two of crowdsourced threat intelligence and cybersecurity with Uppsala Security.
Discussion topic: Why do we need crowdsourced intelligence?
Sebastian Wahlers opened the session and led the panel discussion with the three panellists.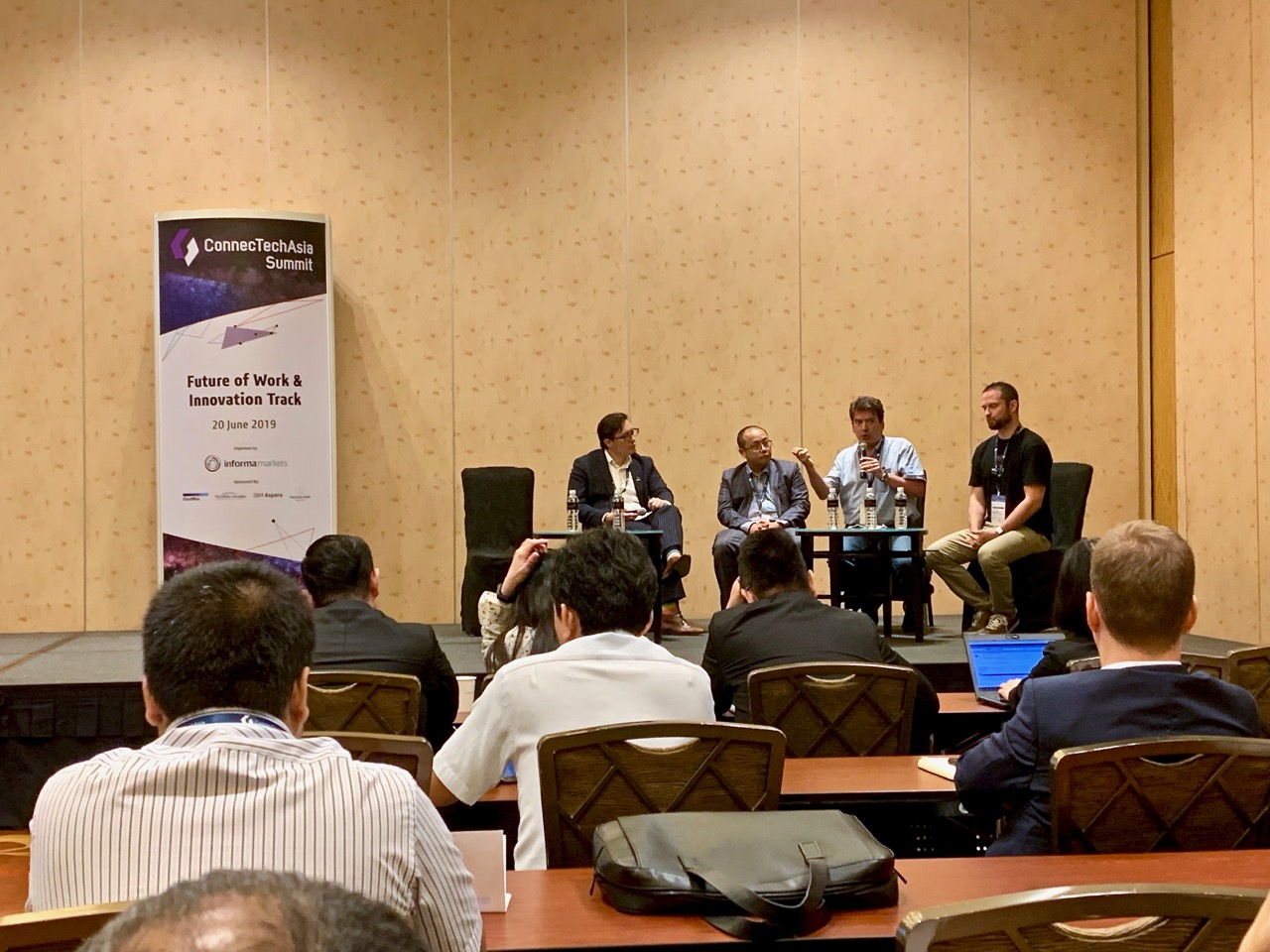 From left to right: Sebastiaan Wahlers, Dr. David Nguyen, John Kirch and Chad Lynch
John Kirch spoke in-depth, brought up a number of key points on the world of internet, information technology and cybersecurity
More new applications and technology developments in today's market, 5G, AI, blockchain, cloud computing and storage, IoT
Huge pools of data online, increasing connectivity
Information can be accessed from any part of the world
Crowdsource from all sources for the common good, from people to algorithm, technology.
Using blockchain is useful and cost effective
No single point of failure
Hacker has advanced in their skills and blockchain can slow it down
Traceability
Education/Community outreach
Some degree of regulation is good
There are many data outside, none of us can do it alone, using blockchain and crypto Cybassets, clarity, transparent and decentralised
We cannot force people to share, we can only motivate people to share.
White list and black list on cyber threats
Reward those who share with coins
Human element to research and validate the threat information
Chad Lynch shared on the following points and what they have been doing at Horangi Cyber Security
Exchange and share intelligence, on exchanges, blockchain started on currency exchange
Threat exchange is up and coming
Blockchain , integrity of data
Solid architecture
Reaching out and getting out to the community , education
Regulation varies across different countries.
Worried that things go underground, into P2P, off the networks.
Blockchain has tremendous value, not just currency sense, suitable for cloud security
Dr. David Nguyen gave alternative insights, making this panel discussion interesting, from the other side of the story.
Tokenomics , not really using blockchain
Education for clients
Very hard to recover the crypto once it is hacked
Enrich the security database and work with other fellow industry professionals
Talking to government
Cybersecurity is not something new, it's an area that has been around for a period of time (remember your internet security, antivirus software?) and this area is growing more significant and important in the current world of information technology developments, advancements and consumption by the businesses and masses. The amount of data available and circulating has metamorphosised into big data, followed by data crunching, analysis, reporting and applying the information derived from big data.
Although I was able to understand the discussion points on crowdsource threat intelligence and cybersecurity brought up during the panel discussion, it was pretty challenging getting the various points down into my article above. Moving forward, I would be covering on the topic of cybersecurity, do keep a lookout for my articles!
How important and useful would crowdsourced threat intelligence in this current and future world of information technology development and technology consumption? My personal humble opinion is that this would take off, with both push and pull factors coming in, to make crowdsourced threat intelligence a key segment in the overall cybersecurity field, along with the hardware and software resources in the market.
To most people, crowdsourced threat intelligence and cybersecurity is not too much of an interest/importance to them, until they lose something valuable and precious to them through a cyber threat, cyber theft or being hacked. I hope that in my future articles on cybersecurity, more people would be aware and take the necessary steps to protect themselves from cybersecurity threats.