Which shopper are you? That's something for you this 7.7 Great Shopee Sale!
A survey was recently conducted by Shopee, the leading e-commerce platform in Southeast Asia and Taiwan. Through this survey, they revealed four types of online shoppers in Singapore and their motivations for shopping online. Do you know which shopper are you? That's something for you this 7.7 Great Shopee Sale!
More than 1,000 Singaporeans were surveyed by Shopee, they found that value is the most important factor for online shoppers, with 58% of respondents stating that they are driven by the best deals and prices. Interestingly, male shoppers form almost two-thirds of value-driven shoppers, showing that men care as much, if not more, about prices online as compared to women.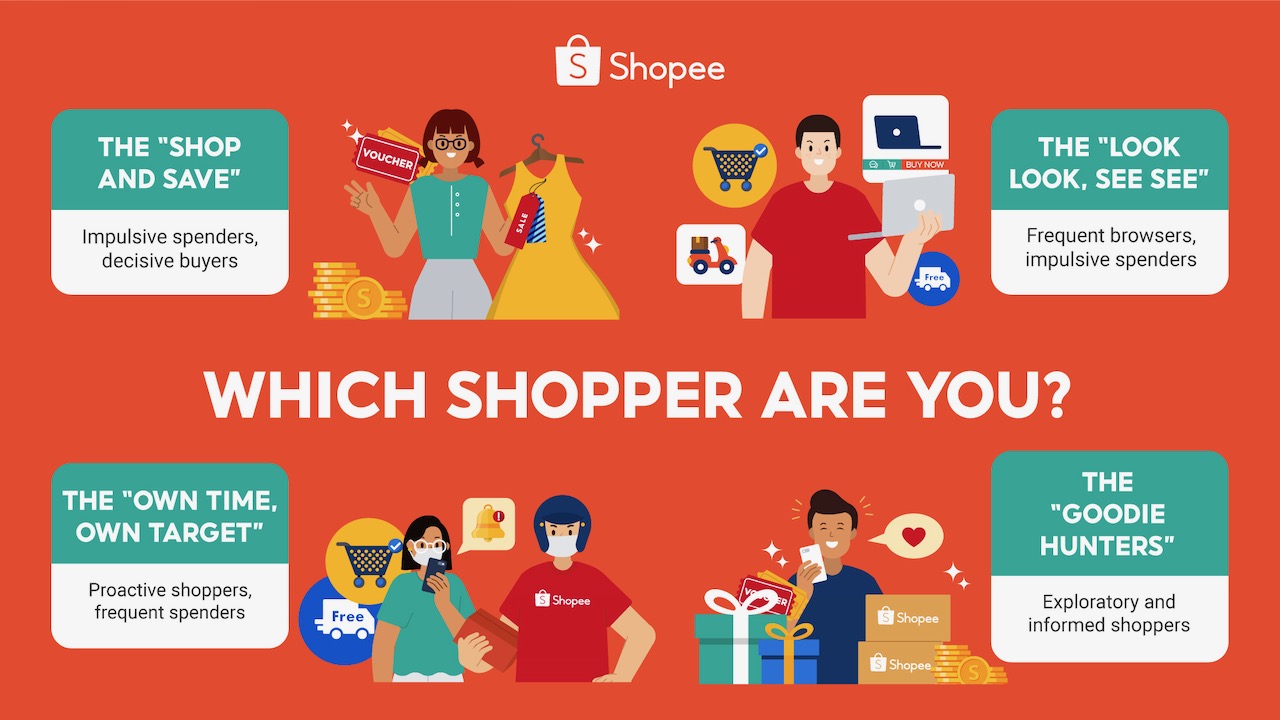 There is also a group of shoppers that are an emerging segment of shoppers that prioritise rewards and giveaways online. In this group, more than two-thirds of them are 35 years and older, thus indicating that to attract middle-aged shoppers, additional perks and goodies are the key factors.
Zhou Junjie, Chief Commercial Officer at Shopee said, "The mid-year shopping season is an exciting time for Shopee. As more Singaporeans go online to fulfill their shopping needs, we are also seeing more diverse preferences and shopping habits emerge. This is why we consistently listen to our users' feedback and improve our features, services, and products to serve their needs. 7.7 Great Shopee Sale is no different and comes packed with highlights such as the Midnight Brands Flash Sale to deliver more value, variety, and fun to all shoppers."
There are four key types of Singaporean online shoppers, which shopper are you? 
1) The 'Shop and Save' – Patient and decisive shoppers who hunt for the best deals
Three out of five respondents are 'Shop and Save' shoppers. They prioritise finding the best deals and prices before making an online purchase. 57% are men, challenging stereotypes that male shoppers care less about price. These shoppers are patient planners and time their shopping to coincide with sale events, but act quickly when they discover deals on products they like.
Key characteristics :
Shopping regularly: 77% buy something online at least once a month
Impulsive buying: 65% do not plan before making a purchase
Decisive buying: 46% browse only a maximum of 5 items before making a purchase
"Shop and Save" shoppers can rejoice at the 7.7 Great Shopee Sale, which offers non-stop 'lobangs' including 28 Flash Deals refreshes, free bubble tea every day at 12pm, and free shipping on 7 July. During the 7.7 period, they can also tap on the 'GSS Vouchers' button on the Shopee homepage for one-stop access to the best deals and vouchers.
2) The "Look Look, See See" – Window shoppers who can also be spontaneous buyers
Making up 15% of respondents, the "Look Look See See" refers to window shoppers who value variety and choice of products. Compared to the "Shop and Save", these shoppers browse more items on average, but are also more spontaneous to quickly cart out a product that catches their eye.
Key characteristics:
Frequent browsing: 57% of window shoppers usually browse more than five items before a purchase
Impulsive buying: 56% will buy an item because they felt like doing so at the moment
This 7.7, window shoppers can 'look look see see' to their hearts' content across Shopee's brand days such as Great Emicakes Sale on 1 July, Great LG Sale on 3 July, Great Skechers Sale on 5 July, each offering a huge selection of discounted products from popular brands and categories.
3) The "Own Time, Own Target" Consumer – Shoppers who enjoy the convenience of delivery to their doorstep
For many Singaporeans, convenience ranks high amongst the Singaporean way of life. 15% of shoppers surveyed choose to shop online because it is easy and secure, and more than two-thirds of "Own Time Own Target" shoppers are over 35 years old. Shoppers under this category know exactly what they want and do not tend to spend extra time browsing the app, but will often make impulse purchases if they stumble upon good deals.
Key characteristics:
Quick decision-making: 56% browse through a maximum of five listings before they find what they're looking for
Proactive shopping: Almost one in three do their own research on products by either searching online or chatting with sellers
Frequent shopping: 74% shop online twice a month on average, making them one of the most frequent purchasers
"Own Time Own Target" consumers can take advantage of Free Shipping which runs now through 7 July. They'll also enjoy the convenience of ShopeePay, Shopee's in-app mobile wallet. From 1 to 7 July, shoppers can enjoy exclusive ShopeePay rewards like cashback and earn a sure-win of 50 Shopee Coins when they top-up or transfer on ShopeePay for the first time.
4) The "Goodie Hunters" – Shoppers looking for rewards and giveaways online
For some Singaporeans, online shopping transcends mere transactions and extends towards loyalty programs and rewards. One in ten shoppers surveyed search for rewards and giveaways to enhance their shopping experience. More than a third of shoppers in this community are under 35 years old, showing that young people are finding joy in seeking, clicking and earning rewards.
Key characteristics:
Discovering as they browse: More than half of these shoppers are likely to find new products to buy when browsing on e-commerce platforms like Shopee
Motivated by product reviews: While being rewards-driven, more than half of "

Goodie Hunters

" also look out for quality. They make their purchases based on product reviews, 57% said this was a key interest factor.
This 7.7, Goodie Hunters are in for a treat with Shopee promotions, including 7.7 Hourly Draw with grand prizes such as Nintendo Switch and Samsung Galaxy S20 FE as well as $0.10 Mega Surprises with an increased number of prizes available on 7 July. They can also tap on Shopee Prizes on the Shopee app homepage to play 7.7-themed games all the way till 7 July.
That's something for you this 7.7 Great Shopee Sale!
Have you identified yourself which shopper are you? Now it's time for you to visit 7.7 Great Shopee Sale! Happy shopping and buying during 7.7 Great Shopee Sale! For more information about the 7.7 Great Shopee Sale, please visit: https://shopee.sg/m/gss
* Information and picture courtesy of Shopee *