Logitech K780 Multi-Device Wireless Keyboard
Logitech recently launched a new wireless keyboard, the Logitech K780 Multi-Device Wireless Keyboard, the one keyboard to connect all your various devices/gadgets together.
I personally owned a Logitech wireless keyboard, the Logitech K380 keyboard and it is very useful for me, connecting my iMac, iPad Air and iPhone 6, allowing me to switch in between these devices at the touch of the buttons on the keyboard. Therefore, I know about the capabilities of the Logitech wireless keyboard model and the Logitech K780 is even better than my current Logitech K380! Maybe it's time for an upgrade!
Share it with your family and friends, this is a keyboard that you consider investing in, that one device to connect and use your various gadgets that you might own!
Let me share with you more information and details of the Logitech K780 Multi-Device Wireless Keyboard from the press release information below-
Logitech (SIX: LOGN) (NASDAQ: LOGI) announced the Logitech® K780 Multi-Device Wireless Keyboard, the first fully-equipped computer keyboard with a 10-key pad that also works with smartphones and tablets. With the touch of an Easy-SwitchTM button, you can easily switch between– and type on – any three connected devices.
"When it comes to typing we can create a document quickly and comfortably on the computer, but when answering a text message on the phone we're limited to what our two thumbs can do," said Moninder Jain, Managing Director of Logitech Southeast Asia and India at Logitech. "Now with the K780 Multi-Device, you can type comfortably at desktop speed on all the devices that you use at your desk, seamlessly switching between them with the touch of a button."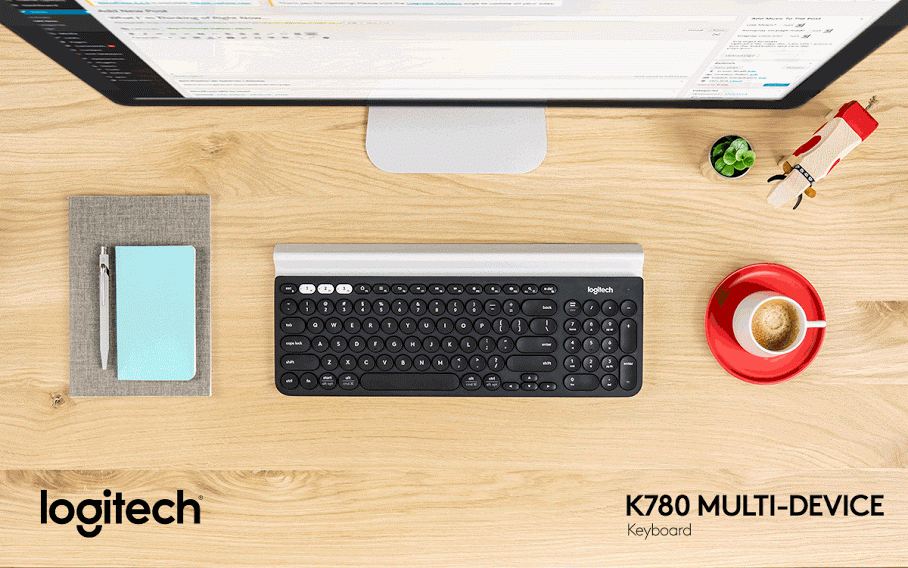 The K780 Multi-Device offers quiet and responsive typing. The keys are large and carefully scooped for typing comfort and precision, while a convenient 10-key pad makes it easy to enter numbers. An integrated rubber slot with a soft finish securely cradles a variety of mobile devices at a perfect reading angle, from smartphones to the 12" iPad ProTM. The keyboard is slim and solidly built, designed to look good in a modern home or office environment.
The K780 Multi-Device adapts to your devices, so whether you are using a Windows® PC or iPhone®, the key layout is familiar and you can even access your favorite shortcuts. With both a Logitech Unifying™ USB and Bluetooth® Smart technology, you can choose the best way to connect to your computer, phone or tablet.
With a power-saving idle mode and an on/off switch, the K780 Multi-Device offers up to 24-months of battery life – plenty of time to get used to a new way of multi-tasking, by typing on all your devices with a single keyboard.
Key Features
Type on anything: The K780 MultiDevice is compatible with any computer, smartphone or tablet. Start typing on your computer, then switch and type on your phone or tablet – at the touch of an EasySwitch button.
All the keys you need, with PerfectStroke typing: Experience quiet and comfortable typing with large, carefully crafted concave keys in a full-size and familiar layout, including a 10-key number pad.
Mobile device cradle: An integrated cradle holds a variety of devices – from smartphones to the iPad Pro

TM

– at the perfect reading angle.
OS-adaptive: The K780 MultiDevice adapts to the operating system that is connected, and automatically maps keys to supported functions and shortcuts.
Dual connectivity: With the K780 Multi-Device, you can choose the best way to connect the device. It comes with a Logitech Unifying USB receiver and Bluetooth Smart technology.
Product Specifications
Dimensions
Height: 22 mm (Large end) and 8 mm (Slim end)
Width: 380 mm
Depth: 158 mm
Weight: 875 g
Warranty
1-year limited hardware warranty
Availability
The K780 Multi-Device Wireless Keyboard is available in June 2016 for a suggested retail price of $129.00.
*Information and picture courtesy of Logitech Singapore and SPRG*