Mission Statement : Following Liverpool FC in Singapore
YOU'LL NEVER WALK ALONE !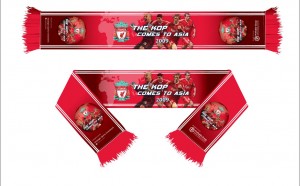 The best football club in the world, with one of the most passionate football fans in the whole wide world, Liverpool FC, is coming to Singapore !!!!!
They would be in town for the next few days for a tour and match on Sunday 26th July versus the Singapore National Team at the National Stadium and I managed to get hold of the KOP end tickets !!! Very excited and looking forward to their arrival and presence in Singapore for the next few days.
They would be holding autograph signing events, football clinics for the youngsters and coaches, river cruise and open training sessions before their grand finale on Sunday. Currently planning to catch them during their autograph signing sessions, river cruise and if I am able to grab hold of the Open Training tickets on Friday 24th July at the National Stadium, I would definitely be there.
Hope to update fellow Reds fans on their journey and adventures in Singapore, if not, the Grand Finale on Sunday 26th July !