Folks
Do you love your mobile phones, smartphones ? Do you love treasure hunt games such as an amazing race type ? Look no further !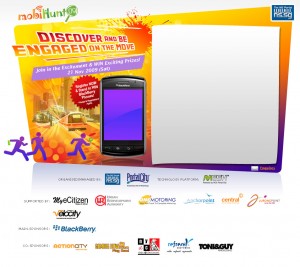 For the 3rd year running, our national service portal NS.SG will be hosting the mobiHunt adventure – this is a fun-filled treasure hunt that will see participants relying on mobile technology to submit answers and receive clues in a bid to cross the finish line first.
mobiHunt 2009 is open to all NS Portal Lifestyle members who can simply log in to www.ns.sg to register for the event and a chance to win attractive prizes. Anyone can sign up for a free NS Portal Lifestyle membership, and not just NSMen. The event hopes to build better public awareness over the various mobile services available on the NS Portal, and also to deliver a fun-filled event day for family and friends. Here's what's going to happen:
· Using location-based solutions via MeSH (Mobile eServices Hub), all 80 participating teams will be guided throughout the race which flags off on 21st November '09.
· Teams with the most questions answered correctly, in the shortest possible time, will stand a chance to win Fastest Challenge cash prizes totalling up to S$5000. All participants are also eligible for a Lucky Draw, with up to $2500 worth of prizes up for grabs.
· All successful registrants will also stand a chance to win a Blackberry mobile phone (Storm/Curve) with a total of 8 sets up for grabs.
· Prior to the event, all NS Portal Lifestyle members will also get a chance to participate in a 'Predict the Winning Team' contest on the ns.sg portal. Members can log in from 19th October to 20th November to guess the winners.
mobiHunt 2009 is open to all NSP Lifestyle members who can log in to www.ns.sg to register. Registration closes 30th September 2009.
Come on, join in the fun, folks !