NVIDIA, this is a brand that most people around the world would be acustomed to, on our laptops and desktops, the NVIDIA graphics card, where we spent time playing games on our laptops/desktops or on our creative works for those in the creative industries such as photography, design etc.
When I first heard of NVIDIA leading the world of healthcare with Artificial Intelligence (AI) and their hardware, I was surprised of NVIDIA's diversity, growth and expansion from the graphics card to their super computer and AI. Upon learning more when I visited NVIDIA website, I discovered so much more on NVIDIA beyond their graphics card.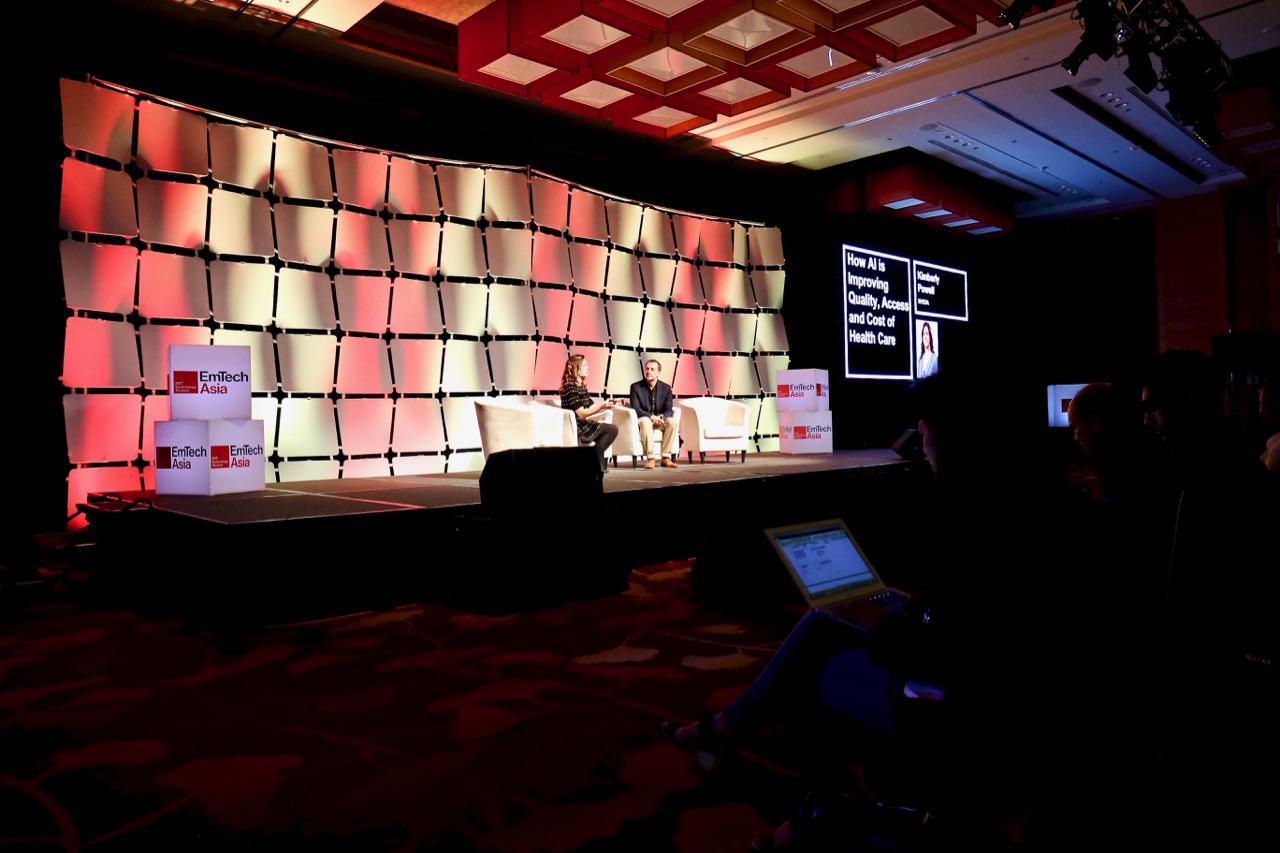 NVIDIA VP of Healthcare, Kimberly Powell, visited Singapore recently for EmTech Asia 2019. It was held at Marina Bay Sands Convention Centre, she gave an address to the delegates and attendees on 23rd January 2019. Prior to that, Kimberly was at SGInnovate on 22nd January 2019 evening, where she also gave an address on the topic AI on Healthcare. I was present for both sessions as well as a round table media session with Kimberly Powell during EmTech Asia before she went on to present her keynote address at the conference.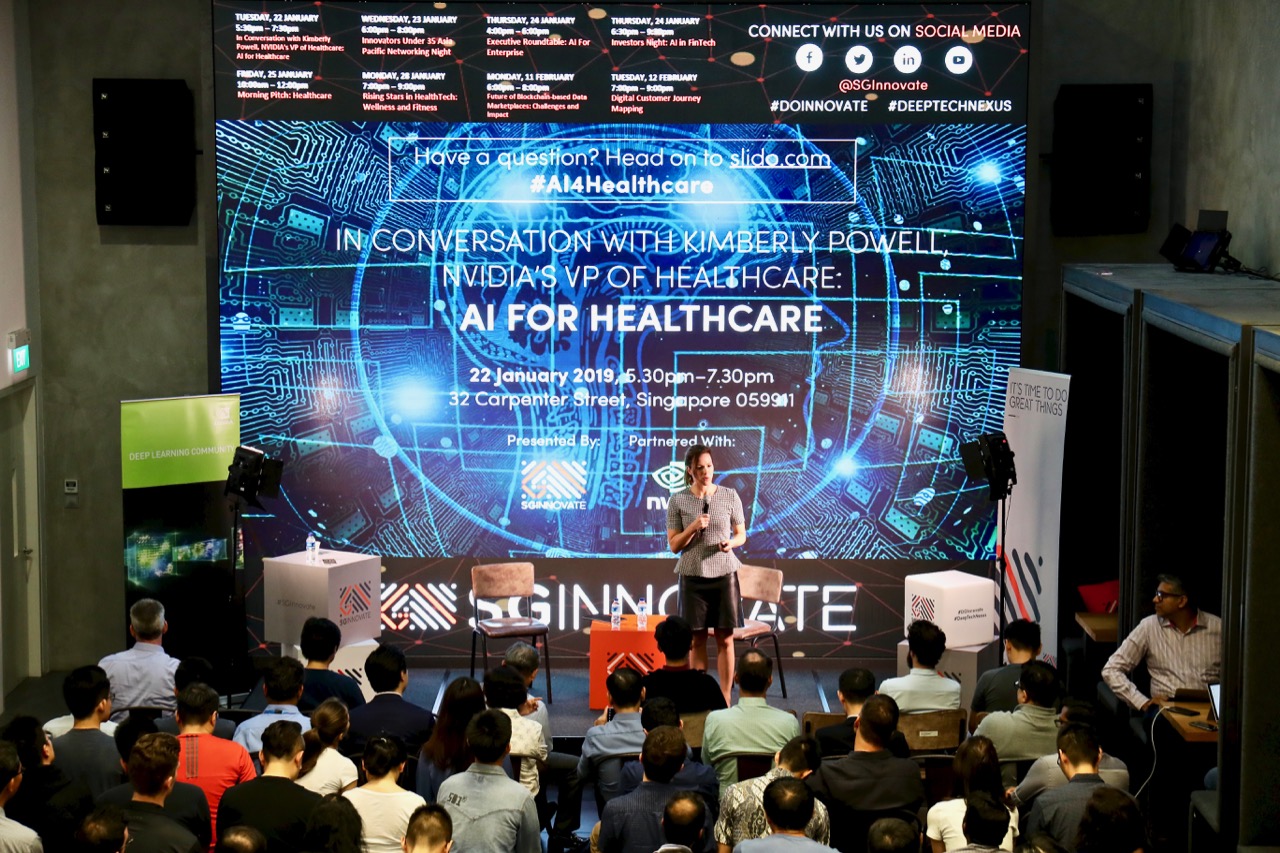 This topic on AI on Healthcare is a very niche and specialised technology sector on a very important industry around the world, the healthcare industry. Healthcare industry is gaining more importance worldwide, from providing better, faster and more precise healthcare services, to an increasing aging population in developed countries.
Writing on NVIDIA AI on Healthcare is a huge challenge, due to its complexity and jargon. After attending and listening to Kimberly's keynote sessions three times, along with some of the materials that were presented and planning my article flow, I decided to present NVIDIA AI on Healthcare for three different target groups – For the hardcore techies, for the healthcare professionals and healthcare industry and for the general public.
For the hardcore techies
The NVIDIA Clara Platform is an open computer platform for intelligent instruments and analysis, a unified architecture for instrument pipelines, from Edge to Datacentre to Cloud, optimised compute engines, concurrent AI execution and real-time & remote advanced visualisation.
They have been powering and acceleraing the precision medicine computer pipeline, from data acquisition, data analysis to data integration, to medical imaging machines and services, genomics and drug discovery in various healthcare industry companies.
NVIDIA hardware and software are the basic building blocks for the healthcare industry to build upon them, implementing them into their own hardware, services, software and ecosystem.
For developers who are interested in NVIDIA AI on Healthcare, you can visit their website.
For the healthcare professionals and healthcare related industry
There is a common hot topic that AI would displace and replace human beings working, on one hand, I believe it is true that AI can displace and replace the work done by human beings. On the other hand, AI can significantly help industries that are lacking in human resources, helping humans in their work and allowing them to utilise and move their human resources across departments more effectively and efficiently. The healthcare industry is one example whereby the human resources might not be sufficient to cope with the rising demand and needs of healthcare professionals and related industries.
The healthcare industry worldwide has huge and diversified industries within the industry itself, from healthcare professionals, doctors, researchers, nurses, to pharmacutical firms, precision medicine, geonomics, healthcare imaging, health records and health data, health data acquistion, health data analysis and health data  integration and insurance companies.
With NVIDIA Clara Platform, GPU infrastructure and AI technology, they supply the core foundation blocks (hardware and software solutions) for healthcare industries to implement in their machines, devices and healthcare services. Some examples of healthcare companies using NVIDIA hardware and software solutions would be Canon, Siemens and GE Healthcare.
Genomics is another healthcare sector that has been in the limelight in recent years. The human race seems to be getting more interested in this area, for their future generation. With the help of AI, they can cut down the time needed to analyse and generate reports.
Insurance companies require huge amounts of medical data and information and having their actuarists analyse, before they are able to implement suitable plans for their life insurance and health insurance policies. Ping An insurance is an example that utilises NVIDIA ecosystem.
For healthcare industry professinals who are interested in NVIDIA AI on Healthcare, you can visit their website.
For the general public
Most of the general public would not be able to visualise and understand how NVIDIA is making the change, positive impacts and improvements to the healthcare industry. The technology jargon and components by NVIDIA are too complicated and complex for them to understand.
I would say most of the general public still see NVIDIA in their life in the areas of gaming and on their laptops/desktops where they have the NVIDIA graphics card powering their computer system.
On the other hand, the general public might be fearful of medical check ups and specialist appointments with their doctors. It's like a taboo to them and they are afraid of receiving findings or illness from their medical check ups.
Yet, there is no denying that the general public understands that healthcare is getting more significant and important, from an aging population, rising medical costs, insufficient healthcare professionals and healthcare facilities.
When the general public goes for a medical check up or medical appointment, they would just want to get the medical analysis and reports as fast as possible, with no bad news and they can go home.
As a patient myself that went for medical check ups and appointments with my specialist doctors due to accidents that gave me some serious injuries, I know how it felt having to go through those X-Ray machines and nuclear medicine machines, getting myself "fried" by those machines, waiting for the reports to be ready and delivered to my doctor for analysis and presentation to me during my medical appointment. It took quite a bit of time, without the help of AI powered super computer inside those machines to help those healthcare professionals.
In the coming very near future, with a better understanding and more publicity on NVIDIA AI powered machine on healthcare, the general public would know more about them and appreciate the positive changes and impacts.
In a short summary
Kimberly gave insights into the world of AI on healthcare, how this new technology is making a positive impact for healthcare industry professionals and the whole world.
While the presence of NVIDIA may not be as visible as some of their other business divisions such as NVIDIA graphics card on laptops and desktops, the  improvements and impacts NVIDIA AI on Healthcare around the world cannot be underestimated.
With NVIDIA AI powered platform and technology on their super computer, built into healthcare industry machines and products, this would greatly and significantly make a difference and impact, from reducing patients waiting time for medical tests analysis and reports when they visit their doctor for medical check ups.
I would like to thank NVIDIA and CIZA Concept for introducing me to NVIDIA and inviting me to NVIDIA AI on Healthcare keynote sessions in Singapore for EmTech Asia 2019 and also at SGInnovate.