Singapore first Night Marathon, the Sundown Marathon, got off to a great start and I was happy to be part of this maiden sporting event.
The Sundown Marathon was quite unique and interesting, running from the coastal road, into East Coast Park, walking up many different overhead bridges, along park connectors to different parts of Singapore's Eastern housing estates suburbs.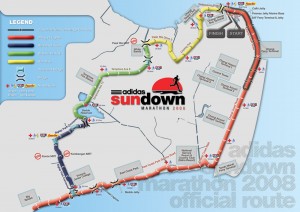 Do take a look at the race route !
Reflecting back on my marathon run this early morning, at a time whereby most people would be sleeping and in their dreamlands, it did not make sense to some people why we would be doing such things …… Nevertheless, I was really keen on the night run, something different and unique from the 2 other marathons I been to.
My three marathons finishes till date:
Standard Chartered Singapore Marathon 2006
Standard Chartered Singapore Marathon 2007
Sundown Marathon Singapore 2008
For this Sundown Marathon, my physical training (on the running segment) was inadequate, although I was having regular fitness training in the gym. Therefore, my timing for the Sundown Marathon was slower than my previous 2 marathons finishes. Although my goal was to improve on my marathon timing, I did not achieve it and down the road, I will be analysing, planning and executing the necessary training schedules to improve my next marathon participation.
With insufficient training, Jack Lan came up with a running tactic for this marathon, not to over exert ourselves early, well it worked wonders for me given my inadequate training, although my endurance showed its flaws for marathon running. During the run, saw ex-colleagues and colleagues too, fun to see friendly faces there and running their own race.
While I was on the 36km mark, it started raining cats and dogs and I was really soaking wet, given the circumstances, I could choose to stop at a bus stop shelter and wait for the rain to stop. However, I chose to continue running, in spite of the new challenges and difficulties, not giving up my mission to SUCCESSFULLY COMPLETE the marathon run.
Running across the finishing line, I had a great sense of achievement again, with my finishers medal and a bright red finisher tee.
I strongly encourage everybody to run a marathon for the experience and exposure. It will be very beneficial to your health and well-being and it will be something that you can relate to, your marathon running experiences and your journey as a entrepreneur.
IMPOSSIBLE IS NOTHING ……………………….. JUST DO IT !