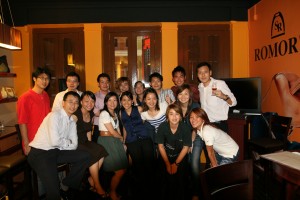 The 19th of September 2008 marked the start of a new era for the University of Queensland Alumni Association of Singapore, a new committee was formed with changes in the roles and members, and the UQAAS Committee had more members entering, coming foward to be part of the University of Queensland family and network, keeping in touch with their alumni, fellow friends and graduates from the University of Queensland.
Our first event was the Wine Symphony Event, a wine appreciation and wine tasting session for our alumni members, and of course, a great time for networking and knowing new friends from the same community. It was held at –
The Wine Symphony, 6 Mosque Street #03-00 Singapore 059486
telephone: +65 6224 2496
fax: +65 6224 2498
email: info@thewinesymphony.com
email: tunling@thewinesymphony.com ( Tan Tun Ling )
email: vivian@thewinesymphony.com ( Vivian Lee )
The event was really awesome and fun, the two lovely and beautiful lady owners, Vivian and Tun Ling, who provided great hospitality and wines from Queensland, Australia. Due to the constraints of the floor size, there were limitations to the number of people that can squeeze inside there, nevertheless, it was an awesome event with great fun and enjoyment ! Do drop by my flickr and view the photos of our wine appreciation event at The Wine Symphony ! 
Please do drop by The Wine Symphony homepage and have a read into their range of Queensland wines available. I was very impressed by the range of Queensland wines that I tasted during the wine appreciation event. Have a taste of the Queensland wine and you would give it the thumbs up !
It was a great night of fun, laughter, entertainment and networking for everybody present there. Moving foward, the UQAAS Committee has plans for the year ahead into 2009, the Wine Symphony event was a start, for more awesome activities and networking to come. 
We would also like to take this chance, to thank everybody that came down to the Wine Symphony event on 19th September 2008, for the wonderful time we had together. Do tell your fellow friends and associates from the University of Queensland network and alumni about the new UQAAS Committee and the upcoming activities and plans.
Let's all look foward to a new era of fun-filled activities and networking events for our University of Queensland Alumni members !