Wash Your Hands, Stay Fit and Healthy
The COVID-19 news are getting heavily broadcasted into our face head on, from news on tv, radio, newspapers to internet and social media platforms. The whole world is getting bombarded by all these news, travel restrictions have been implemented, some countries have gone into lockdown, causing massive disruption to daily living and work among neighbouring countries and other parts of the world. Hopefully, a vaccine for this virus can be ready soon and we can get back to our normal daily life around the world. Meanwhile, I just want to remind people of these two messages, wash you hands, stay fit and healthy.
Wash Your Hands
This is the time to reinforce practicing good personal hygiene today and beyond. Clean hands protect against infection (such as the COVID-19 virus) getting into your body through your eyes, nose or throat.
Let's all do our part to continue spreading this health message to your family, loved ones and friends. Thanks to Wash Your Lyrics, why not choose a favourite song that you love to sing along, put into a hand washing infographic on hand-washing technique with soap and water? Create your own, pass it on, pay it forward and remind each other to practice good personal hygiene!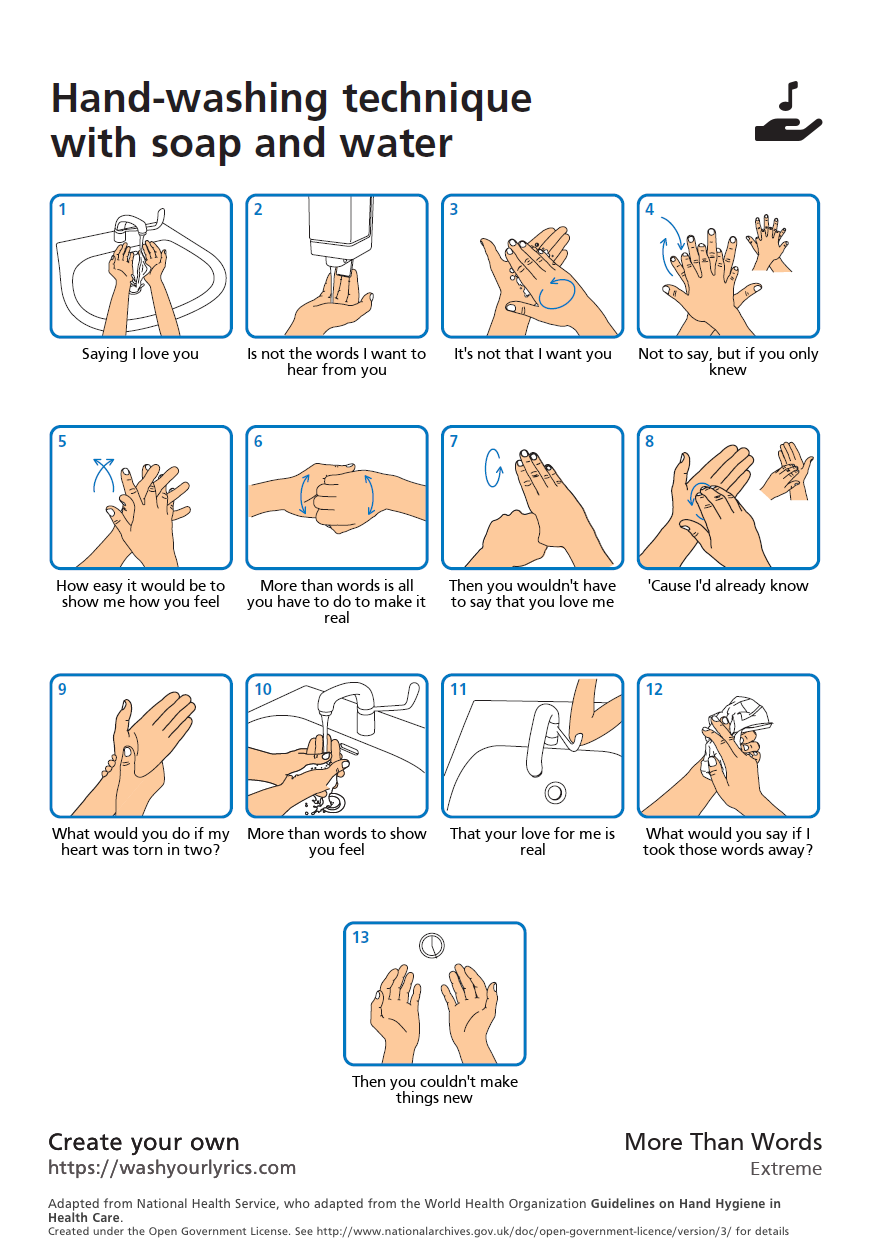 I chose one of my favourite rock ballads, More Than Words by Extreme, for this Wash Your Lyrics poster!
Stay Fit and Healthy
The COVID-19 situation has caused massive disruption to both local and world economies, daily living, businesses etc. From working from home (WFH) to social distancing, we are all working on minimising big crowds events, gatherings. That does not mean being anti-social or be lazy binge watch on dramas at home with your snacks and tidbits.
On the topic of good personal hygiene along with healthy living, this makes it a good time to remind ourselves to stay fit and healthy, from exercising and having a good workout (without weights or fitness equipment in the gym) in the comfort of your own home , to exercising at the neighbourhood fitness parks, walking/jogging at the nature parks or trekking in the nature reserves.
Whichever form of exercises or physical activities that you are going to embark on to stay fit and healthy, do remember to do your stretching exercises before you start your favourite exercises or physical activities! Yes, that even applies to your hiking in the nature parks!
In this very difficult and turbulent period at the start of Year 2020, the whole world needs to stay united and fight against the COVID-19 virus together.
Let's all continue to Keep Calm and Carry On.