WD, a Western Digital company, a long time innovator and a storage industry leader, launched the WD My Cloud EX4. This particular storage caught my attention and I personally felt that it will definitely attract working professionals/business owners such as photographers, filmmakers, designers and small medium business to have one for their artworks or business usage! This might even be a good storage idea for individual/home users to consider owning it too! Let me share more with you more on the high performance WD My Cloud EX4!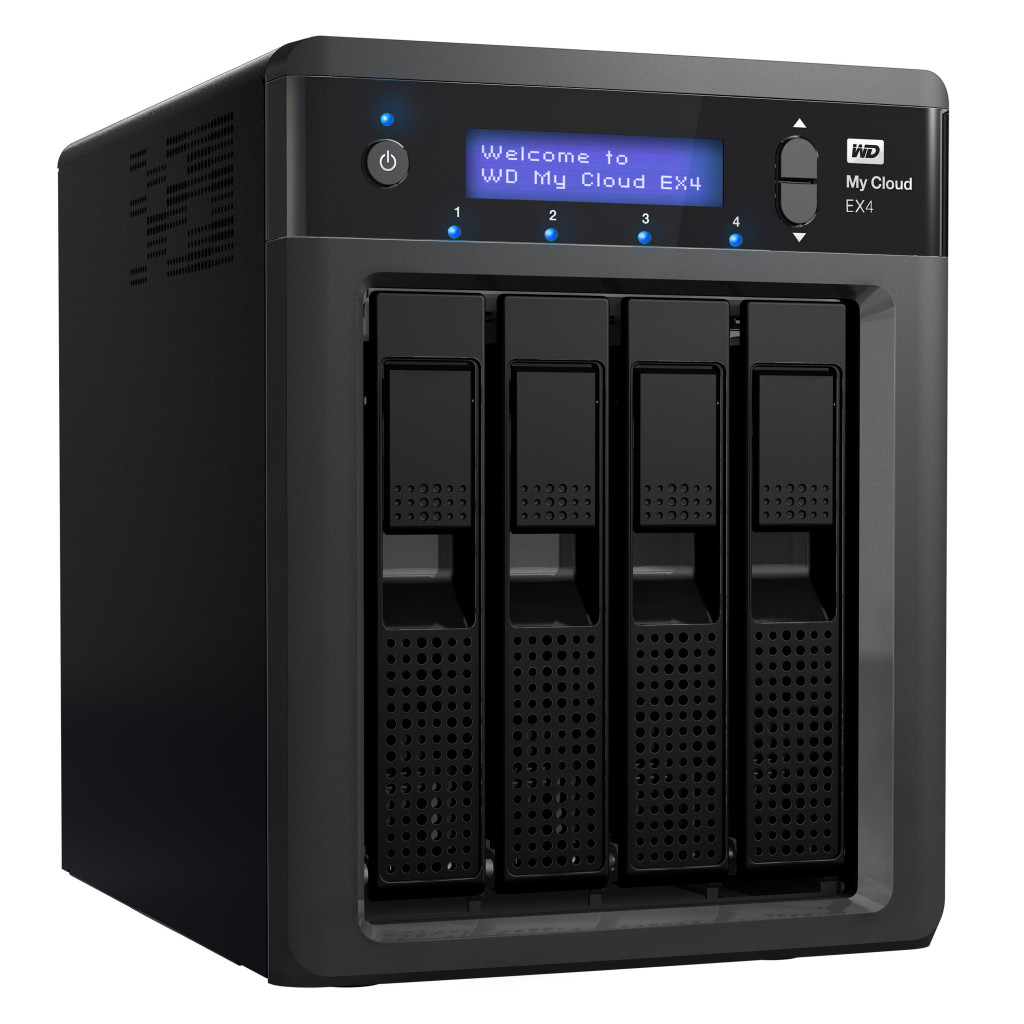 The WD My Cloud™ EX4 is a high-performance four-bay network attached storage (NAS) solution for creative professionals, prosumers, workgroups and anyone looking for a reliable way to save, share, back up, stream and manage massive amounts of digital data.
"We believe that there's no place like home for the cloud," said Jim Welsh, executive vice president and general manager of WD's branded products and consumer electronics groups. "Everyone is inundated with thousands of digital files scattered across multiple computers and mobile devices, and controlling that chaos is a challenge. WD's personal cloud an affordable and reliable way for customers to control that chaos, with access to all of their files anywhere, anytime."
Featuring the category leading WD Red™ line of hard drives specifically designed for home and small office NAS systems, My Cloud EX4 customers enjoy ultimate reliability from the trusted name in storage. WD Red drives are powered by NASware™ 2.0 technology, which improves drive reliability and protects customer data in the event of a power loss or disruption. Additionally, WD Red hard drives feature 3D Active Balance Plus, an enhanced balance control technology that significantly improves overall drive performance and reliability.
My Cloud EX4 provides several capacity options, allowing customers to choose from a drive-less enclosure that allows customers to customize their capacity and add additional drives as their library of digital content grows, or an 8 TB, 12 TB or 16 TB model1. With Easy-Slide-Drive technology, My Cloud EX4 allows customers to easily install or hot-swap drives in seconds, without the need for a screwdriver, toolkit or trays. Additionally, customers can attach compatible USB 3.0 hard drives to the USB expansion ports on the My Cloud EX4 to instantly expand their storage capacity.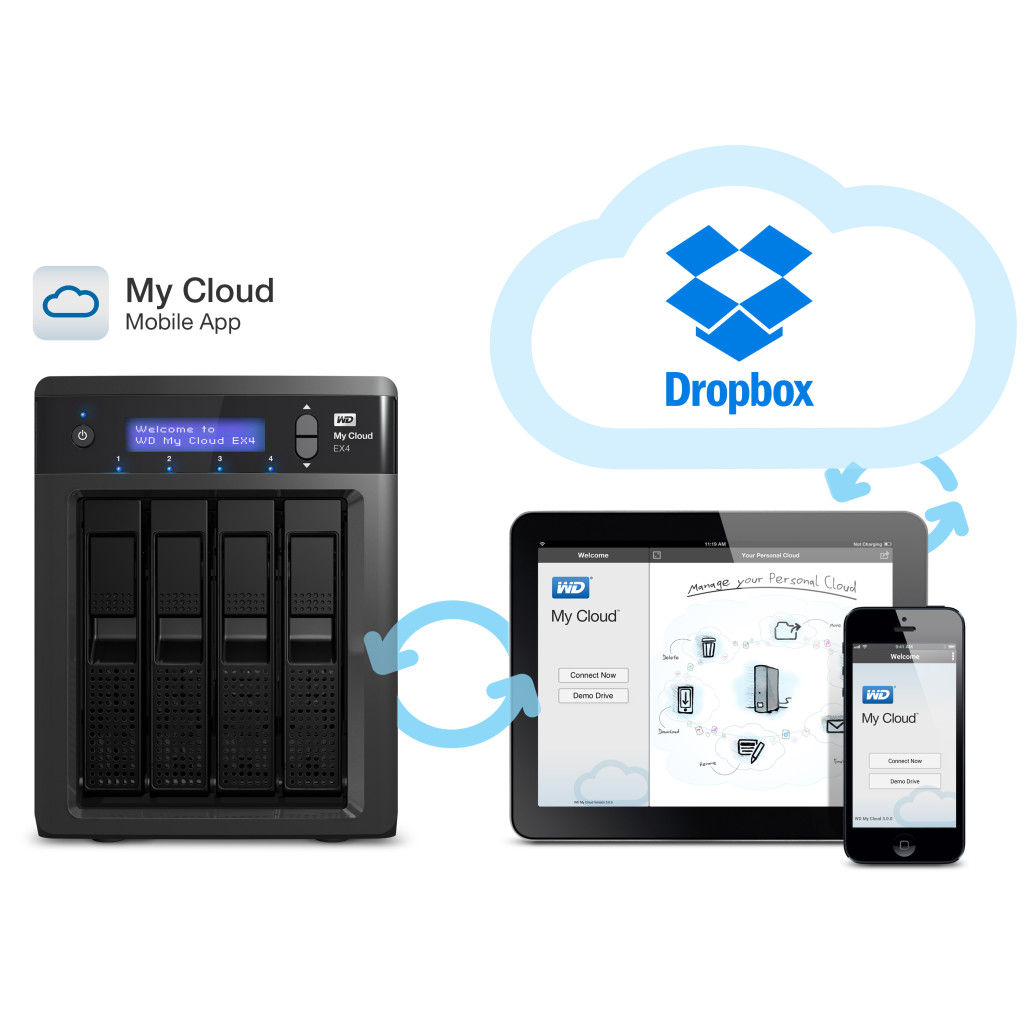 Ultimate Data Protection
My Cloud EX4 arms users with multiple options to secure digital data from a potential loss by providing RAID 0, 1, 5, 10 or allowing users to select from spanning and JBOD modes for even more options to manage data. Customers can also use their My Cloud EX4 to back up all of their computers and devices with WD SmartWare™ Pro software for PC users. Mac users can utilize all the features of Apple® Time Machine® backup software to protect their data. The My Cloud EX4 can also backup itself, either to another My Cloud EX4 in a different location, or to cloud services such as Amazon S3 and ElephantDrive. To ensure 24/7 data protection and reliability the My Cloud EX4 includes redundant power supplies and Ethernet ports.
Advanced Streaming and Serving
My Cloud EX4 serves as a home's digital entertainment hub, configurable for up to 16 TB of movies and music that can then be streamed to any DLNA®/UPnP® certified multimedia device such as gaming consoles, smart TVs and WD TV® Live™ media players. The Twonky 7.2, DLNA-certified 1.5 media server and iTunes® server make for simple streaming of large movie and music libraries.
Additionally, the integrated file server, FTP server, backup server and P2P download server provide advanced data serving options for My Cloud EX4 users. Customers can also customize their NAS, monitor system health, manage users and energy saving features with the My Cloud EX4 dashboard, as well as use a suite of third party apps, including aMule, Icecast, Joomla!®, phpBB®, phpMyAdmin and SqueezeCenter.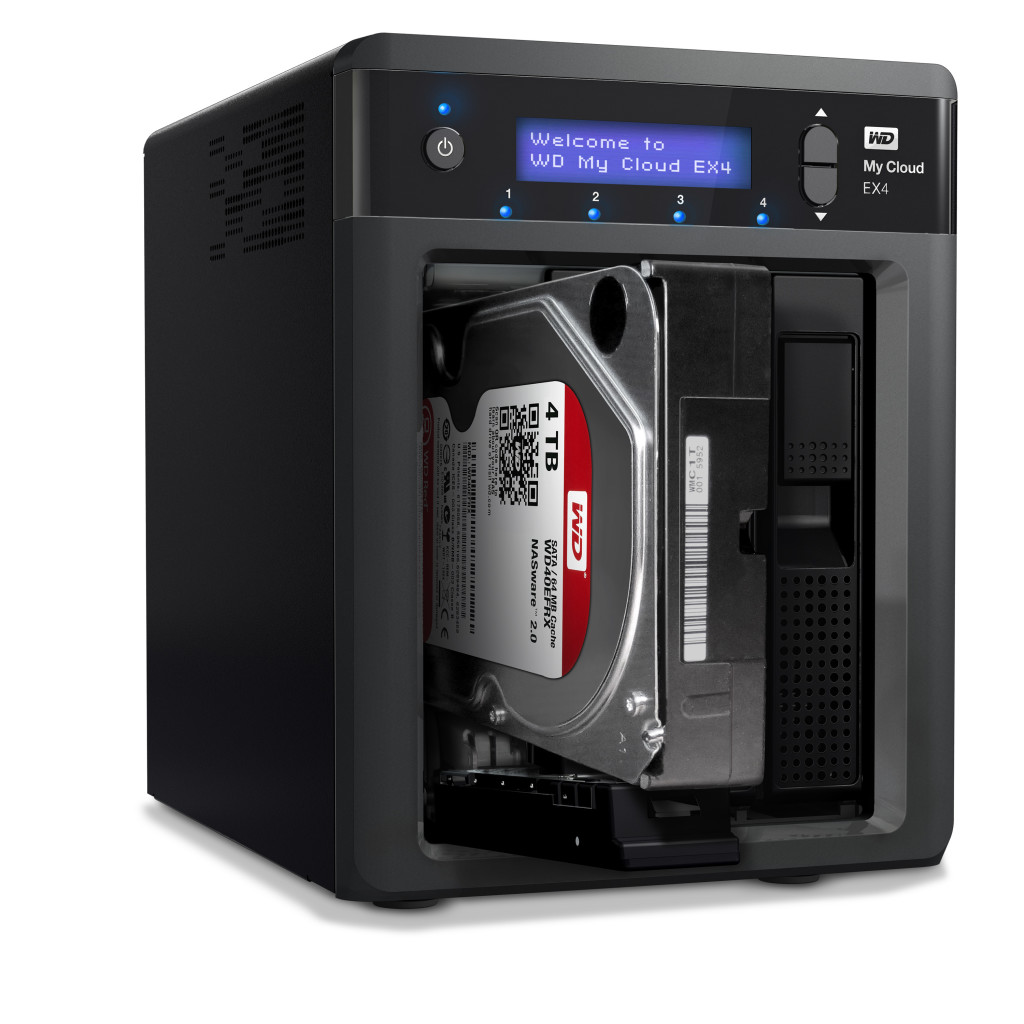 Anywhere Access to My Cloud EX4
Available for iOS® and Android™ devices, the WD My Cloud mobile app allows users to view photos, stream video and share, save and manage files from anywhere on their smartphones or tablets. The mobile app makes file sharing and collaborating simple, allowing customers to easily email files, share files as a link, and print and open files with third party apps. The My Cloud mobile app integrates major public cloud services so that customers can easily transfer files from their Dropbox™, SkyDrive® and Google Drive™ public cloud accounts[1].
Price and Availability
My Cloud EX4 is currently available at select retailers and is distributed by Eternal Asia (S) Pte Ltd and SiS Technology Pte Ltd in Singapore. Manufacturer's Suggested Retail Price (MSRP) is S$599.00 for the drive-less My Cloud EX4, S$1,219.00 for 8 TB, S$1,449.00 for 12 TB and S$1,729.00 for 16 TB. The My Cloud mobile app currently is available for download from the App StoreSM and Google PlayTM. My Cloud EX4 comes with a two year limited warranty.
Compatibility
My Cloud EX4 is compatible with Windows® 8, Windows 7, Windows Vista®, Windows XP, OS X Mavericks™, Mountain Lion™, Lion®, Snow Leopard®, as well as DLNA®/UPnP® enabled devices.
[1] Dropbox, SkyDrive or Google Drive account required. Cloud services may be changed, terminated or interrupted at any time and may vary by country.
* Information and Pictures Courtesy of WD Singapore and Ogilvy Public Relations *