Singapore is celebrating her Golden Jubilee and her Birthday celebration is coming very soon on 9th August 2015. As part of the SG50 celebrations, WeChat is also celebrating SG50 together with us with something special and pretty! WeChat is hosting locally designed Ang Ku Kueh Girl on a dynamic new playground – WeChat's sticker gallery!
WeChat users, time to download the Ang Ku Kueh Stickers and share with your family, loved ones and friends!
Let me share with you more on WeChat celebrating SG50 with locally designed Ang Ku Kueh Girl Stickers from the press release –
WeChat is hosting locally-designed Ang Ku Kueh Girl on a dynamic new playground – WeChat's sticker gallery. Drawing inspiration from local snacks and everyday life in Singapore, the Ang Ku Kueh Girl WeChat emoticon sticker pack is designed by acclaimed Singapore designer, Wang Shijia and her team.
"This is the first-ever WeChat emoticon sticker pack designed in Singapore, and is representative of a topic close to every Singaporean's heart – food. The very adorable Ang Ku Kueh Girl will be a welcome addition to the WeChat family and we are ecstatic to unveil them in time for the nation's SG50 celebrations," said Poshu Yeung, Vice President of International Business Group at Tencent, the company behind the WeChat app.
A total of 16 stickers have been specially designed for SG50, and they will be made available on WeChat's sticker gallery from 01 August. The emoticon sticker pack can be downloaded by all WeChat users.
"I'm excited to work with WeChat to commemorate this iconic milestone for Singapore. Indeed, Ang Ku Kueh Girl was first derived as a way to celebrate being Singaporean, and it is testament to how much the brand and local design have grown, with global names such as WeChat working with Singapore talent," said Shijia.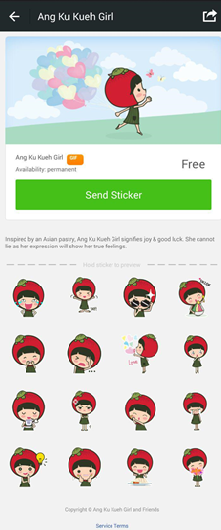 This is not Shijia's first endeavor with SG50. She is also the appointed designer for the official SG50 birth certificate and commemorative folder, and had previously designed the Gem Baby™ character for the SG50 baby gift.
Before you follow Ang Ku Kueh Girl's adventures on WeChat, here's more about Ang Ku Kueh Girl
Ang Ku Kueh Girl®
She's spunky, lively and loves to play games, be it board games or traditional games with a lot of running involved ("chasing" and "hide-and-seek"). However, she is quite kiasu and likes to win.
Ang Ku Kueh Girl® also has a quiet side to her as she enjoys doing handicraft; her plush tortoise is handmade using vintage fabric from her mother. But, she ran out of green fabric and thus the tortoise tail was created in a different floral fabric from the body.
She enjoys wearing slippers like most Singaporeans too! Her green dress is reminiscent of the banana leaf that an ang ku kueh is placed on
* Information and Picture Courtesy of WeChat and Pulse Influence *