ViewQwest is Singapore's fastest broadband provider in Year 2021. For the fourth consecutive year, ViewQwest has been awarded Singapore's fastest fixed broadband provider by Speedtest® by Ookla. Singapore is accelerating adoption of a highly digital lifestyle, ViewQwest continues to maintain its fastest broadband service provider status while catering to the ever-increasing bandwidth needs of Singapore as consumers make a huge shift towards working, streaming, entertainment and gaming at home due to the pandemic situation.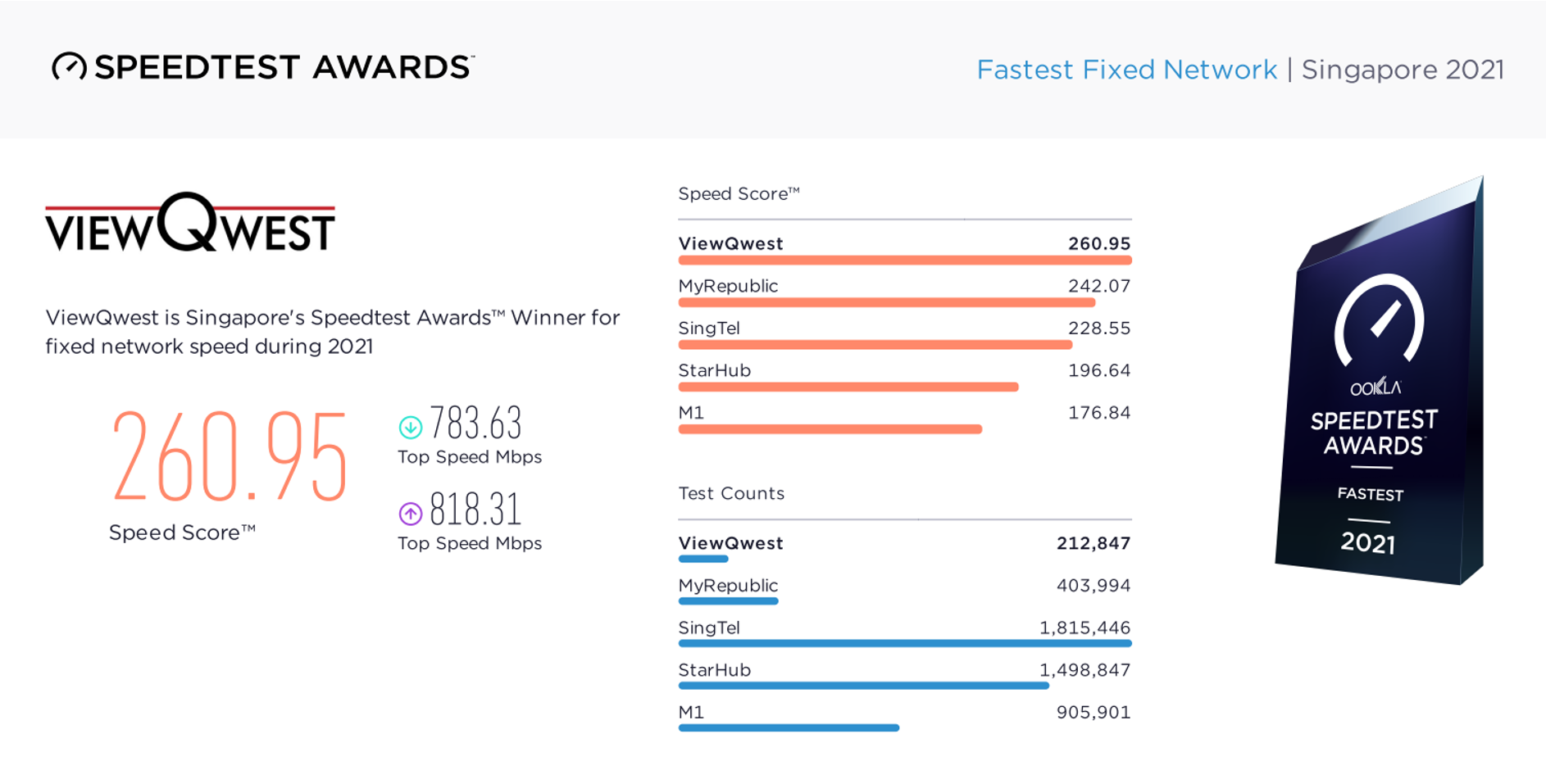 This award is based on the latest full-year results of Speedtest by Ookla in Singapore. Users who run tests on their specific broadband providers contribute results that would then determine which provider has the fastest network in terms of download and upload speeds.
The award covers January to December 2021, where there were 5,139,331 user-initiated tests taken on various Speedtest applications, in which the median results were taken from the five major providers, namely ViewQwest, MyRepublic, SingTel, StarHub, and M1.
ViewQwest emerged as the top broadband service provider that tops fastest download and upload speed throughout the year, beating out other broadband providers in the country. With a median top download speed and median top upload speed of 783.63 Mbps and 818.31 Mbps respectively, ViewQwest is recognised as the Most Consistent Network for 2021.
Mr Vignesa Moorthy, CEO of ViewQwest said: "We are extremely pleased to be named not just as Singapore's fastest broadband service provider for the fourth year running but also as the most consistent network in the country.  This dual recognition reflecting speed and reliability affirms our commitment to deliver superior network services to our business and residential customers."
Doug Suttles, CEO of Ookla said: "Speedtest Awards, presented by Ookla, are reserved for an elite delegation of network operators that have delivered exceptional internet performance and coverage within a market."
He added: "It is our pleasure to present ViewQwest with the award for fastest broadband provider in Singapore. This recognition is testament to their exceptional performance in 2021 based on Ookla's rigorous analysis of consumer-initiated tests taken with Speedtest."
This is the fourth consecutive year since 2018, ViewQwest received the award for the top spot as Singapore's fastest ISP.
According to the Speedtest Global Index for December 2021. Singapore's download speed was 192.17 Mbps, and upload speed was 163.70 Mbps in December 2021. This made Singapore ranked 1st out of 178 countries, in terms of having the fastest fixed broadband speed globally.
Digitalisation of our daily life is our new norm moving forward, ViewQwest believes that every single household in Singapore deserves to access the online world with the fastest and most consistent speeds. Users can experience Singapore's fastest broadband starting at $29.90 with speeds up to 2Gbps.
For more information on ViewQwest, please visit www.viewqwest.com.
* Information and picture courtesy of ViewQwest and GLOO *