Singtel Dash launched insurance savings plan
The world is currently going a prolonged period of economic uncertainty brought about by the Covid-19 global pandemic, along with low bank interest rates here in Singapore, consumers have started to look around and explore more options to start their savings journey, customers now have a new option with Dash EasyEarn. Singtel Dash recently launched this insurance savings plan, offered exclusively through Singtel's Dash app and underwritten by Etiqa Insurance.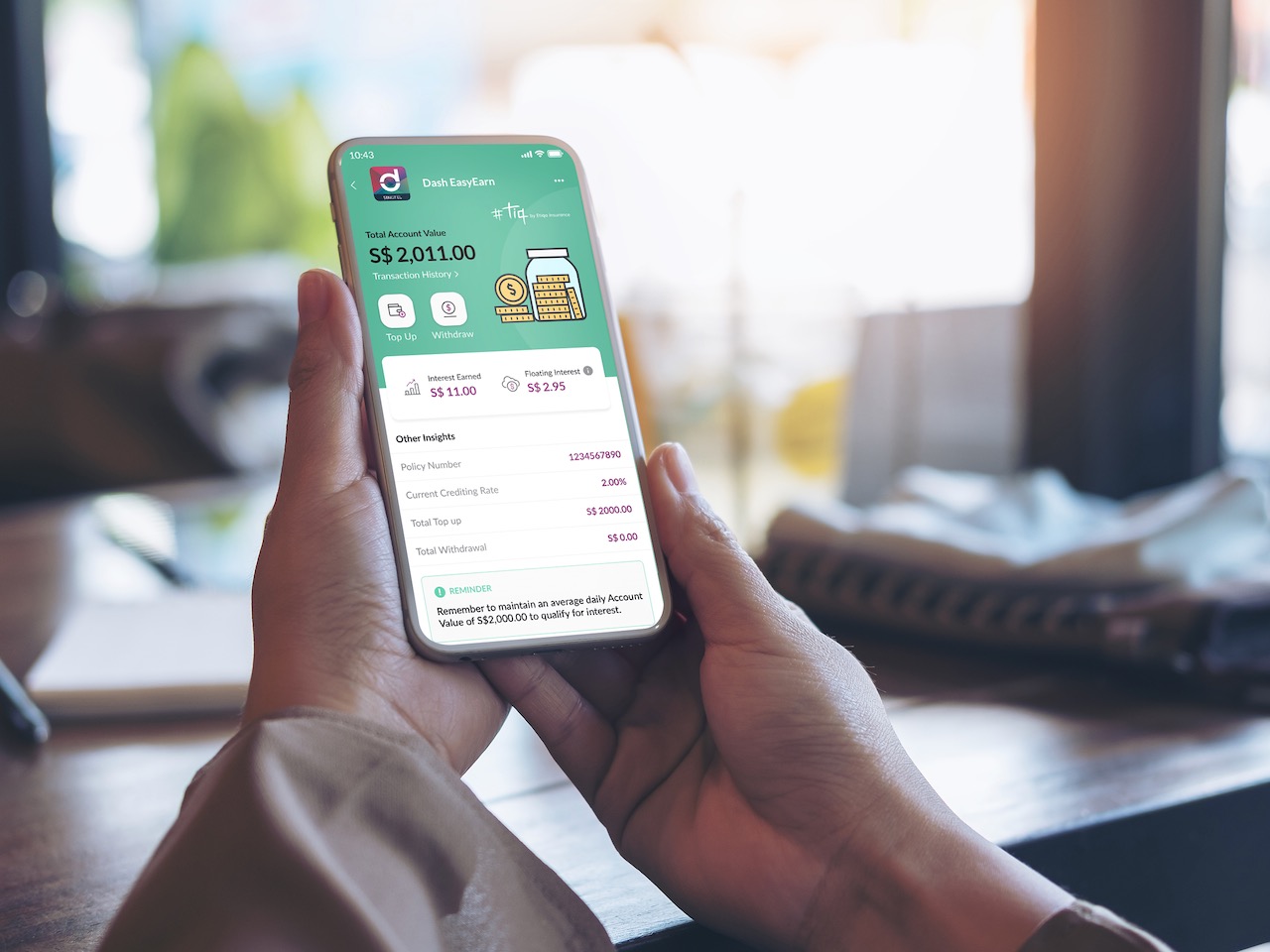 What is Dash EasyEarn?
Dash EasyEarn savings insurance adds financial services to the existing Dash mobile app that currently provides payments, mobile data top-ups, e-commerce, lifestyle and remittance services. Which group of customers are suitable for Dash EasyEarn insurance savings plan? This plan is designed for investors who want to start saving regularly for their future yet they are also concerned about their cash flow, especially during these challenging times.
Customers can start off with their Dash EasyEarn savings insurance plan with a minimum initial premium of S$2,000, up to a maximum of S$20,000. Other benefits include up to 2% per annum returns (Refer to Note 1 below) for the first policy year, no lock-in period and unlimited withdrawals with zero penalties.
Mr Gilbert Chuah, Head of Mobile Financial Services, Singtel's International Group says, "Dash EasyEarn represents the next steps for Dash as it grows to become a more inclusive everyday app that will play a bigger part in enabling our customers' digital lifestyles. With Dash EasyEarn, customers can start growing their savings with greater convenience with a fully digital insurance product accessible on their mobile phones. We will continue to use technology to glean deeper business insights, better understand the needs and habits of consumers and bring them the products and services that they want."
"Dash EasyEarn was co-created by Singtel and Etiqa to meet the financial needs of digital savvy consumers, who increasingly seek simple and convenient solutions through all-in-one mobile apps. We are honoured and appreciate the opportunity to work with Singtel to close the distance between people, their money, and services. This strategic partnership epitomises Etiqa's commitment to pursue financial inclusion through innovation and constantly deliver added value to our customers," said Mr Dennis Liu, Head of Digital and Business Transformation and Technology of Etiqa Insurance Pte. Ltd.
Since Dash EasyEarn is an insurance savings plan, they offers up to 105% of the account value in the event of death. This plan also offers security capital guarantee and allows users to withdraw their funds any time in case of emergencies, without penalties or any interest clawback.
How do I go about signing up for Dash EasyEarn?
Purchasing and managing Dash EasyEarn can be done easily through the Dash app. For interested and eligible customers in Singapore (Refer to Note 2 below) who wish to sign up, they only need to verify their personal details before topping up using their bank account to get started.
Users can also perform top-ups (Refer to Note 3 below) at their convenience and opt to withdraw funds directly into their bank account or Dash wallet. Dash EasyEarn is open to eligible residents in Singapore and is available only through the Dash app.
If you are keen to find out more information on Dash EasyEarn, please visit www.dash.com.sg
Notes:
(1) Guaranteed 1.5% p.a. + 0.5% p.a. bonus for first policy year for a limited time only.
(2) All applications are subjected to the acceptance by Etiqa Insurance Pte. Ltd.
(3) Minimum top up of S$500 for each top up. Minimum policy amount of S$2,000 must be maintained to earn interest. A charge of S$0.70 per withdrawal to user bank accounts applies, but is free of charge to withdraw to Singtel's Dash.
* Information and picture courtesy of Singtel *