Audio House Member Exclusive – Free Durians
Durian lovers in Singapore alert! I want to share this with you folks, Audio House Member Exclusive – Free Durians! It's taking place next weekend on Saturday 13th July and Sunday 14th July 2019 at Audio House! Audio House is giving back to their members this durian season, with a membership base of over 113,000 members and they are giving out free durians to their members!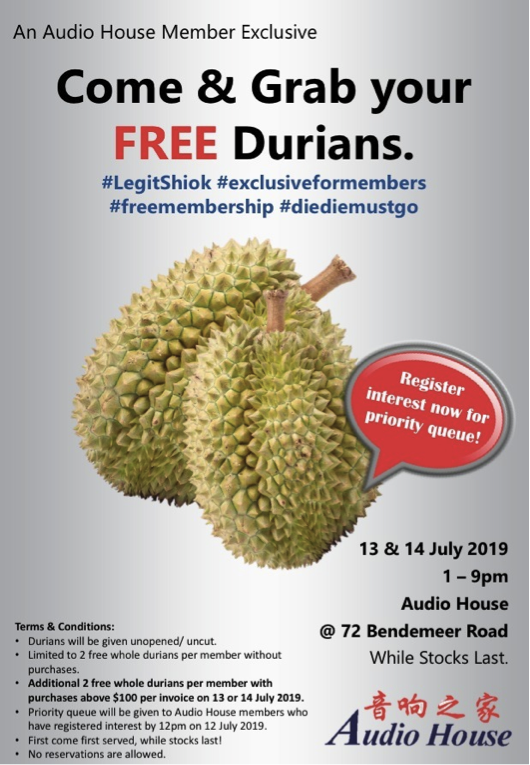 A total of 6 tons of durians will be available on the two days for redemption, at Audio House Bendemeer showroom. All members at Audio House are entitled to redeem 2 whole pieces of durians each, without any purchases required on 13 and 14 July 2019, 1pm to 9pm, on first-come-first-served basis, while stocks last. For any spending above $100 during the two days, these members will be entitled to an additional 2 whole durians each (total of 4 whole durians per member!). For non-members, membership registration is free at Audiohouse.com.sg .
Since the launch of its membership program along with its cashless payment system in November 2017, Audio House has successfully built a base of more than 113,000 members within one and a half years. Membership registration is free and very easy at Audio House. All Audio House members are guaranteed the lowest prices always, with an additional 20% cashback with every $100 spent at Audio House.
To thank its members for their support, Audio House has ordered 6 tons of durians this July for all its members who are mainly homeowners in Singapore. An effort unheard of in this industry.
All keen participants are encouraged to follow the steps below for priority queue on the event day:
Register to be an Audio House member at Audiohouse.com.sg
After becoming an Audio House member, register interest for free durian redemption here:
Audio House members who have registered their interest to redeem the durians will receive a confirmation email with instructions to redeem their durians at Audio House on 13 and 14 July 2019.
Join the priority queue for durian redemptions at Audio House on 13 or 14 July 2019 by registering interest via this link before 12pm on 12 July 2019 : https://freedurian.kickoffpages.com.
"From guaranteed lowest prices to cashbacks to best-in-class service, we are always looking for ways to benefit our members at Audio House." Says Mr. Alvin Lee, Managing Director of Audio House. "What better way to reward Singaporeans than to give them their favorite fruit this durian season! We hope that our customers can feel our sincere appreciation to their support, and continue to introduce more friends to shop with us."
Audio House Durian Giveaway Campaign:
Date: 13 and 14 July 2019
Time: 1pm to 9pm 
Venue: Audio House (72 Bendemeer Road, Luzerne building, Singapore 339941)
5 mins walk from Boon Keng MRT
All who are keen are advised to be early, as durians will be given out on first-come-first-served basis, while stocks last. 
If you are already an Audio House member, don't miss this Audio House member exclusive, Audio House durian giveaway campaign! Highly recommended to register and join the priority queue for durian redemptions at Audio House on 13th or 14th July 2019!
Remember to Pass It On and Pay It Forward, share this wonderful durian news with your family, loved ones, relatives, friends and colleagues!
* Information and picture courtesy of Audio House and Brand Cellar *