SingTel and Standard Chartered Bank recently launched Dash, a ground-breaking mobile money service that revolutionises mobile commerce and banking. In a first-of-its-kind collaboration between a telco and a bank, Dash offers innovative solutions that update the way customers access, save or borrow money, make payments, and purchase insurance.
At launch, Dash offers three innovative mobile money solutions:
Dash Easy– a bundle of two accounts in one solution – a savings account seamlessly linked to a mobile cash account. Customers can download cash into their mobile phones to pay friends and businesses without the need to access an ATM.

Dash Advance – a personal loan facility which customers can apply through their mobile phones, any time.

Dash Abroad– a customisable mobile travel insurance service which offers customers the flexibility to pick and choose coverage options to meet their needs while on the go.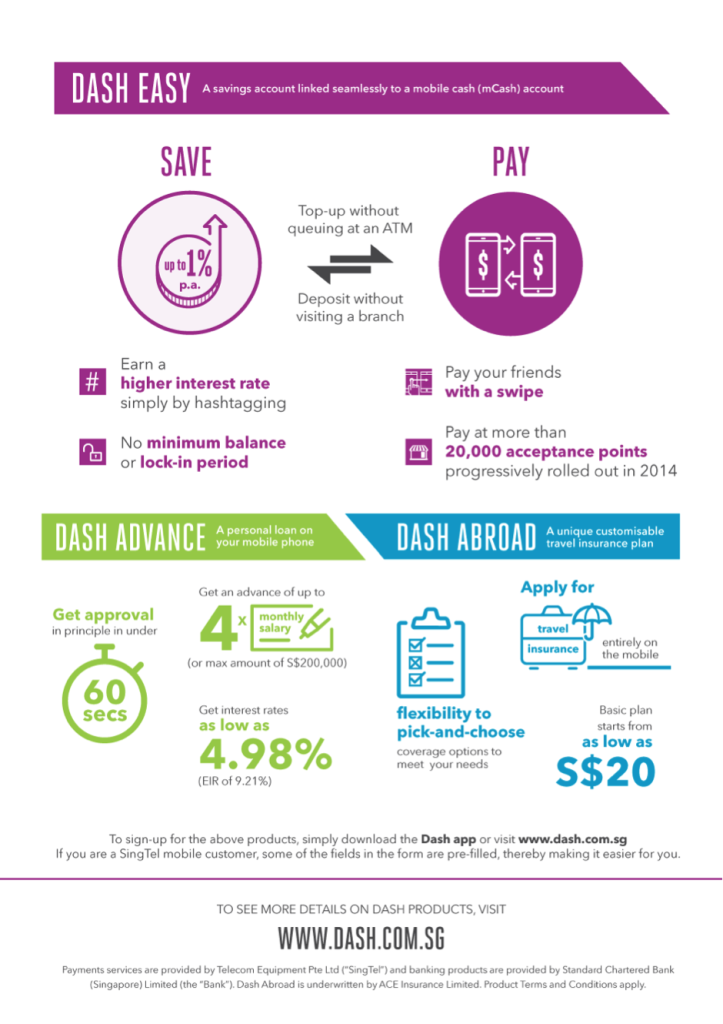 At the heart of the service is the user-friendly Dash mobile app for Apple and Android smartphones that allows customers to sign up and access these solutions seamlessly.
Mr Allen Lew, SingTel's CEO Group Digital Life, said: "Dash is centred round the lifestyle needs and habits of a mobile Internet generation who are used to downloading information and content on the go.  With Dash, we are offering them an unprecedented experience by allowing cash to be downloaded into their phones as well.
"But Dash is more than that; it is a suite of mobile money services which integrates three important components – mobile banking, mobile payments and mobile shopping.By bringing together players in the banking, telecommunications and retail sectors, we are able to deliver a differentiating experience for consumers in terms of convenience, ease of use and accessibility. We are pleased to partner Standard Chartered, as well as the myriad of partners on our platform, to make Dash available to every mobile user."
Mr Som Subroto, Standard Chartered's Regional Head of Retail Clients, ASEAN, said: "At Standard Chartered, we have three guiding principles when we develop a new product: It has to be relevant to the customer; it has to be secure and it has to be innovative. Dash is a great example. We are always seeking ways to make banking simpler and more convenient for them. As device sophistication and network speed have increased over the years, so have consumers' expectations of usability and service. We are delighted to have this opportunity to collaborate with SingTel, to conceptualise Dash and make banking even more convenient and relevant for everyone.
"Dash harnesses the power of technology and analytics to make the customer experience more intuitive, seamless and delightful, while ensuring that transactions remain safe, secure and confidential. This is just the beginning and I am excited to see how Dash will evolve."
Dash updates the way you access money
Available to subscribers of all local mobile operators, Dash Easy is the first solution of its kind in Singapore that allows customers to download cash from a savings account directly into their mobile phones to pay friends and businesses. Customers no longer have to queue at ATMs to withdraw money.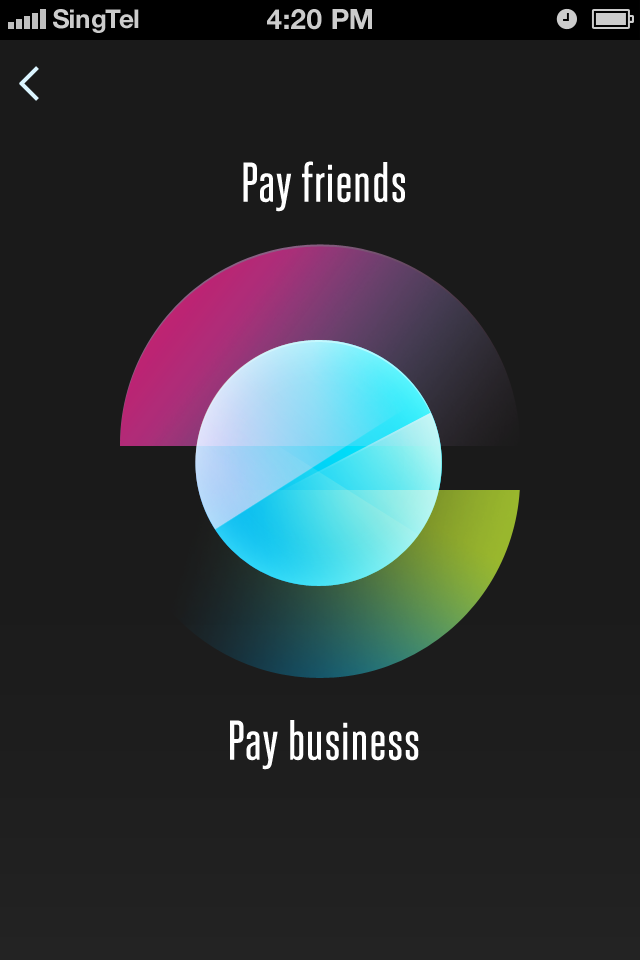 Dash updates the way you pay friends
Dash Easy reinvents the way person-to-person payments are made, through a unique, patent-pending technology that mimicks physical cash transfer. With a swipe, customers can instantly transfer money from their phone to their friends' phones, making it as reassuring as handing over cash itself. Alternatively, transfers can be made to anyone in their contact list.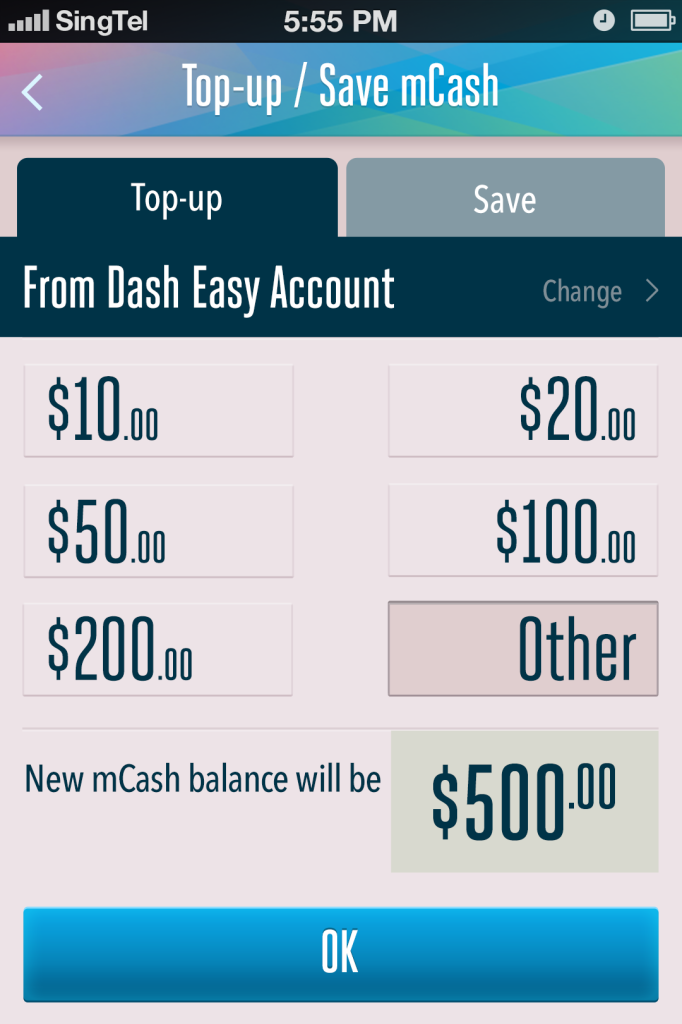 Dash updates the way you pay for goods and services
Dash has partnered retail industry leaders to create a vibrant, next-generation mobile commerce community. With Dash Easy, customers can make secure payments at more than 20,000 acceptance points islandwide, including retail outlets, convenience stores, food courts and cafes, progressively rolled out in 2014. Customers will also be able to pay for their Comfort, SMRT and Prime taxi fares, without the usual administrative fees. To ensure that payments are secure, seamless and fast, Dash uses a patent-pending technology that integrates the mobile device with the merchants' point of sale systems.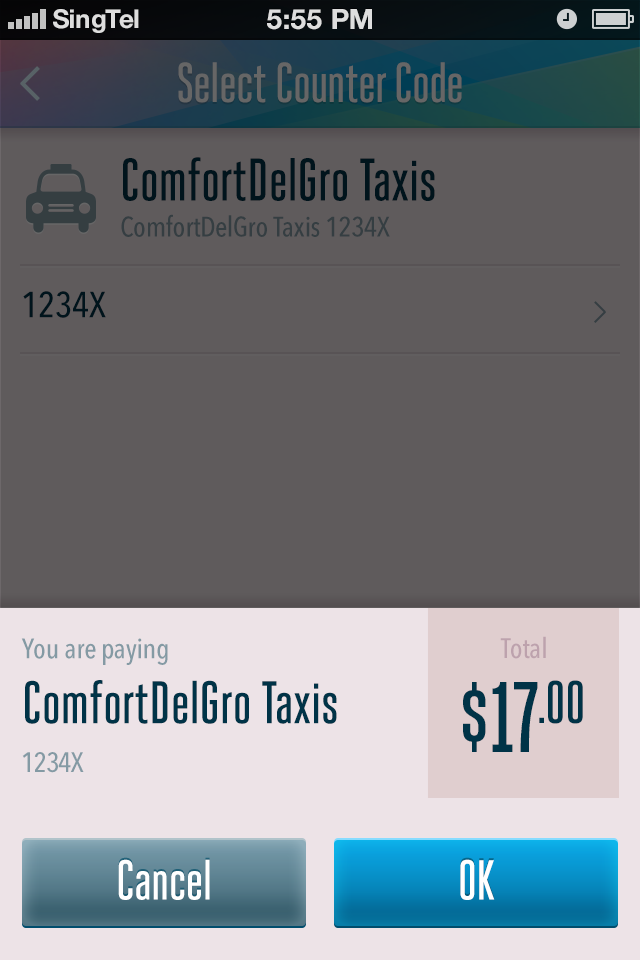 Dash updates the way you save
Dash is the first mobile financial service in Singapore where customers are invited to be co-creators. For example, customers play an active role in determining the interest rate of Dash Easy Savings Account by participating in a unique social media promotion. By including the #needsanupdate hashtag on Facebook, Twitter or Instagram posts, customers can bump up the interest rate on their account to one per cent per annum.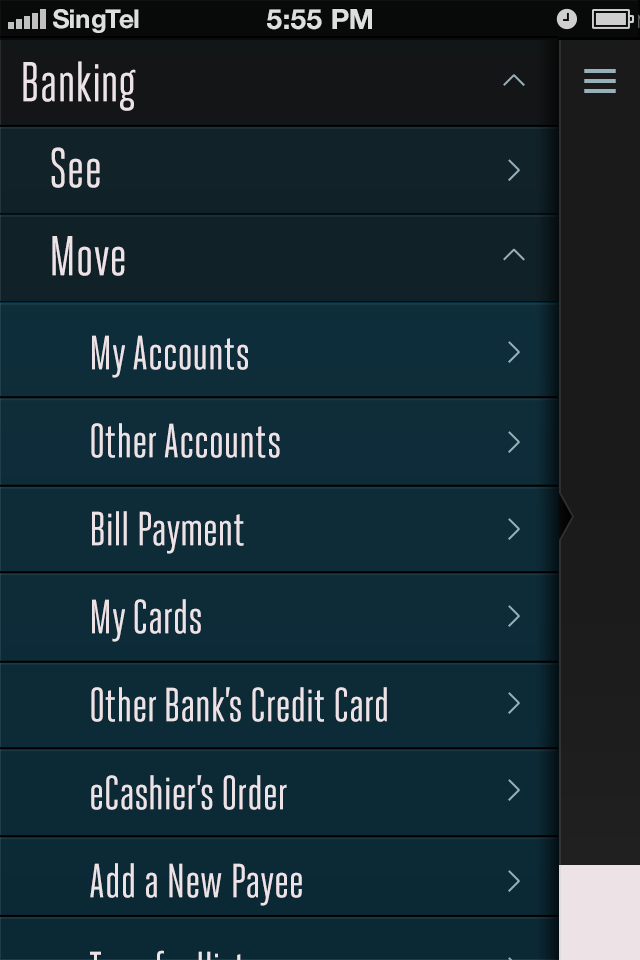 Dash updates the way you borrow money and buy travel insurance
With Dash Advance, customers can use the Dash app to apply for personal loans without having to visit a branch or speak to a bank officer. Dash Abroad offers a unique customisable travel insurance plan that gives customers the flexilibity to pick-and-choose coverage options to meet their needs.
Many more updates to come
Dash features will be regularly updated and enhanced, and customers can look forward to more exciting products, features and payment acceptance points in the coming months. They can submit their suggestions on new app features and enhancements via the Dash website, as well as recommend the businesses to be added to the list of supported partners.
Signing up is easy
Customers do not need to visit a bank branch or print copies of their NRIC, as all necessary personal details and documentation can be uploaded through the app.  For a limited time, customers will receive a complimentary S$10 welcome bonus, ready to be used, upon the successful sign up and opening of the Dash mobile cash account.
For more information, please visit www.dash.com.sg
* Information and Pictures Courtesy of SingTel *