Sports and fitness enthusiasts in Singapore, whether you are a runner, outdoor recreation, sports, gym, body building, fitness junkie, we are always on the lookout for sports gear, accessories and supplements for our respective sports. The sports, fitness and recreation industries are getting more popular across a wide range of different sporting activities. As a runner myself, I am also on the lookout for running shoes, running apparels and supplements such as energy booster gels/bars. For my friends who are fitness junkies/body builders, I know the amount of health and fitness supplements that they need/want to have. They can be pretty expensive in Singapore, the brands available are not as many, compared to the US market.
While there are a number of sports and fitness companies in Singapore, sometimes we sports fanatics envy the much wider options of sports and fitness products in other countries such as US, that is a very well established and huge sports, fitness and recreation industry. There must be times when you search for sports and fitness products overseas on Amazon and other websites, you wanted something from there yet the international shipping costs changed your final decision to purchase and ship it over?
I would like to share with you this website, MyUS, a consolidation service for you to buy from multiple US outlets and only pay for one shipment from the MyUS warehouse to your door in Singapore.
What is MyUS.com about ? Let me share with you sports and fitness enthusiasts some quick information –
MyUS.com is an international shipping and package consolidation service, founded in 1997
It lets customers ship purchases from multiple US stores in one shipment
The service gives users a MyUS delivery address so they can order from brands exclusive to the US
MyUS does the rest, including handling customs and duty forms for you
Door-to-door package tracking and delivery within 2-4 days
How does MyUS compare to myself doing online purchases and direct shipping? This infographic below would provide a good comparison and analysis –
Infographic attach here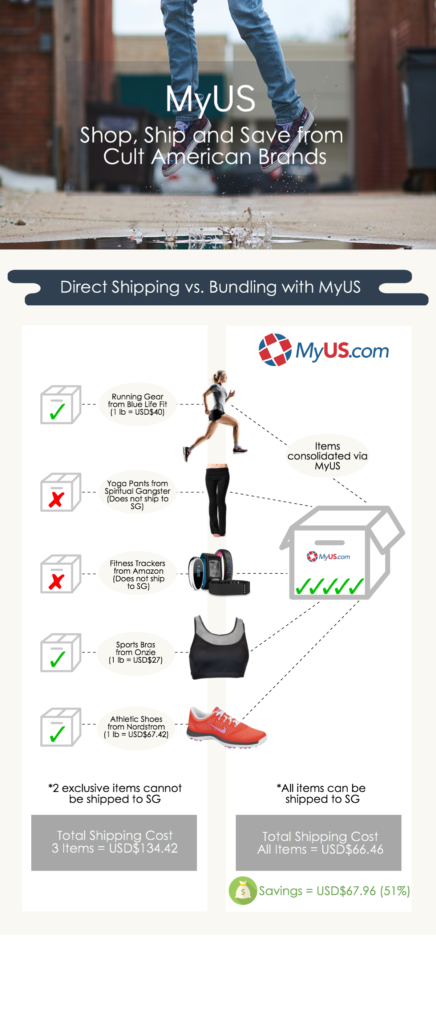 What are some of the different outlets in US that I can visit and explore what are the different types of sports and fitness equipment, apparels and supplements that are available on their online websites?
Let me share with you some of them, a list of top stores recommended by MyUS, with the best deals and selections for health and fitness supplies –
Looking through the top stores with the best deals and selections for health, sports and fitness supplies. I am quite keen and secretly excited to search through the networks of sports and fitness stores, and if I find something that I like and that I want, along with a good price, I will go for it.
To all sports and fitness enthusiasts/junkies/fanatics, visit MyUS and take a look for yourself, explore and see if their platform, network of sports and fitness stores suits what you are searching for. I went online window shopping at some of the websites recommended above, I found my outdoor products at Sports Authority, trail running shoes from Moosejaw and a few more other sports/fitness/outdoor recreation items.
If you are keen, I have a MyUS discount to share with my readers – when you sign up here at the link below, you would receive a 30-day free premium membership trial: https://www.myus.com/signup/?aid=1005194
I would like to thank MyUS and Allison+Partners for sharing the above information, details and infographic for me to share with my sports and fitness readers.