On 9th August 2009, Singapore will be celebrating her 44th Birthday, for those who manage to get the tickets into the Parade, have lots of fun and enjoy yourself ! For those who didn't, you can get a glimpse of my NDP 2009 Preview experiences and watch it from the sides of the Esplanade, Merlion Park or Esplanade Bridge.
Looking back into previous NDP experiences, was involved twice before years ago. It was very different compared to the National Day Parades of today, however, our 44th National Day Parade, it's about
Come Together : Reaching Out, Reaching Up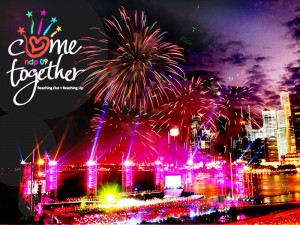 Photo : Courtesy of NDP 2009
The National Day Parade Celebrations would be special and unique, putting history lessons into plays, performances and singing, about Singapore's founding, growth and today's success, with the following Chapters
Chapter One : What Did He See ?
Chapter Two : Defending Our Homeland
Chapter Three : Our Parade
Chapter Four : The First Wave
Chapter Five : Fast Forward
Chapter Six : Against All Odds
Chapter Seven : When I Grow Up
Chapter Eight : Heartland
Chapter Nine : Little Red Dot
Chapter Ten : What Do You See ?
Information courtesy of NDP 2009 Official Website : NDP 2009 Preview
Photographs from my Flickr : National Day Parade 2009 Preview !
Have a nice long weekend folks ! Have a fun celebration !