First and foremost, I can't recall when I last participated in a community competitive run before I completed the 10km race of the The Performance Series Race 1 @ Coney Island/Punggol Waterway. It could have been a few years since I last ran a 10km run!
When I saw and read about The Performance Series Runs, consisting of 5 races at different locations around Singapore, having each distinct medal to form the whole of Singapore, it caught my attention from a runner who had not been actively participating in the Singapore running calendar (Personal opinion: I think there are a bit too many runs in a calendar year for Singapore, although you can choose which runs you would like to participate though).
I confessed that I went lazy with my running and exercising over the years, even though I do walk a lot for my photography shoots on weekends. In year 2016, I wanted to get out of my laziness and start exercising/running again. As we all start to age, we need to take care of our health and body even more than ever. Exercising/running regularly is key and crucial to a healthier body, mind and soul. With some serious injuries on my body, I am more than mindful and cautious of my body well-being, I am just as guilty of slacking and lazing. Therefore, I decided to start the change again with the Performance Series Race 1 at Coney Island/Punggol Waterway.
One thing that strikes me about The Performance Series Races is how they use different social media channels for runners engagement, through their website/blog/Instagram/Facebook. Being an avid runner before, I can sense and see that this is a group of runners planning/writing/sharing for runners, they know how the runners think/feel/want. Great job to the folks at The Performance Series, keep up the good work for the future races!
For Race 1 at the Punggol Waterway and Coney Island (10km route), it was a scenic route along the waterway into Coney Island, along the reservoir and back into the waterway route. The waterway running track is a bit narrow for a big community run event, however that's understandable and the organiser knew about this with different waves starting time for the runs. The morning weather was really nice and sunny but it was very humid! Personally, the high humidity zapped my out by the time I turned out from Coney Island along Lorong Halus area. From my Runkeeper app, I clocked around 1hr28mins, I am satisfied with my timing for this run, taking into consideration my not ideal exercising/running preparation and the very high humidity! Next target for Jurong Lake Run is to improve on this timing!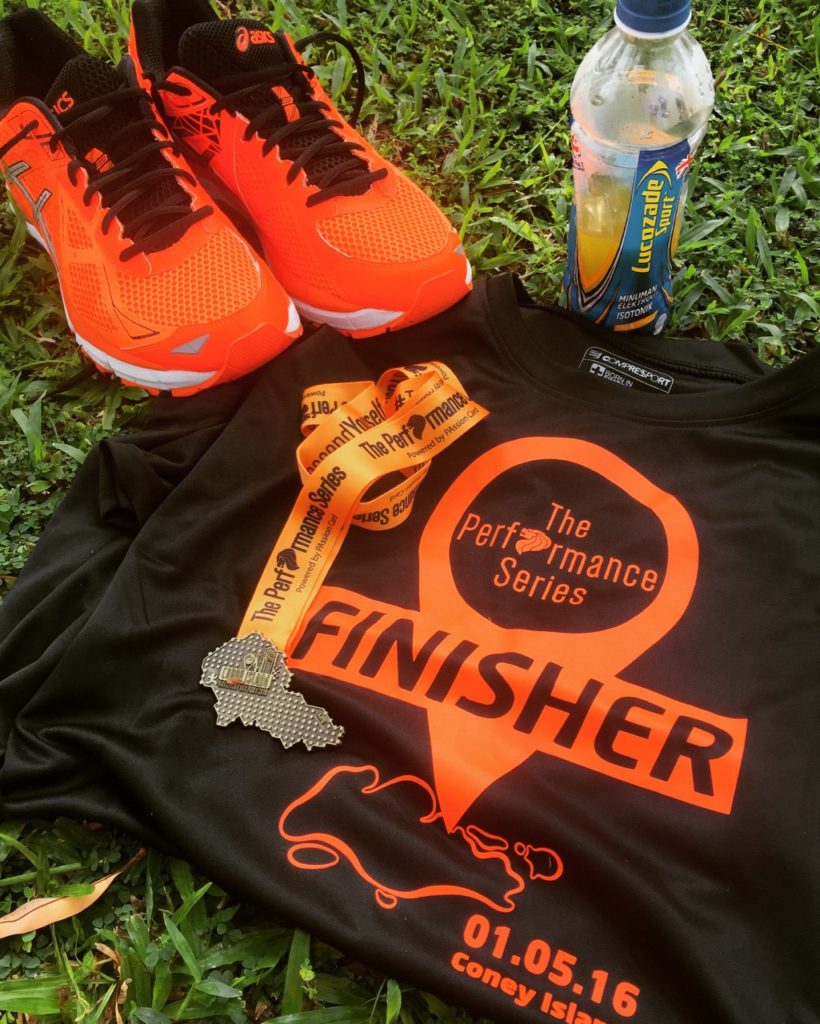 When I crossed the finishing line, I was ecstatic! Collected my finisher tee, medal and Lucozade drink. I sat down on the grass patch, in a shaded place provided by the tree, started drinking my Lucozade drink. Due to heat and humidity, I finished the cold isotonic drink pretty quickly! While resting, I took this photo, it's everything "orange" for The Performance Series Race 1!
Ok, now to prepare for Race 2 at Jurong Lake!