The Dell XPS family produces an excellent range of laptops, packed with cutting edge technologies, exceptional build quality and powerful features. Putting them together with elegant designs and premium experiences, the Dell XPS series are crafted beautifully. One of the Dell XPS series that caught my attention over the years is their 2-in-1 series, most recently, I had the opportunity to have a hands on with the Dell XPS 13 2-in-1 and let my share my Dell XPS 13 2-in-1 review with my readers.
How we work in recent years, work environment, meetings and how we consume social media, a tablet sometimes is ideal yet not as features packed like a laptop. Vice versa for laptops, there are times whereby a tablet would be a good feature to come along with it. As consumer preferences changed, 2-in-1 laptops slowly evolved and grew over the years, getting on more popular, one device with dual functions, laptop and tablet.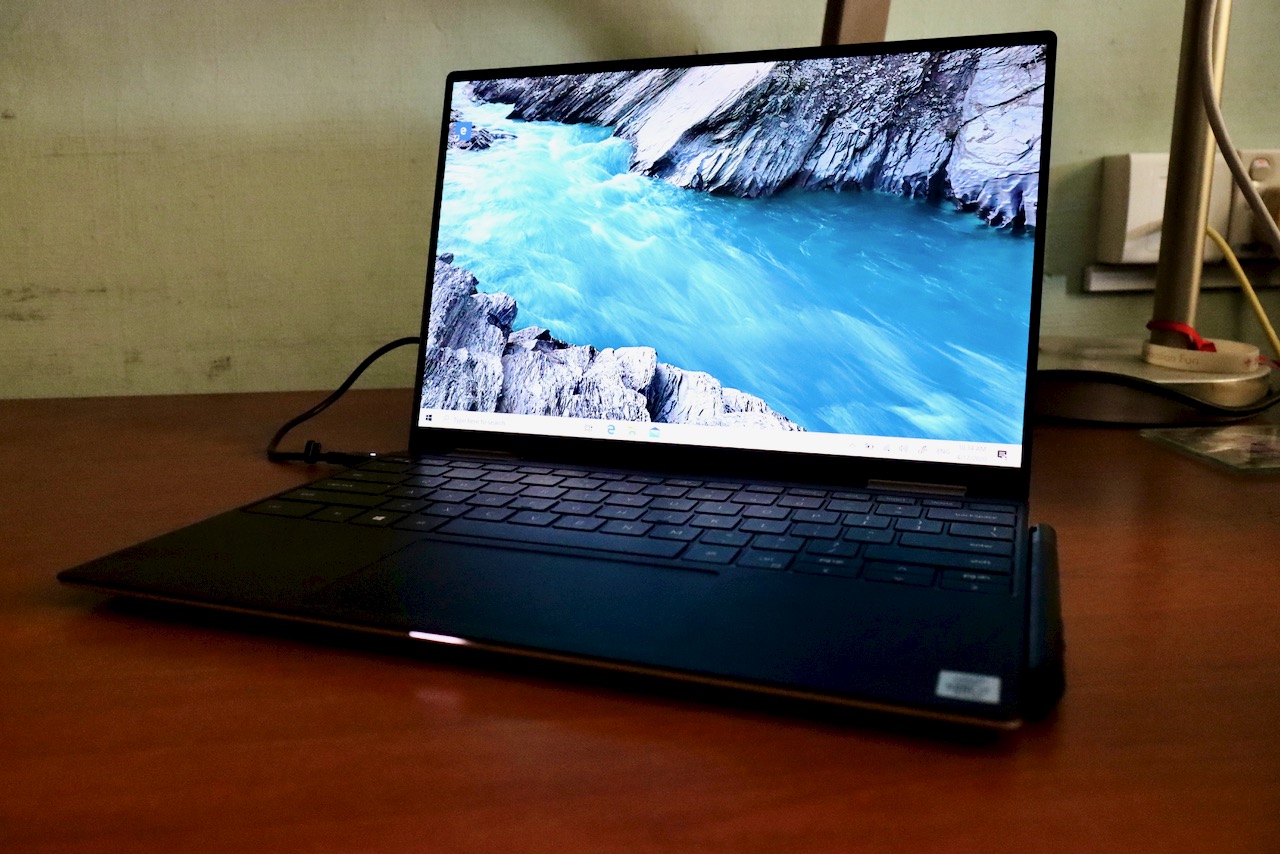 Aesthetics
Design
When you first touch and feel the Dell XPS 13 2-in-1, you can feel and see the premium class design. It's beautifully crafted, sleek, a chassis that is CNC machined aluminium in platinum silver with carbon fibre composite palm rest. Since it is a 2-in-1, it would feel a little bit "thicker" than a traditional laptop design.
Next Gen MagLev Keyboard
An edge-to-edge keyboard, they have larger key caps, I feel they are a bit close together and need a bit more time to get used to it. They have a sturdy keyboard yet softer feel and quieter keys for an enhanced typing experience.
I also like the carbon fibre palm rest on the keyboard, it's not only nice and good looking for the XPS 13 2-in-1, it provides comfort to palm when typing with the keyboard.
Touchpad
One of the features that I like about this Dell XPS 13 2-in-1 is the larger touchpad and its functions. The touchpad sensitivity can be chosen and advanced functions can be chosen such as tap w/ single finger to single-click, tap w/ 2 fingers to right-click, tap twice and drag to multi-select, press the lower right corner of touchpad to right click, drag 2 fingers to scroll, select your scrolling direction, pinch to zoom.
3 finger gestures: swipes – nothing, switch apps and show desktop, switch desktops and show desktop, change audio and volume
Taps: launch windows search, action center, play/pause, middle mouse button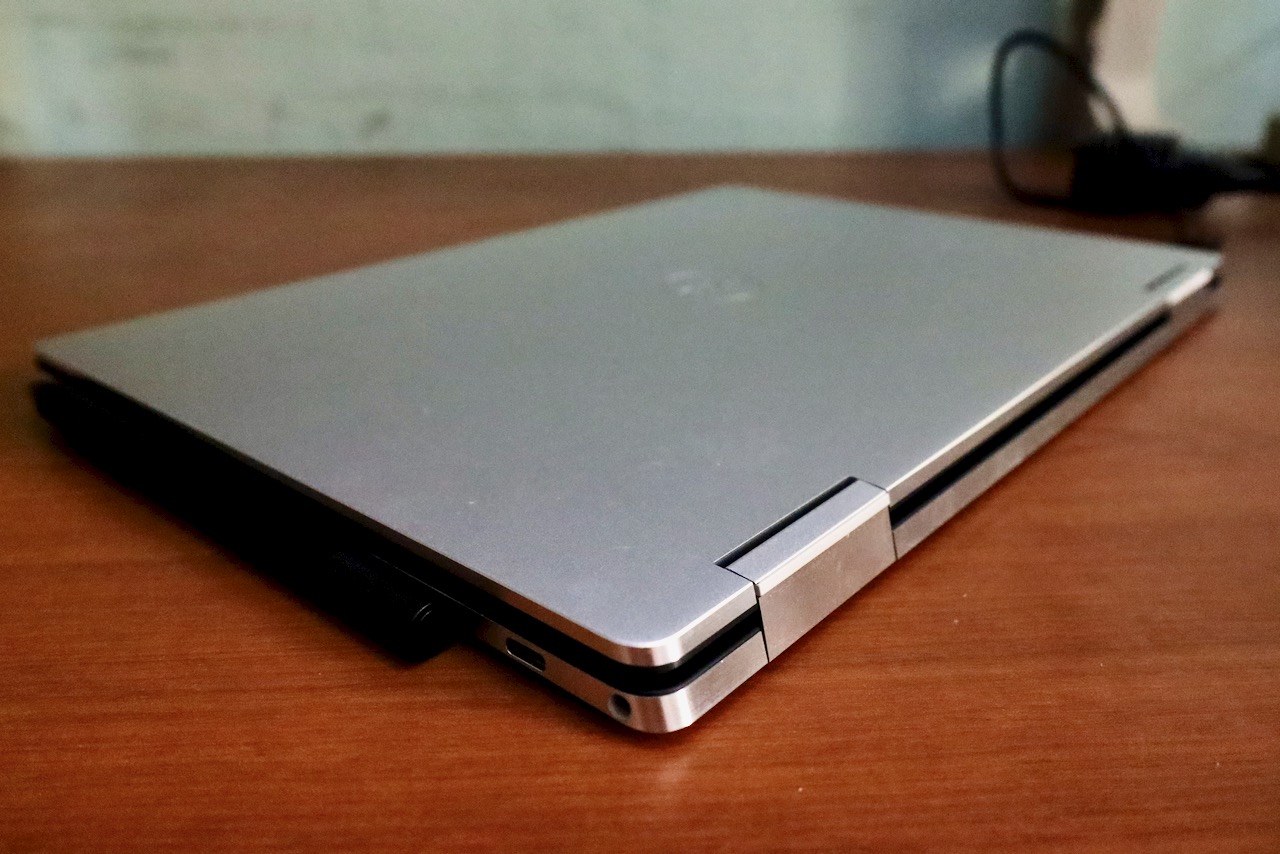 Weight
The starting weight is 1.32kg, which is quite alright, somehow it feels slightly heavier than a traditional 13inch laptop.
Display
A 16:10 display on 13.4 inch InfinityEdge Touch display. The joy of a 2-in-1 laptop is when you are operating in laptop mode, you can use the touchscreen to do your stuff or using the Dell Premium Active Pen.
The XPS 13 2-in-1 model that I reviewed is the 13.4 UltraSharp 4K Ultra HD+ model, a feature that you would like it a lot, for its clarity and vivid, accurate colours when doing work or enjoying videos/movies on it. Thanks to the Eyesafe display inside the XPS 13 2-in-1, this reduces harmful blue light and dispersing it across the light spectrum. An important feature as we might be spending more time on our gadgets in the modern digital workplace.
Sequential hinge
As a premium 2-in-1 laptop, this hinge is important since this would be utilised quite frequently from laptop mode to tablet mode and vice versa. This is a carefully and cleverly crafted hinge design, eliminating the bottom display border and providing this XPS 13 2-in-1 optimal screen to body ratio. Along with the rubber feet on the hinge, this prevents sliding and creates a more ergonomic keyboard angle. 
With this sturdy sequential hinge, user can transform into an inverted V-shaped tablet/laptop, if you choose to do so beside laptop mode or tablet mode.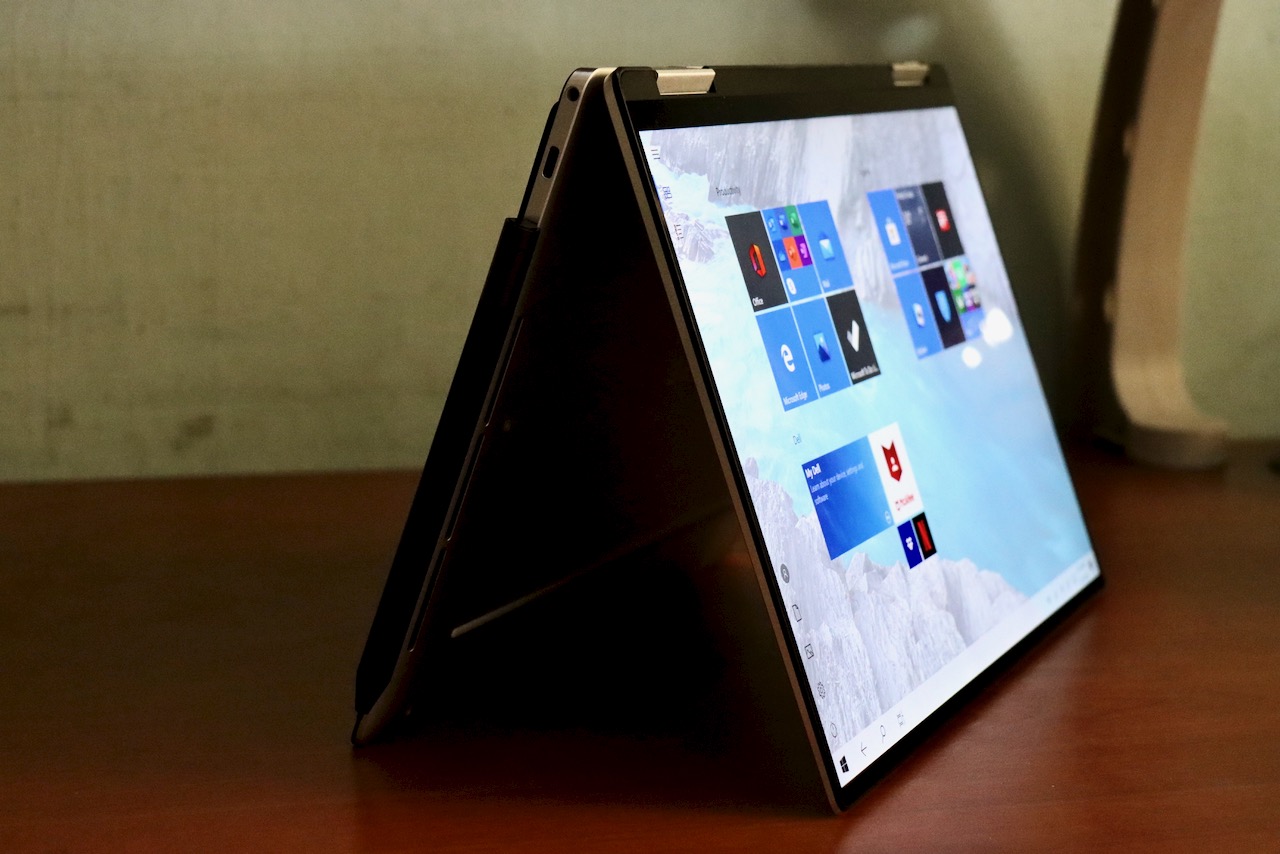 Battery life
The XPS 13 2-in-1 has a long and good battery life, up to 16 hours, 58 minutes of battery life, this would allow you to last a day's usage without a need to charge.
Tablet
Rotate the XPS 13 2-in-1, it transforms into a table, the touch screen is sensitive and easy to use. This 13.4 inch tablet is compact, almost seamless to the edge of the screen. Use it landscape mode or portrait mode, more than one way of using this tablet. Using Dell Premium Active Pen, makes using the tablet a lot easier, while using fingers, it's more of getting used to how much pressure and sensitivity to apply on.
However, I personally find a bit of lag when rotating from portrait mode to landscape mode (and vice versa) even though this doesn't really affect your work or its performance.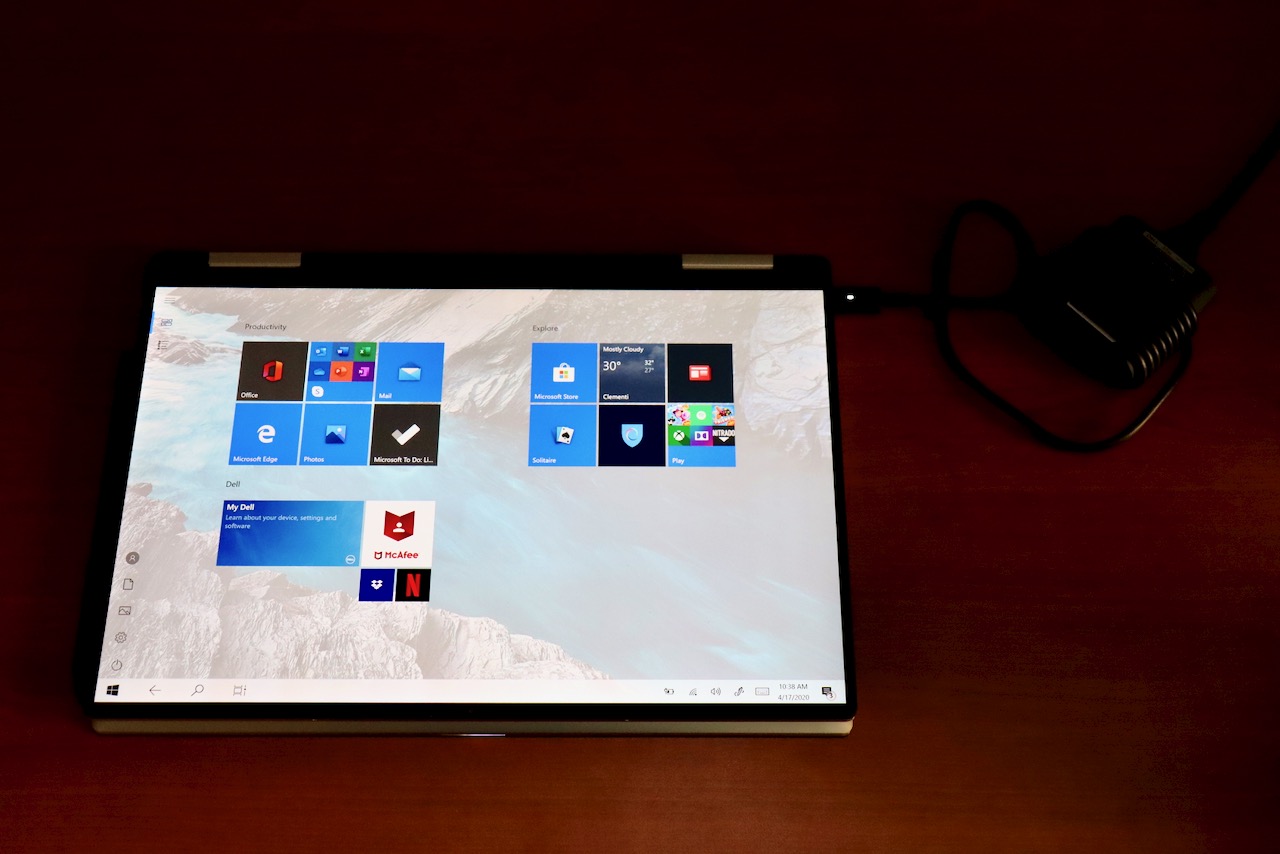 Sound
The stereo speakers that comes with the XPS 13 2-in-1 are professionally tuned with Waves MaxxAudio Pro 8.0 audio processing solution, giving users a pretty good, clear and sharp CinemaSound audio experience, part of your Dell Cinema experience.
Dell Cinema
Your XPS 13 2-in-1 is not just a premium work/professional laptop/tablet, it can be a fun gadget too, with Dell Cinema, an immersive cinematic experience through a combination of innovative technologies. CinemaColor provides vibrant and vivid details on the screen, powered by Dell Color Profiles and Dolby Vision.
Along with the Killer AX1650 built on the Intel WiFi 6 chipset, this makes a difference to your streaming, video and communication experience on the XPS 13 2-in-1, channeling maximum bandwidth to your videos or music for a smooth and seamless experience. 
Thoughts and views
Personally for me, the 13inch 2-in-1 is one of the ideal sizes for both work and leisure, the next size that I would like is the 11inch setup. A 2-in-1 laptop gives the best of both worlds to have a laptop and tablet at the same time, just by turning it around.
The Dell XPS 13 2-in-1 is ideal for both business/work and personal usage, to have a laptop and tablet in one device body. While the price might be pricey to some (depending on the configuration that you choose), the technical specifications are powered by new 10th Generation Intel Core i7 Processor packed inside a pretty sturdy beautifully crafted chassis that is CNC machined aluminium in platinum silver with carbon fibre composite palm rest. A quality 2-in-1 premium laptop in a class of its own, ideal for busy business professionals on the move.
I have been keeping an eye on the Dell XPS 13 2-in-1 series laptops since their launch, it was a model and setup that I like and keen in, if I am looking for a 2-in-1 laptop, the Dell XPS 13 2-in-1 series would definitely be part of my consideration, as well as the Dell Inspiron 2-in-1 series.
If you are keen on a 2-in-1 laptop, check out Dell XPS 13 2-in-1 on their website and choose which particular configuration suits your requirements and needs.
I would like to thank Dell Singapore and burson cohn & wolfe for the opportunity to review the Dell XPS 13 2-in-1 laptop.