Samsung Electronics Co. Ltd. (Samsung) and United Nations Development Programme (UNDP)  announced that they have appointed 3 Young Leaders as inspirational voices for global goals. The 3 new young leaders joined Generation17, an initiative created in partnership with the UNDP to support young change makers working to achieve the Global Goals. The addition of these 3 Young Leaders will educate people about critical global challenges and motivate communities around the world to help build a more prosperous future by 2030.
Open Call – First time this year
For the first time this year, Samsung and UNDP conducted an open call for applications that rallied thousands of passionate young people to apply for Generation17. This new group of Young Leaders, chosen from a competitive pool of candidates, will add new perspectives to the initiative. Their projects will also bring forth new solutions in education, skills and training and health equity.
From Singapore – Mock Yi Jun (One of the newly appointed Young Leaders)
Hailing from Singapore, we have Mock Yi Jun, one of the newly appointed Young Leaders. Yi Jun is the co-founder of Advisory Singapore, an online portal dedicated to empowering young people from all walks of life to make informed education and career choices. He is passionate about providing quality education to youth to help them succeed in tomorrow's economy.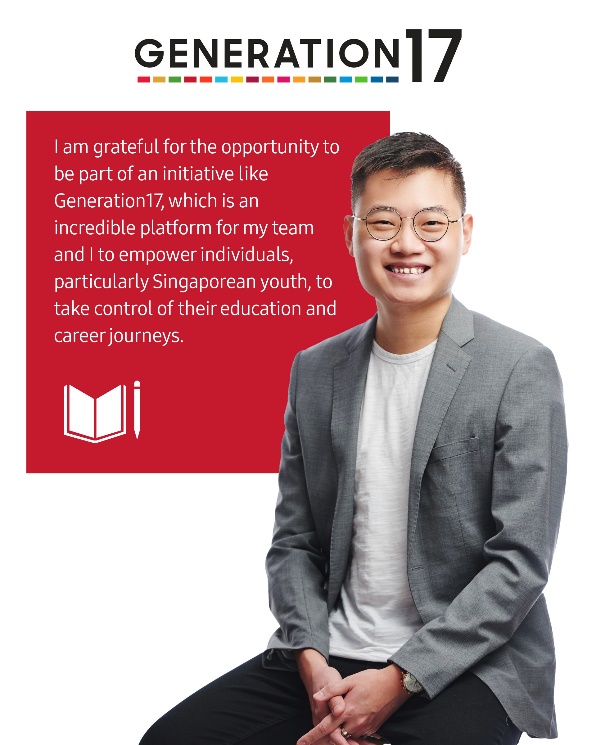 2 other Young Leaders
The two other changemakers, Zubair Junjunia from the United Kingdom and Efe Johnson from Nigeria, have also been selected as Young Leaders. Zubair is the founder of ZNotes and Efe is a gender equality activist and founder of Xari Africa.
"I am truly excited about the selection of the three Young Leaders, especially Singapore's representative Mock Yi Jun. We strongly believe that Yi Jun's unwavering commitment and expertise will not only inspire the younger generation but also ignite their potential to drive impactful change. At Samsung, our commitment to nurturing and empowering youth runs deep, and we are always looking for opportunities to equip them with the skills and knowledge needed to forge a brighter future," stated Dennis Jang, President of Samsung Electronics Singapore.
"At Advisory Singapore, we believe that every young person, regardless of their family background or schooling history, deserves the opportunity to pursue their aspirations. I am grateful for the opportunity to be part of an initiative like Generation17, which is an incredible platform for my team and I to empower individuals, particularly Singaporean youth, to take control of their education and career journeys. My goal is to inspire and support young people, helping them to pursue their aspirations and find meaningful work," said Mock Yi Jun.
Solve for Tomorrow 2023 Competition
One of the initiatives that Yi Jun will be actively involved in is the Solve for Tomorrow 2023 competition. Aligned with his passion to deliver quality educational and career guidance to youth, the competition aims to give secondary school students the platform and experience needed to unlock their technological potential and help explore their passions. The experience will not only give them the opportunity to cultivate their problem-solving and critical thinking skills, but also help them grow and thrive as global citizens.
Generation17 – Amplifying Youth Leadership on a Global Platform
Together, Samsung and UNDP provide the Young Leaders with mentorship and the latest Galaxy technology needed to help progress their work. The Young Leaders also have the opportunity to participate in agenda-setting events to help elevate their platforms and connect with global decision-makers. Generation17 Young Leaders have participated in various events over the years, including Samsung's Unpacked, Cannes Lions International Festival of Creativity, UN ECOSOC Youth Forum, Stockholm +50 and the United Nations General Assembly.
Generation17 is grounded in Samsung and UNDP's commitment to leveraging technology as a force for good. The two organisations first partnered in 2019 to create the Samsung Global Goals app, an education and donation-based mobile app that educates people about the Global Goals and encourages them to take action just by using their Galaxy devices. Since its launch, the app has been installed on nearly 300 million Galaxy devices worldwide, including smartphones, tablets and smartwatches.
* Information and picture courtesy of Samsung Electronics and IN.FOM *