In a fast paced world today powered by laptops, tablets, smartphones, 5G technology and social media, the new age working style is moving towards a hybrid style of office and home/remote, especially if the organisation they are working for allows and encourages such form of hybrid working format. On the other hand, for small business owners and freelancers, some might even adopt working from home or using their home as their home office.
When the global pandemic hit the world in 2020, our daily life and work were heavily disrupted, many people are working from home. Till date, many are still working from home, this also mark the start of hybrid future of work that is already upon us.
Hybrid Future of Work / Work From Home
The hybrid future of work is upon us. This accelerated changes are brought upon by this ongoing global pandemic, our daily life and working life is not likely for it to return back to its former self pre-pandemic time. The hybrid future of work would be a mixture of both office and working from home (WFH). For some small business, they might go into a home office setup, meetings can be conducted remotely or in person with their colleagues/partners outside.
A hybrid future of work requires changes to their technology and IT setup. For most people doing a home office setup, they would usually go for the usual technology gadgets such as Wi-Fi wireless router networks, laptop, desktop, tablet and a home office printer.
However, times have changed, technology has changed and improved. Home office or even a small office setup goes beyond that, we have more gadgets not just in our work, in our leisure too. Some of us would have our own personal cloud storage device at home, gaming consoles etc. For some small business owners, or those into IT services, they might have servers, data centres and additional storage backups as well.
There is one device that doesn't grab the headlines or even ring a bell to most people, this device would be crucial and essential for small business and home office/business setup, it's known as UPS.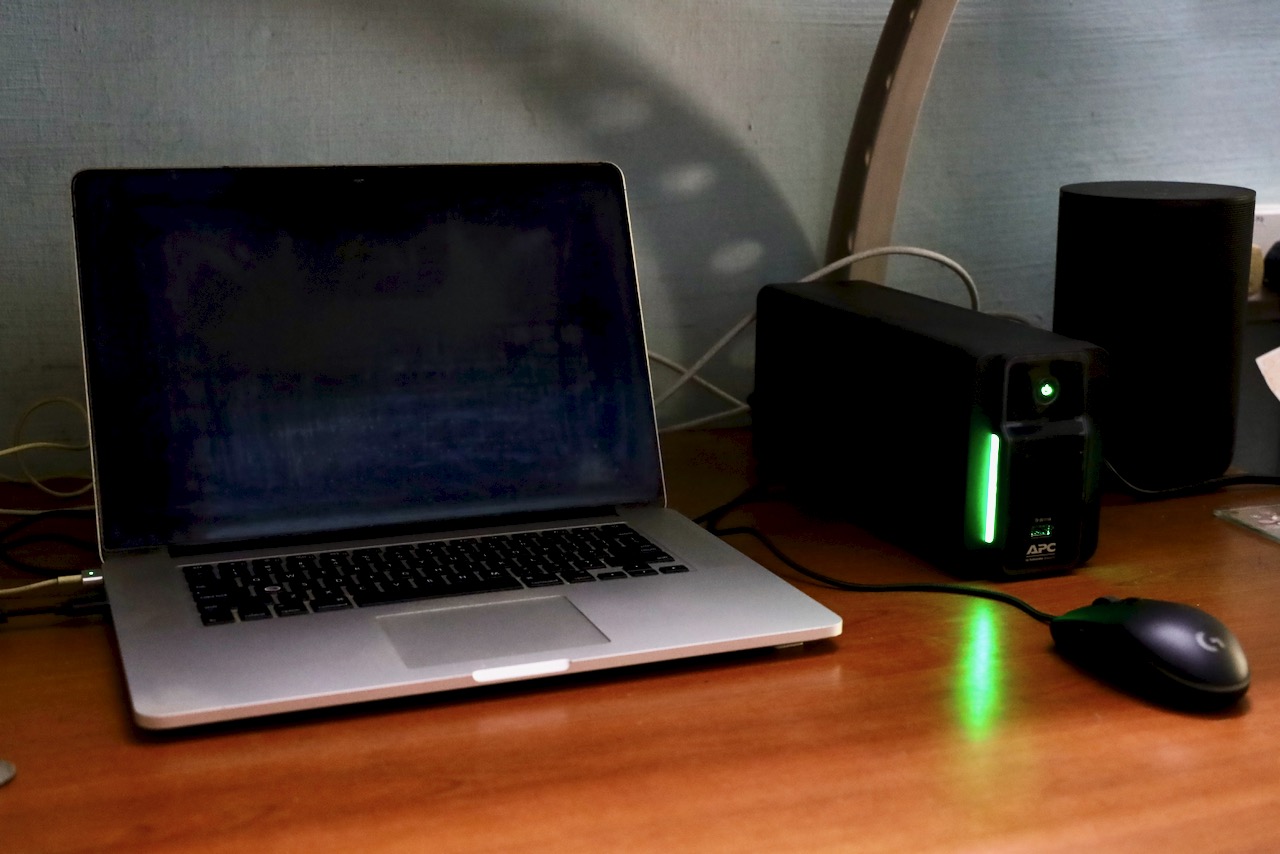 What is a UPS? Why would I need a UPS for my home office?
What is a UPS? A UPS is an Uninterruptible Power Supply that offers you, the home user or home office/business owner, power and surge protection for your selected devices in the event of power failure. In your office working environment, you might see the UPS in action. For most home or home office/business users, it's not a common concept for them to have a UPS at home for personal usage or for your home office/business usage.
I still remembered my working days in the front office of a hospitality services business many years back. Inside the backend office of the front office, they have UPS devices for some of the computers running in the background. I still vividly remembered handling the UPS for the first, a learning experience for me at that time.
We are now living in a different era of hybrid future of work, we are working from home (WFH) as well as in the office, or running your own small business from your home. Besides that, we are living in a gadgets connected world from desktops, laptops, smartphones, tablets, storage devices and many more technology peripherals.
The APC by Schneider Electric Easy UPS
The APC by Schneider Electric Easy UPS offers a wide range of UPS solutions for home and small office/business customers.
One of the Easy UPS models is the BVX700LUI-MS shown in the photo above. Setting up is not difficult at all, I strongly recommend that you read the User Manual Easy UPS before setting up for your home or small office especially on where you should place the Easy UPS.
Choose a location to place the Easy UPS, take note to avoid
Direct sunlight
Excessive heat
Excessive moisture
Excessive dust/dirt
Connect the battery by pulling the battery handle up, followed by pushing it into the UPS unit.
The next step is to connect your equipment (your decision on which equipment is crucial for your home or small office/business).
Avoid using extension cords
Plug the Easy UPS power cord directly into a wall outlet.
Press the ON/OFF button to turn on the unit. Once the green "Power On" indicator is showing, this confirms that the Easy UPS is on and ready to provide protection.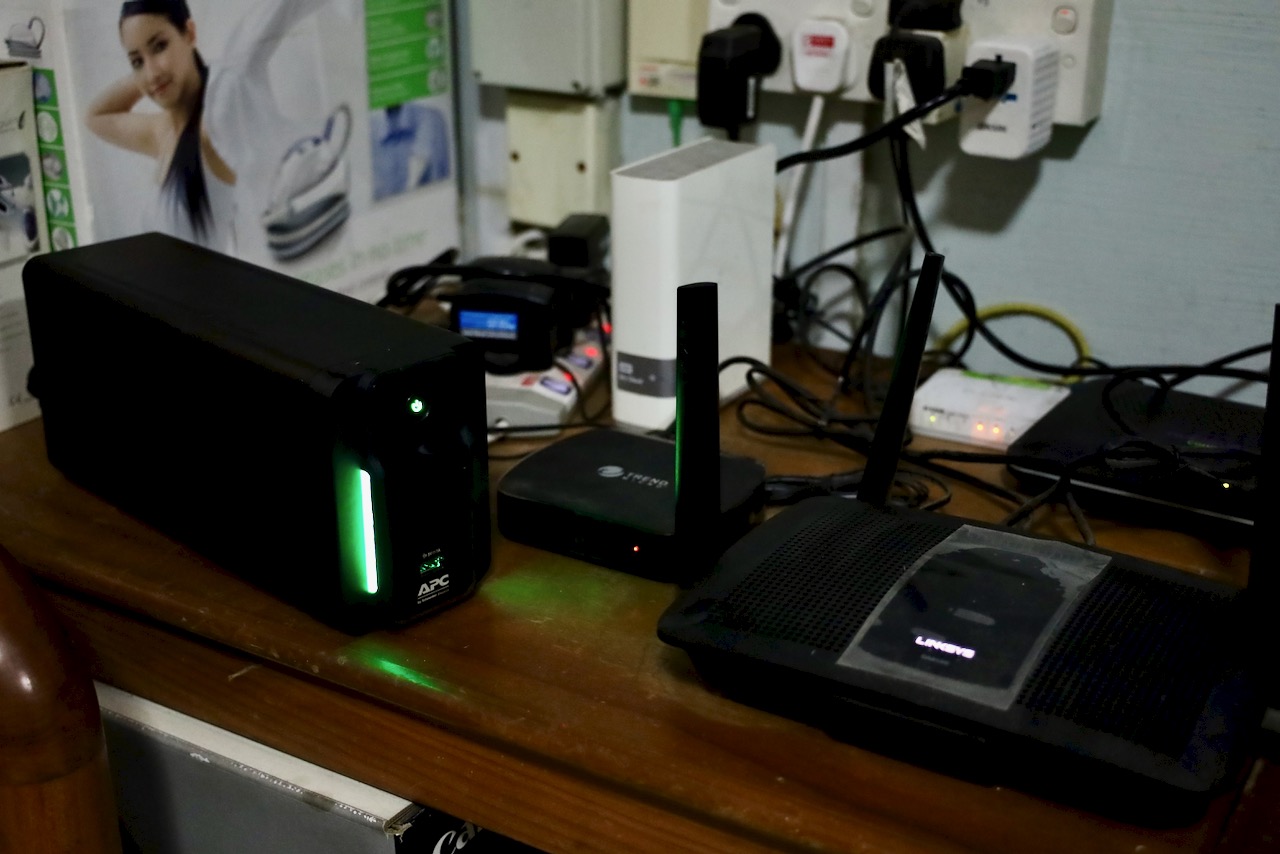 How you want to place/setup your Easy UPS is entirely up to you in your home, home office or small office. We all have different working styles and arrangements that would result in various locations/ways to setup your UPS and protecting your key technology devices. It has a compact size form factor (this BVX700LUI measures 138 x 98 x 310mm) that can easily fit into your home, home office/business or small office/business setup.
Operational Features
This Easy UPS has an operational feature known as Automatic Voltage Regulation (AVR). In simple term for the less technology savvy user, AVR provides power stabilisation, taking care of your equipment that is plugged into the Easy UPS, allowing them to operate during low/high voltage conditions, conserving the battery power in the event of a power cut.
When you look closely at the Easy UPS BVX700LUI-MS, there is a USB charging port for smartphones and tablets. This charging port provides a maximum of 5V 1 A DC power, it will charge the connected smartphone or tablet when the UPS is on line mode, battery mode and off charging mode.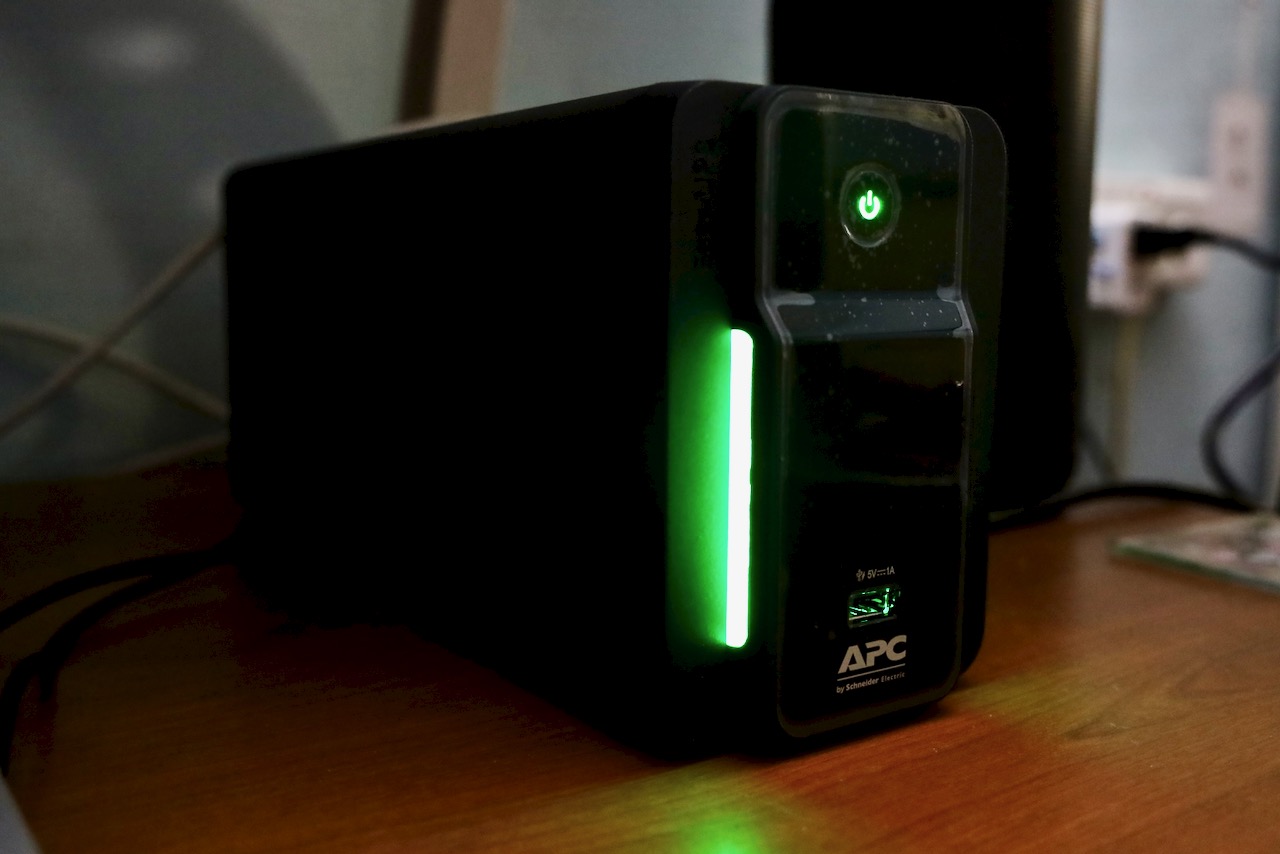 Should I get an Easy UPS?
If you are a home office/business user or small office/business user, having a UPS is highly recommended for your business. Such devices are not attractive enough to gain your initial attention and business planning, however they can be crucial and important to ensure your smooth business operations without technological or equipment disruptions (such as your Wi-Fi wireless router and cloud storage device) whether you are operating in your office or your home office.
If you are a home user and have a number of technology gadgets in use shared by your family members. Having a UPS in your home to protect your shared family cloud storage solution or Wi-Fi wireless router is ideal for your consideration.
If you are a medium to big sized organisation, UPS would definitely and already be part of your business and IT setup. For those who haven't do so, the time is now for your organisation to add UPS into your business and IT setup. Planning to upgrade or change your UPS setup, do check out the devices and solutions available.
For home, home office/business and small office/business owners, if you feel that the Easy UPS model BVX700LUI-MS is suitable and fits your needs, do visit their website and check out more information and technical specifications on this Easy UPS model.
Additional Information and details on Easy UPS range
For more information and details on the various UPS models from the APC by Schneider Electric Easy UPS, as well UPS devices and solutions for your medium to big sized organisations, please visit https://www.apc.com, choose your home country and check out the models on offer in your market.
Most home users would not consider having a UPS in their home unless they have family or relatives working in IT or technology related industries that understand on how a UPS can play an important role in a home setup. This might be the time for home users to consider having a UPS from the APC by Schneider Electric Easy UPS for their home.
Small office/business owners, ensuring smooth business operation is crucial. An essential device such as a UPS helps your business with that assurance.
I would like to thank Schneider Electric and GLOO for the opportunity to review the Easy UPS.