Celebrate World Heart Day with Recipes by Bosch
Today, 29th September 2016, is World Heart Day. What is World Heart Day all about? It's about healthy living, healthy eating, taking care of your heart and your overall well being.
We all love to eat, don't we? Sometimes and many many times, we do indulge in unhealthy eating a lot (yes, I know the food is really delicious, it can be hard to resist) and I am also just as guilty of unhealthy eating.
Today, on World Heart Day, I want to share three recipes and cooking tips that are delicious and healthy, kindly prepared and shared by Bosch Singapore with Chef John Sawarto, Bosch Partner Chef. As you enter into the upcoming weekend, Celebrate World Heart Day with these three recipes by Bosch and Chef John Sawarto.
What are the three recipes that I am going to share with my readers? They are –
Banana Oat Smoothie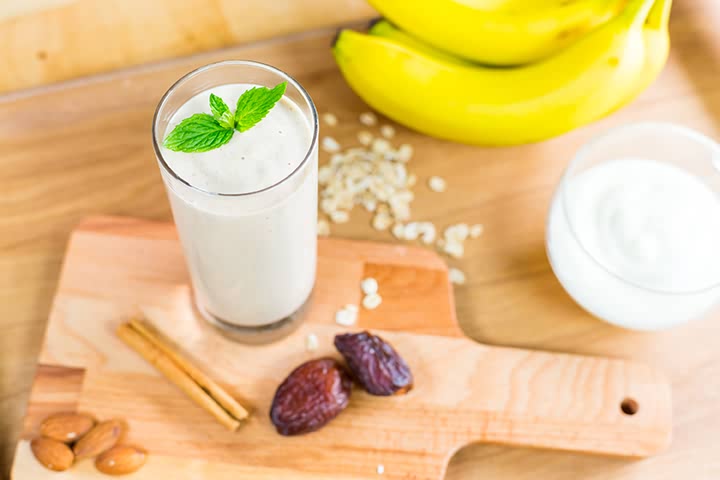 "Skip the caffeine, and opt for a heart booster to kick-start your day instead. This delicious smoothie uses ingredients that help keep your appetite and your arteries in good shape." – Healthy eating tips by Chef John Sawarto
Key ingredients –
Organic Rolled Oats: Good source of soluble fiber that is known to reduce blood pressure
Pitted Dates: Contains several minerals crucial for maintaining healthy blood pressure
Ground Cinnamon: Packed with fibre and calcium to lower cholesterol levels
Recipe
Serves: 1
Preparation time: 15 minutes
Ingredients:
1/4 cup Organic rolled oats
1/2 cup Vanilla flavoured yoghurt
1/2 cup Milk
1 no. Banana
3 no. Pitted dates
1/4 tsp. Ground cinnamon
5 no. Ice cubes
Instructions:
Mix the above ingredients in a blender.
Add more ice or water according to your preferred consistency
2. Thai Green Mango Salad with Dried Shrimps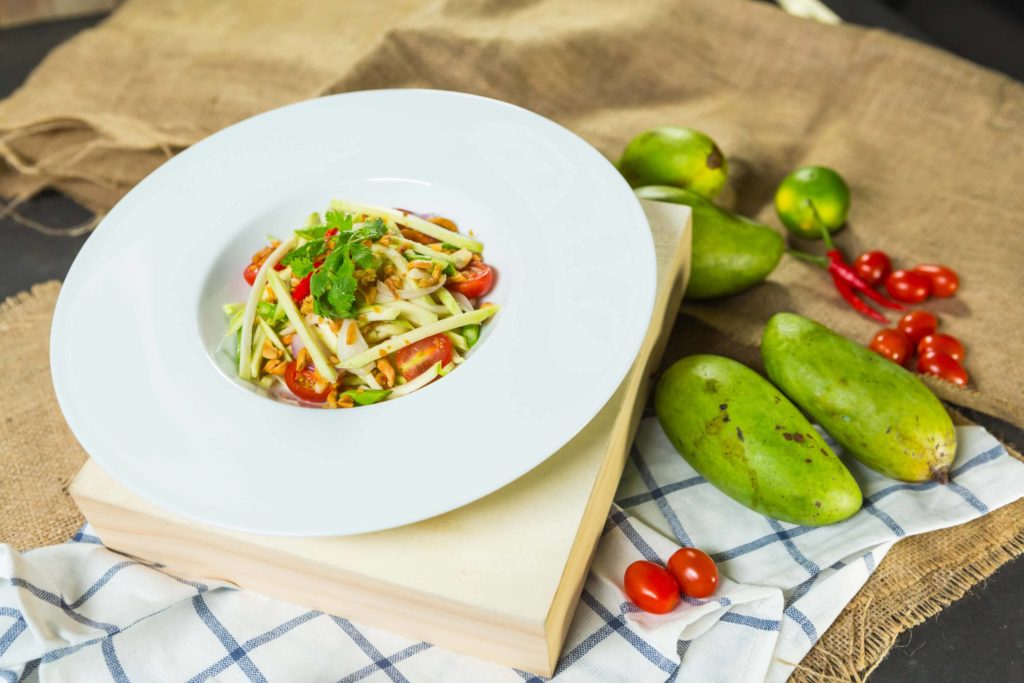 "This vibrant salad is more than just a refreshing meal starter. The melding of citrus fruits also packs a hefty punch to help you guard against the risks of heart disease." – Healthy eating tips by Chef John Sawarto
About the Key Ingredients –
Green Mango: Contains an abundance of vitamins, minerals and antioxidants that assure optimum heart health
Lime: Rich in soluble fiber, a known preventative ingredient against heart disease
Recipe 
Serves: 2-4
Preparation time: 10 minutes
Cooking time: 10 minutes
Ingredients:
2 no. Thai green mangoes, peeled and shredded
2 cloves Garlic, chopped finely
5 tbsp. Roasted peanuts
2 tbsp. Dried shrimps, lightly toasted
4 no. Red bird's eye chilies
5 no. Shallots
2 no. Long bean, sliced thinly
4 tbsp. Brown sugar, or to taste
4 tbsp. Fish sauce, or to taste
1 no. Lime
10 no. Cherry tomatoes
Fresh cilantro for garnish
Extra chopped peanuts (optional)
Instructions:
Roast peanuts and dried shrimps at 225°C for 3-5 minutes. *Chef's tip: Allow the peanuts to be roasted for up to 10 minutes, for slight charring and nutty aroma.
Skin mangoes with a peeler before slicing them into thin strips with a knife.
Chop off both ends of shallot before cutting it in half. Peel the outer skin of the shallot with a knife and slice the shallot into thin strips.
Chop garlic, toasted peanuts, toasted dried shrimps and chili padi briefly. Ensure that the mix is not blended too much – it should have a chunky texture.
Add brown sugar, lime juice and fish sauce to the mix and season to taste.
Toss the green mango, long beans, shallots, cherry tomatoes with the mixture.
Transfer to serving plate and garnish with fresh cilantro.
Sprinkle more chopped peanuts for extra texture.
3. Steamed Fish in Lime and Lemongrass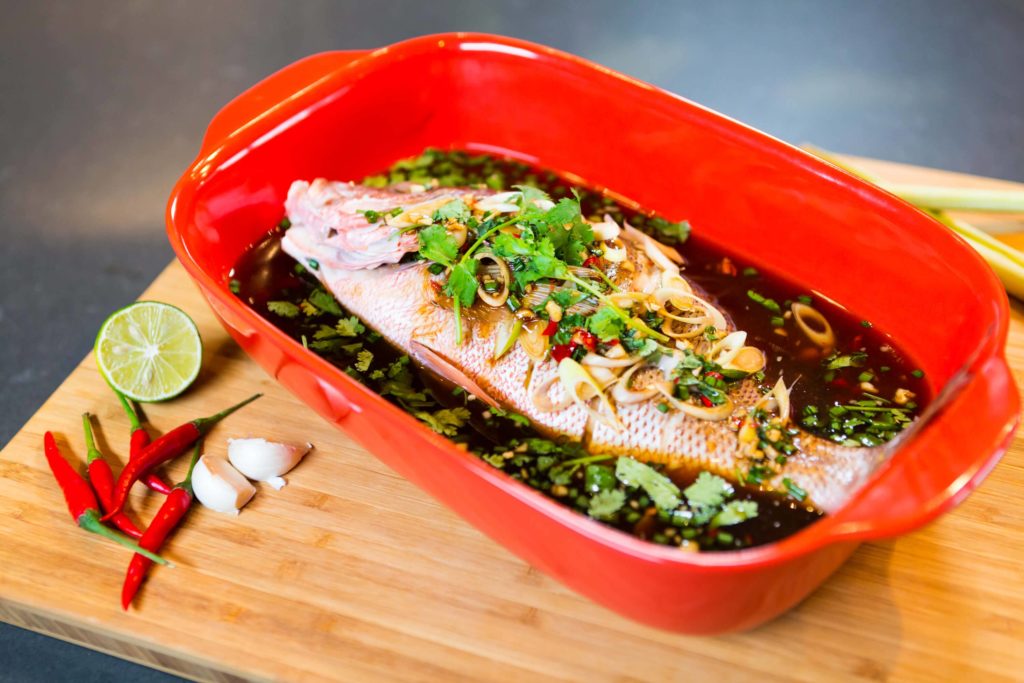 "Simply embracing healthier cooking methods like steaming – that add little or no fat – can make a huge difference in your lifestyle. Give this homely dish a try so you can share your heart-friendly regimen with the entire family." – Healthy eating tips by Chef John Sawarto 
About the Key Ingredients –
Snapper: Rich in omega-3 fatty acids, which can significantly decrease the risk of heart disease,atherosclerosis and high blood cholesterol
Lemongrass: Traditionally used to help control and normalize heart rate and high blood pressure
Recipe
Serves: 4-6
Preparation time: 20 minutes
Cooking time: 15 minutes
Ingredients:
600g-800g Snapper, gutted and cleaned
3 stalks Lemongrass, sliced thinly
2 tbsp. Brown sugar
6 tbsp. Lime juice, or to taste
6 tbsp. Fish sauce, or to taste
2 cloves Garlic, chopped finely
4 no. Red bird's eye chillies, sliced finely
Dash Light soy sauce, or to taste
Dash Oyster sauce, or to taste
2 no. Spring onions, sliced
Few sprigs Cilantro, chopped coarsely
Instructions:
Make 3 diagonal slits on both sides of the fish with a knife to allow even and quicker cooking, and place it on a heatproof steaming tray or plate.
Spread out lemongrass slices on top of the fish.
Set a combi-steam oven to steam programme and preheat at 100°C for 5 minutes.
Afterwards, place the fish inside and steam it for about 10–15 minutes, until it is nicely cooked. Use a fork to flake the thickest part of the fish. If the flesh comes off the bone easily and appears white, it is ready to be served.
While waiting, chop garlic and chillies with a hand blender.
In a bowl, mix brown sugar, lime juice, fish sauce, soy sauce and oyster sauce. Adjust the dressing to taste before setting it aside.

*Chef's tip: You can also use green or red chillies according to your taste preferences

. <For extra tanginess, zest the skin of one lime and add into the mix.>
When the fish is cooked, pour the reserved liquid from the hot fish stock into the dressing and add in spring onions and cilantro.
Drizzle the dressing over the steamed fish and serve hot with steamed jasmine rice or tossed noodles.
Which 3 of these recipes would you try it out? I love the Thai Green Mango Salad (I prepared it before, many years ago when I was living overseas studying) and Steam Fish in Lime and Lemongrass (especially when I visit Thailand for holidays, I love how they prepare and cook it)
Healthy Cooking Tips Sharing by Chef John Sawarto, Bosch Partner Chef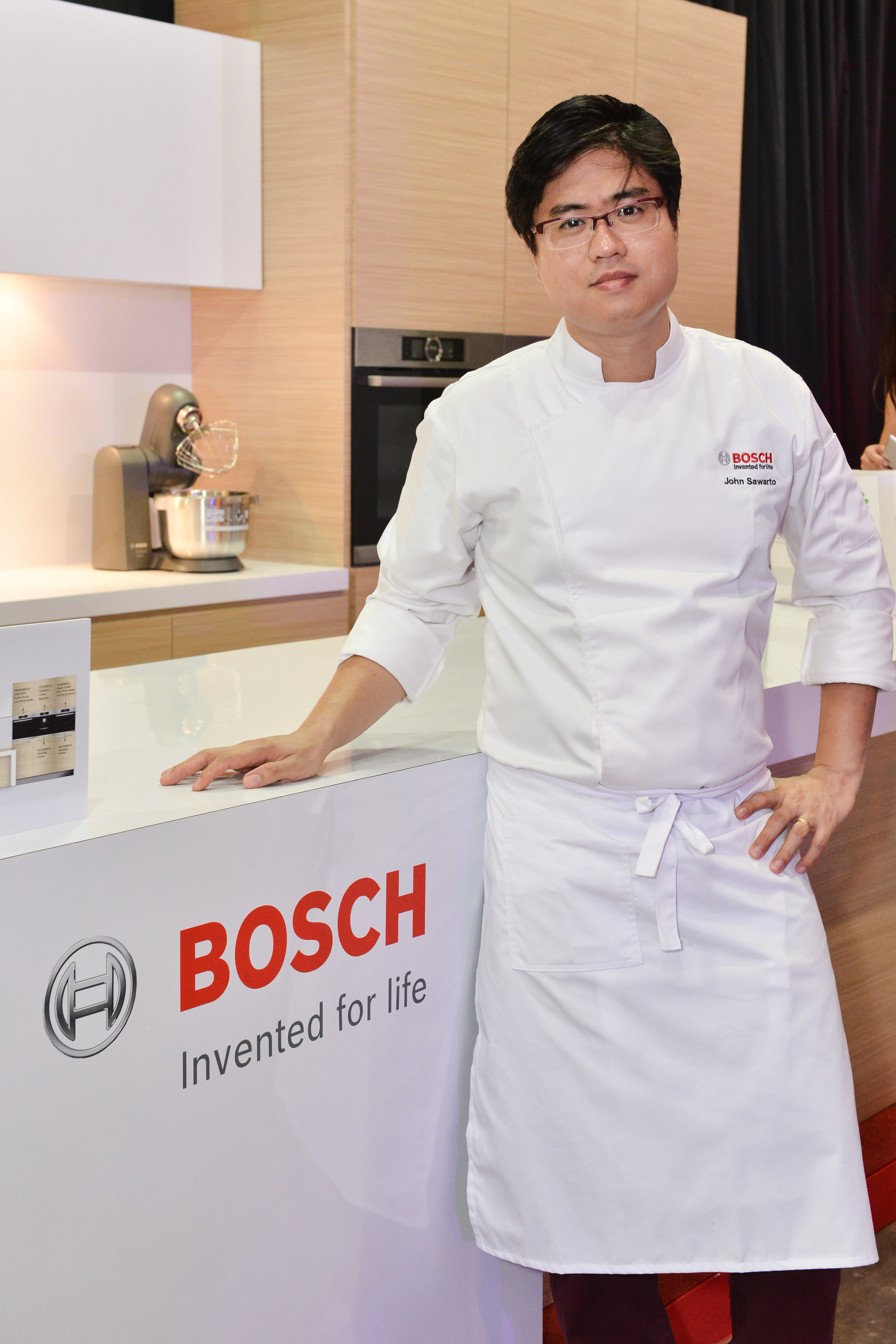 Chef John Sawarto
Chef John Sawarto, Bosch Partner Chef, has kindly prepared and shared his healthy cooking knowledge and tips below, allowing me to share in this article, for everybody interested in healthy living and healthy eating –
Food is directly related to many of the risk factors for coronary heart disease. Eating fat and sodium-laden food can raise blood pressure and cause high cholesterol, which increases the risk of heart disease.
It is important to pay attention to what you eat as this is the start towards keeping a healthy heart. Begin by making small changes in your diet, such as using healthier cooking methods and incorporating heart-friendly ingredients into your dishes. You'll have better control over these choices if meals are prepared and cooked at home.
Use healthier cooking methods that add little or no fat, for example, steaming, poaching, stir-frying, roasting, grilling and baking so that you do not add unnecessary fats and calories to your body.
Steaming and poaching are two of the healthiest cooking methods, as they require little additives, while baking and grilling are great cooking methods to get maximum nutrition without sacrificing flavour. Stir-frying is a healthy cooking method only if done properly – always remember to add a moderate amount of oil just enough to coat the pan and ingredients.
Multi-functional cooking appliances are perfect for encouraging a variety of cooking methods in your home-cooked meals, apart from helping to save space and money. For example, the versatile Bosch Series 8 ovens allow you to steam, bake, roast and grill, all in one simple appliance. The 4D hot air feature includes a steam injection function, such that meat dishes roasted with hot air and steam become crispy on the outside and remain succulent on the inside.
One way to add taste to heart-friendly dishes is by using natural flavours such as citrus fruits, herbs, spices, and vinegar. These ingredients add zing to meals without the fat and sodium. You can also lightly sauté garlic, onions and red peppers for added flavour. The Bosch MightyMixx blender is a great tool that really encourages you to use fresh ingredients in your cooking as it's quick and fuss-free. It can effortlessly grind and chop heart-friendly ingredients such as herbs, spices, nuts.
When I was studying overseas some decades ago, I cooked quite a lot at home, enjoyed cooking! I knew how useful and versatile an oven can be. I was trained in the hospitality industry (even though I am not in the hospitality industry at this time), therefore I have some basic kitchen operations knowledge and training. When I have my own home one day, I would plan to have an oven inside my kitchen, along with other kitchen appliances to get me back to cooking again.
Happy World Heart Day! Eat healthy! Stay Healthy!
* I would like to thank Bosch Singapore, Chef John Sawarto and Allison+Partners for the information, details, pictures, recipes and healthy cooking tips *