Near Field Communication (NFC) Ecosystem
A few years ago, I saw a friend using a smartphone, that wasn't good looking at all, it looked like a prototype, however, it wasn't any prototype that I was seeing then. This smartphone was testing a new technology at that time, the smartphone was used to pay for train and bus fares, just by tapping the device close to the board/panel.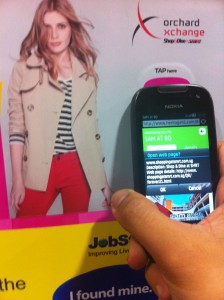 Bringing back to year 2011, the technology that was mentioned above is the early stages of this new technology known as Near Field Communication (NFC). On 19th October 2011, I was invited by Nokia Singapore and Fleishman-Hillard Singapore, to experience NFC technology and how it can be applied in our daily life. This date was also the launch of the NFC Hub in Singapore (http://sg.nfc-hub.com), providing NFC capabilities to both organisations and individuals in Singapore.
It's great to see Singapore adopting early technology and providing innovative services along with the use of the social media channels and networks. How would NFC plays a part in our current and future daily life ?
(1) Taxi Booking in Singapore
Nokia partnered with Comfort DelGro, offering NFC enabled option to its fast call automated booking services. With the tap of their NFC-enabled phone at any of those locations, they would be able to book a taxi and get confirmation via an SMS.
(2) Heritage and History of Singapore
Imagine walking through Singapore's cultural district, using NFC technology, visitors can learn more about the history and heritage of Singapore. This is currently in place, with Nokia having partnerships with National Heritage Board and SMRT to showcase 25 landmarks within the Bras Basah and Bugis area. We can know the landmarks, just by a tap of an NFC-enabled device. During the event, we were given a hands-on usage and tour of how the NFC-enabled devices work. The experience was good and it's easy to use, thus visitors don't need to search high and low for information. With a simple tap, they can access the information needed to visit the place pretty quickly. Nokia smartphones that we tested/played with are NFC-enabled and the models are Nokia 700, Nokia 701 and Nokia 603.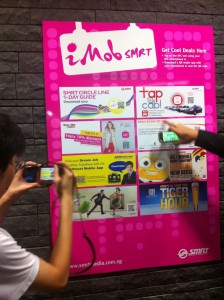 Moving forward into the future, I personally feel this NFC Ecosystem and technology would be part of our highly connected social meda and internet connected lifestyle in work and leisure. Where can the growth and expansion possibly be ?
My Personal Thoughts
1) Accessing information at more different locations/buildings/areas
2) Organisations launching special promotions through tapping of NFC-enabled smartphones
3) Payment of bills quickly using NFC-enabled smartphones
4) Use in purchase of goods/services and making payment
5) Transport networks – pay using NFC-enabled smartphones while traveling on trains, buses or taxis
6) Close proximity gaming – play with friends using 2 NFC-enabled Nokia smartphones
7) Transfer of files and data information to and from NFC-enabled smartphones – faster and easier
For NFC Ecosystem to grow, there are other factors to consider too, nevertheless, the basics of demand and supply, end users/consumers (demand side) using more NFC-enabled technology and organisations (supply side) able/willing to innovate and expand their provision of goods and services via NFC-enabled technology, this NFC Ecosystem would be primed for growth and expansion.