Onkyo LS7200 3D Soundbar System
Onkyo recently announced a new sound system setup, suitable for your home entertainment system whereby you can enjoy great sound while watching your favourite TV shows, movies or listening to music. The Onkyo LS7200 3D Soundbar System is a three piece equipment setup that is not too big and obstructing as your home entertainment system.
During a recent Onkyo event, I got the opportunity to take a look at the Onkyo LS7200 3D Soundbar System and listened to them in action, while watching a short movie trailer on the TV screen. The sound produced by the Onkyo LS7200 3D Soundbar System was solid, sharp and clear, in the midst of the noise of the people checking out the other Onkyo products, the Onkyo NCP-302 Wireless Audio System and Onkyo DP-X1A portable music player at the event.
If you are looking for a solid and powerful sound system for your home entertainment, that is not too big in size, do check out the Onkyo LS7200 3D Soundbar System.
Let me share with you more information and details on the Onkuo LS7200 3D Soundbar System –
LS7200 3D Soundbar System that combines Dolby Atmos® and DTS:X™ playback with user-friendly wireless audio features including support for DTS Play-Fi® technology*, AirPlay®, and FireConnect™* multi-room distribution built in.
Part of the growing Envision Cinema product family, the three-piece LS7200 offers key advantages over other soundbars, starting with a low 53 mm profile for an unimpeded view of the TV screen.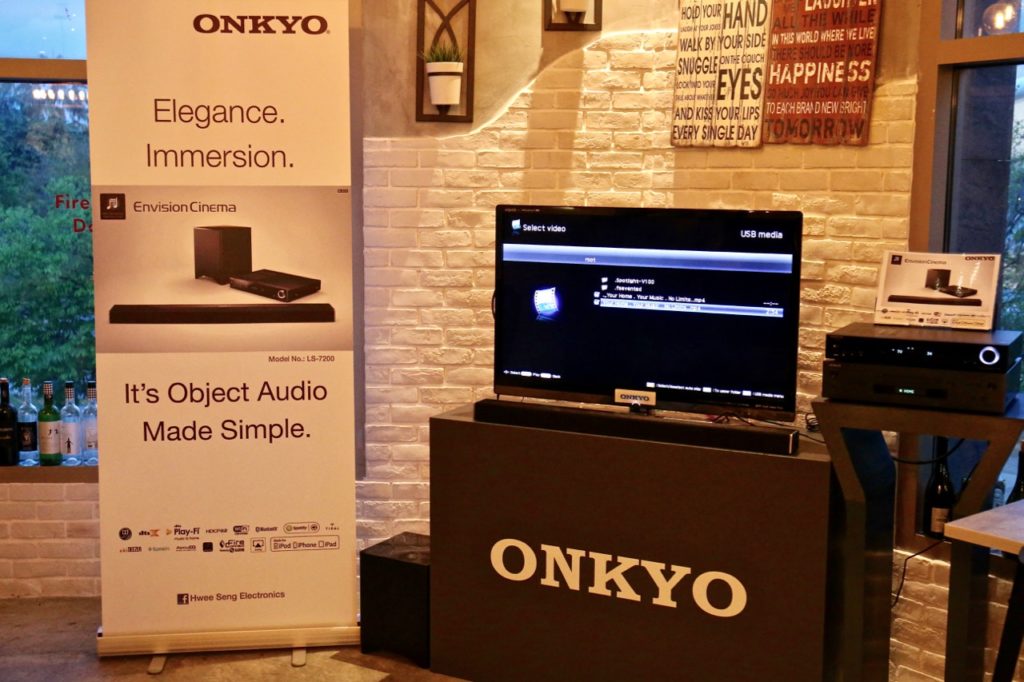 The wall-mountable soundbar connects to a separate AV Center via Multichannel Audio Cable, with full-scale power delivered to precision drivers (comprising two speakers each for the left, right, and center channels, plus single height speakers) by a discrete digital amplification system.
Together with wireless subwoofer, this single-cable soundbar design results in neat and clean installation under the TV display.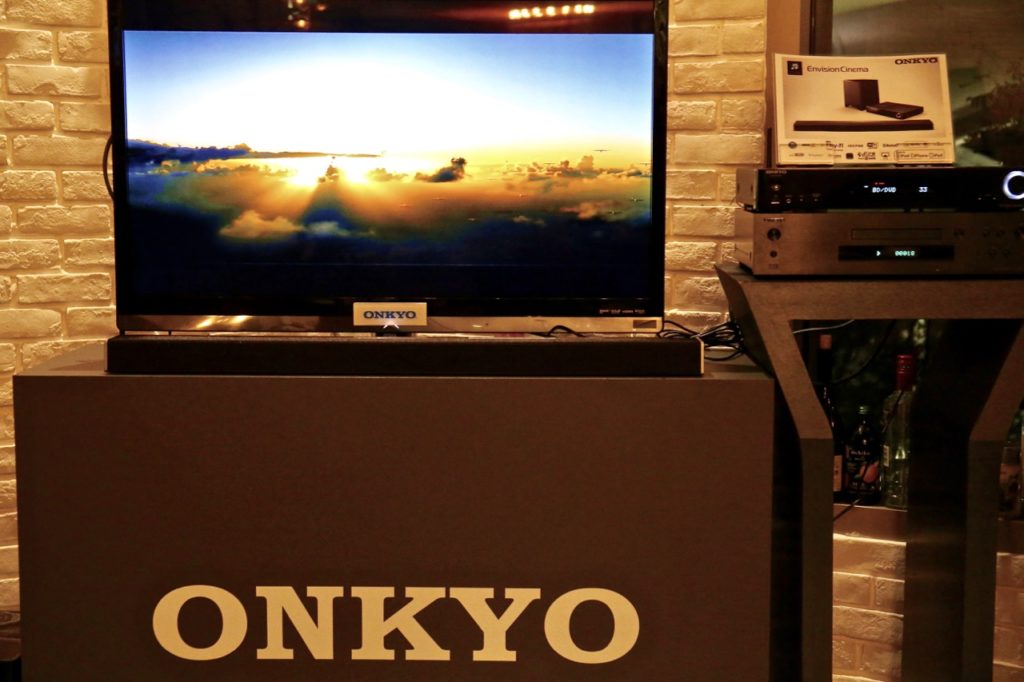 The AV Center includes four HDMI® inputs to connect media players and game consoles, with all components and cabling easily concealed in an entertainment unit. TV connection comes via single 4K/60p HDMI cable with Audio Return Channel, allowing the LS7200 to enhance broadcast TV audio.
AccuEQ Room Acoustic Calibration tailors sound to individual spaces, adjusting essential speaker conditions such as output level, distance, and crossover while preventing standing waves inside the room for clear and well-focused image presentation.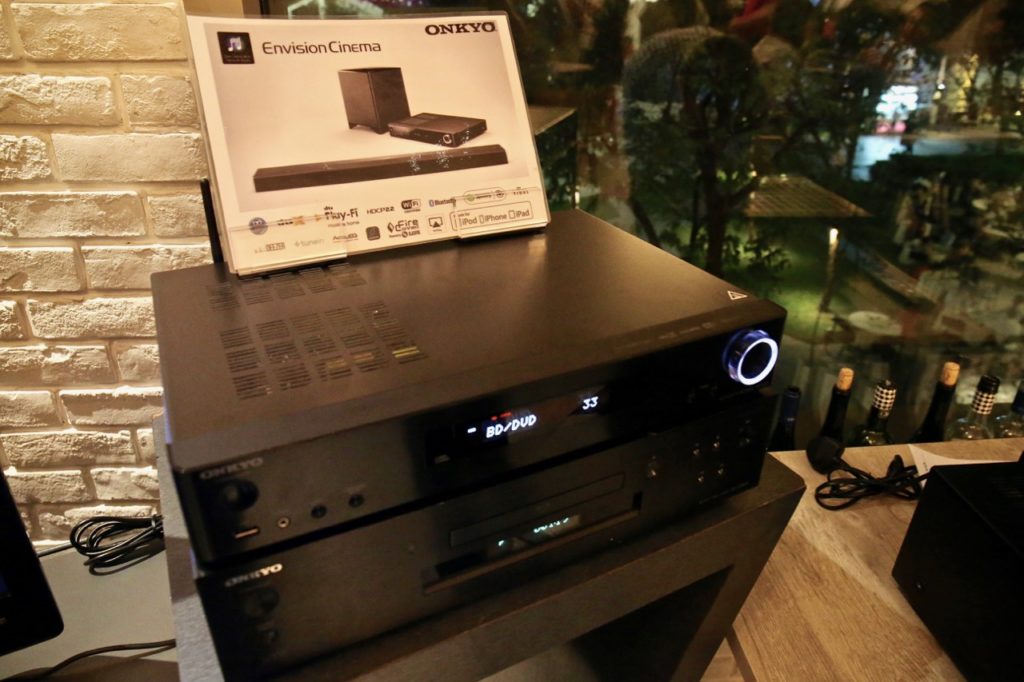 As well as object-based sound for movies, the LS7200 offers deeply satisfying stereo performance with a choice of network audio options.
The soundbar supports DTS Play-Fi technology, a free app for iOS and Android™ that collects music (streaming services, local files, or network-attached audio) into a simple interface for casting to any Wi-Fi®-enabled speaker. Fast, stable, and easy to use, DTS Play-Fi technology supports multiple streams to different speakers simultaneously without interruption.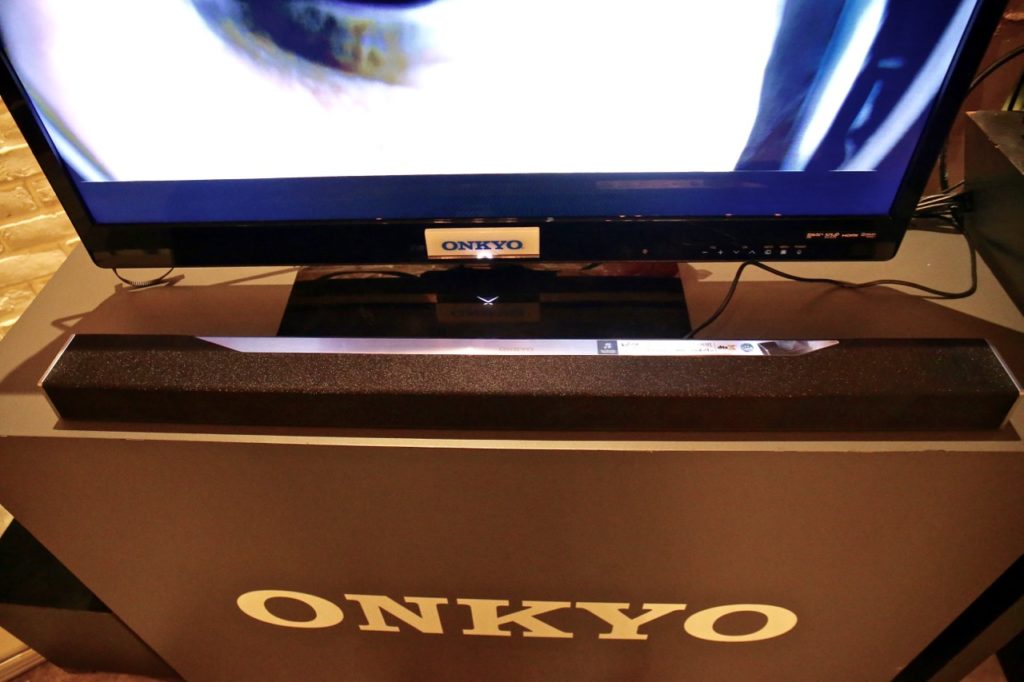 AirPlay® and selectable 5 GHz/2.4 GHz Wi-Fi® are also included for stable app-based music casting, while Spotify® Connect lets subscribers stream direct from the Spotify® application. Bluetooth® connectivity completes a comprehensive suite for of wireless music streaming features.
Onkyo Controller app brings together wireless casting technologies, simplifies access to included TuneIn and TIDAL services, and centralizes house wide audio distribution to optional FireConnect™-compatible wireless speakers. The easy-to-use app compliments on-screen GUI with system remote controls for each zone.
As well as discrete dialog volume adjustment for DTS:X™ soundtracks, DTS Neural:X™ is included to up mix standard multichannel audio to 3D sound.
Dolby Audio™ adds a new Surround Enhancer technology that wraps sound around the audience by creating virtual rear speakers. Other practical inclusions are Direct Mode for high-quality stereo sources, Late Night Mode, and custom DSP programs for games and music.
Rounded out with 40-preset FM tuner, AV sync function, and L/R tone controls, LS7200's feature set approaches that of a full-sized home cinema component in a decor-friendly package that's tailor-made for passionate listeners.
* Firmware must be updated before operation.
Pricing and Availability 
The LS-7200 speaker system is retailing at all authorized retailers at $1,799
* Information and details courtesy of Hwee Seng Electronics and Brand Cellar *