BEX and MCE Asia 2018 – 5th to 7th September
The Singapore Green Building Week recently took place at Marina Bay Sands Expo and Convention Centre from 5thto 7th September 2018, with its two flagship trade platforms, Build Eco Xpo (BEX) Asia and Mostra Convegno Expocomfort (MCE) Asia. It was officially opened by  Lawrence Wong, Minister for National Development and Second Minister for Finance.
I attended The Singapore Green Building Week, visited BEX Asia and MCE Asia 2018, while I don't come from a developer, property management or project management perspective, I visit this from a technology writer and as a person who is interested in green/eco aspect of things.
During my two days visit to BEX Asia and MCE Asia 2018, the public relations folks from Ying Communications helped me out with a few exhibitors to visit that I am able to cover and write about them from my areas of  (B2C and B2B) technology interest and coverage. I also had the opportunity to have a chat with some of the exhibitors too during my visits! There was a seminar presentation and panel discussion on this topic, "Is Green Financing a Fad?" on the Wednesday 5th September 2018 morning, I was glad that I managed to attend this seminar and listend to the various speakers. This was also another area of interest since I had previous working experience in the financial industry.
Therefore, I would be writing on a short write up on the exhibitors that I visited in another separate article after this article is published. For this particular article, I would be sharing more on the general and overall key information and highlights of The Green Building Week 2018.
Let me share some key information and highlights of the Singapore Green Building Week:
The Singapore Green Building Week with its two flagship trade platforms  Build Eco Xpo (BEX) Asia, Southeast Asia's leading trade exhibition for the region's green building market, and Mostra Convegno Expocomfort (MCE) Asia, a regional HVAC-R, water and energy exhibition, offer visitors a glimpse into the array of innovations that will soon become the norm in buildings and spaces of the future.
This took place from 5th to 7th September, along with the annual International Green Building Conference (IGBC), offer a strategic platform for key stakeholders to deliberate on the future of green buildings and sustainable development in the region and globally
Diverse solutions to cater to Asia's diverse needs
Capturing attention on the show floor this year is Surbana Jurong's curated showcase, "City of ____". Depicting the possibilities that technology can bring to future cities, the setup brings to life an environment that integrates sustainable, smart and productive technologies to transform how humans interact with their surroundings. The life-sized urban mock-up will allow visitors to visualise how spaces associated with living, work and play can be reimagined to bring about an improvement in quality of life.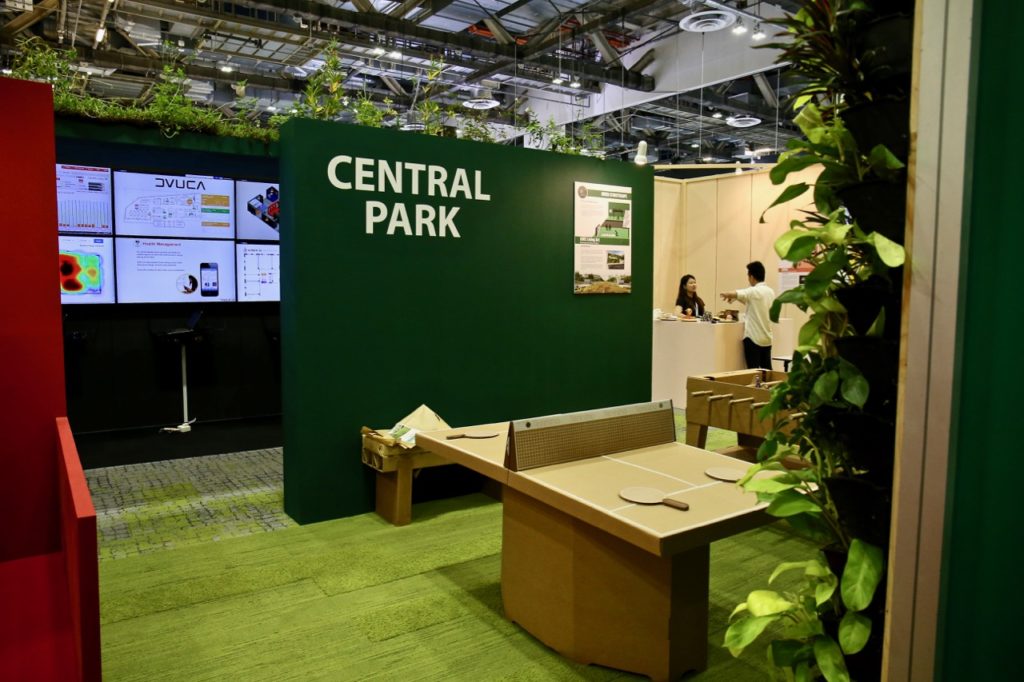 Making innovation in green buildings and energy efficiency the gold standard
Visitors at BEX and MCE Asia 2018 are getting a first look at several innovations to be launched at the events. From industrial applications to commercial buildings and even homes, over 400 exhibitors from 31 countries will provide a comprehensive look into innovations that are continuously advancing the building sector.
Delta Technology is introducing the Insulated Fire Rated Curtain (IFRC), a failsafe double layer curtain that can seal off even the toughest fire outbreaks. Providing up to four hours of fire integrity and insulation, the curtain could potentially save lives in industrial emergencies.
Advancing its 'Quality Air for Life' message, Panasonic is showcasing the latest integrated air solutions, which combines air-conditioning and ventilation to improve overall indoor air quality, an important but often overlooked aspect of sustainable living.
To improve hygiene and enhance convenience for users, Dyson's Airblade Wash+Dry combines a tap and hand dryer. The smart innovation saves space in the washroom while reducing the problem of water dripping on the floor as users move from a handwashing area to a separate hand drying station.
In the home setting, Kruger's Secomat dehumidifiers help enhance indoor air quality in living spaces by maintaining a constant 40 to 60 per cent relative humidity. In spaces with limited air circulation such as basements and storage rooms, dehumidifiers help to inhibit the growth of mould and bacteria, brought about by the region's humid and tropical climate.
David Yim, Marketing Manager, AGC Asia Pacific, one of the key exhibitors at BEX 2018, said, "BEX Asia is the ideal platform to nurture interest in green building innovations and an opportunity for us to raise awareness among visitors on technologies that are transforming the built sector. For example, AGC is excited to demonstrate how next-generation electrochromic technology combats glare and solar heat in commercial and residential buildings."
Aside from the latest in glass products for buildings, AGC will continue to showcase its popular Halio smart-tinting technology that can tint uniformly in less than three minutes when exposed to light. Unlike other smart glass products, Halio looks like conventional glass, but begins tinting within 20 seconds to provide glare protection and block unwanted heat.
Other well-known names in the built environment sector present on the trade floor include Big Ass Fans, Daikin and ebm-papst. In all, BEX and MCE Asia feature pavilions from China, Germany, Indonesia, Japan and Taiwan.
During my visit to BEX Asia and MCE Asia 2018, I was able to relate to some of the exhibitors showcasing their products and technology at the The Singapore Green Building Week such as Panasonic (an internationally well-known brand), Dyson (my home has the Dyson fans and Dyson does quite a lot of advetorial), Big Ass Fans (I saw them recently in action at the recent Old Pasir Panjang Power Station Art Market).
With the guidance and help from Ying Communications, they helped me out by bringing me around selected exhibitors (within my technology writing coverage and interests) that I am able to visit, have a chat with them and learned more about their products and services. Do keep a lookout for my article, I would update with the article link here too when it is up!
Although The Singapore Green Building Week is a trade exhibition/conference, consumers can also play their part too, learning and understanding more about suitable eco-friendly measures for the home, surroundings and society. We all can play a part to make Singapore more eco-friendly, saving resources and energy, creating a better living environment for everyone of us here.
* Information and details courtesy of Ying Communications *
A big thanks to Ying Communications for the invitation to visit The Singapore Green Building Week, as well as for the warm hospitality and facilitating my tours/visits to the various exhibitors.