Celebrate World Post Day with SingPost
World Post Day falls on 9th October, it's a day for the world to celebrate World Post Day and in appreciation of the postal service worldwide that connects families, friends and businesses. To commemorate World Post Day, SingPost is organising a photo contest on Facebook. The 'Posting Moment's photo contests calls for Singaporeans to share their cherished postal moments that have made their day, and stand a chance to win an iPhone 5 amongst other attractive prizes.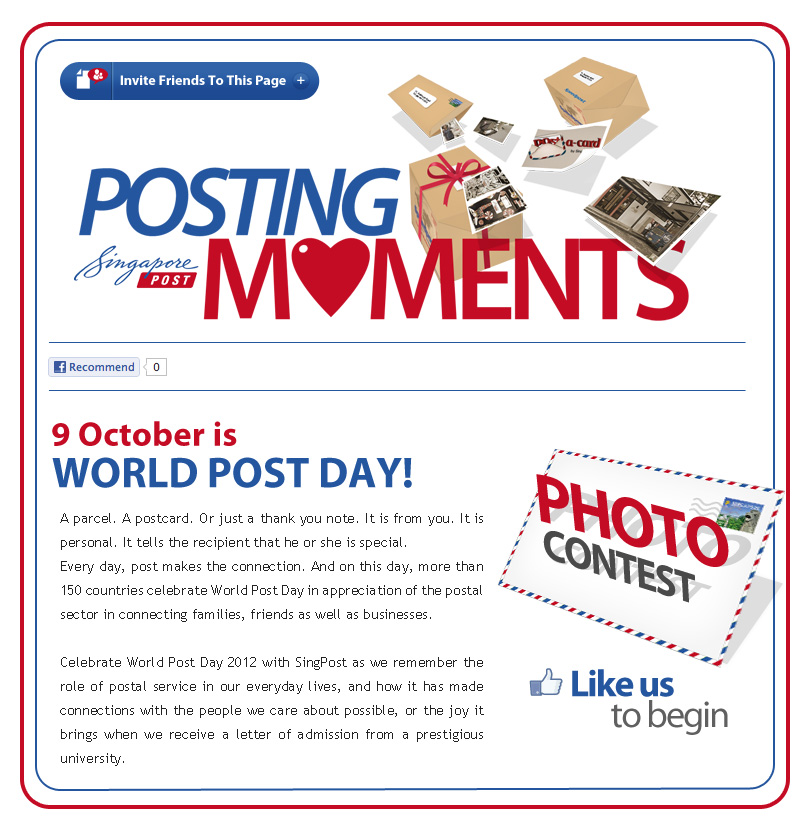 What is SingPost's "Posting Moments" Photo Contest? 
It could be a pen pal letter that you've kept for 20 years, a stamp collection belonging to your grandfather, or the postcard you just received yesterday; SingPost invites you to submit a photo capturing the essence of postal service at https://www.facebook.com/CherishedMomentsBySingPost/app_553506611329884 with an accompanying caption (of not more than 50 words). You can be as creative as you want but remember, the theme is World Post Day celebrations.
Start opening up your drawer, locker or cupboard and look for your old stamps collection, memories, letters, postcards etc etc … How about chatting with your grandparents, relatives and friends on how the postal service connects them and gave them memories and moments and share with your family and friends?
You never know what kind of Posting Moments that you might discover, it could be priceless!