There was once upon a time, I looked at this brand called Apple and wasn't too interested nor too fascinated by what they designed and why was it so special and unique. Things took a 360 degrees change when I finally bought my Macbook, a trusty and very popular laptop series by Apple and my world changed. The ease of use on the Mac OS X and interface is beyond words, easy to adapt and use, after the initial hurdles of learning a brand new OS and conquering a fear (that actually isn't a fear at all).
From the iPods, starting from the iPod classic, redesigning, re-innovating and re-generating itself, the growth is phenomenal and huge. Although I didn't own an iPod and thought of owning one, the arrival of the iPhone 3G revolutionise and expedite my entry into the other side, some calling it a cult, it's the Apple revolution, culture and belonging.
When Steve Jobs announced his decision to step down and hand over the reins to Tim Cook, it was like the end of an era, yet it also signify the start of another era in Apple technology and innovation. Looking back at Steve's timeline, from the pioneer days to the remarkable growth days, he's a great man beyond his peers, ranked among the great entrepreneurs and a master of leadership, innovation, vision and change. While I am taking the step to learn more about his entrepreneurship and vision, how he dealt with competition and leveraging. Steve Jobs will always stand high and above the rest, with the few elites of great innovative visionary leaders.
Here are some personal thoughts
– the iPhone revolutionsing the growth and expansion of social media networking on the move
– the iPad bringing the world of work & leisure into a portable handy powerful tablet with the best of both worlds along with social media connectivity
– iPods ~ brining songs to your daily life in different shapes, sizes and storage spaces, something for everybody from young to old, in different striking attractive colours too!
– MacBook Air ~ a beautiful marriage of a powerful laptop with portability, for work and leisure, all day round.
– Innovating, improving and getting ahead of their competitors
How did the world pay tribute to this great man Steve Jobs ?
Infographic Source : OnlineSchools.org
Take a look at London Creative Digital Steve Jobs Infographic !

Source : London Creative Digital 
Newsweek's The Daily Beast shared Steve Jobs 10 Commandments – The Genius and his creative process
Infographic Source: OnlineSchools.org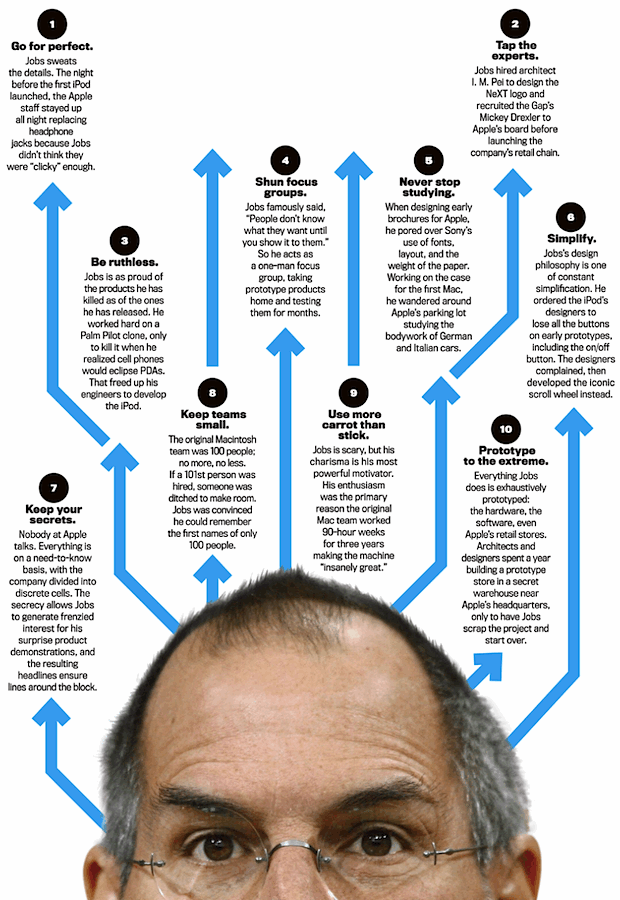 Source : Newsweek The Daily Beast
Paying tribute to a genius and his creativity, a role model to learn from, not so much of designing a technology gadget, it's about bringing it up and high above, a brand that goes beyond the stars, a following that just gets bigger, a vision that not many can dare or for-see into the future, this is Steve Jobs.