A refreshing, interesting and eye opener one day conference bringing businesses, technology, digital transformation, innovation and panel discussions by a market leader in document management solutions in Singapore. Fuji Xerox Singapore kicked off their inaugural Innovation Re:Mix Forum in January 2019 at the Marina Bay Sands Expo and Convention Centre, with a charismatic opening address by Ms Sara Cheng, CEO, Fuji Xerox Singapore.
Attending such a Business to Business (B2B) type and style of business seminars can be pretty dry at times yet Fuji Xerox Singapore Innovation Re:Mix Forum changed and injected fresh perspectives beyond just using machines at your workplace, through experiential showcase of their products via real life business applications and examples. On top of that, they invited key business leaders from various industries to their Innovation Re:Mix Forum for panel discussions on the topics of latest business strategies, digital transformation, innovation, impacts on technology, adapting for a future digitally connected working environment.
"The Innovation Re:Mix Forum is Fuji Xerox Singapore's premier event of 2019 targeting champions of business transformation and workforce innovation", said Ms Sara Cheng, CEO, Fuji Xerox Singapore. "By harnessing the collective powers of Machine, Digital and Human Intelligences, we aim to use the event as a platform to inspire business leaders from enterprises and SMBs across Singapore to embark on a digital transformation journey and build a future-ready organisation."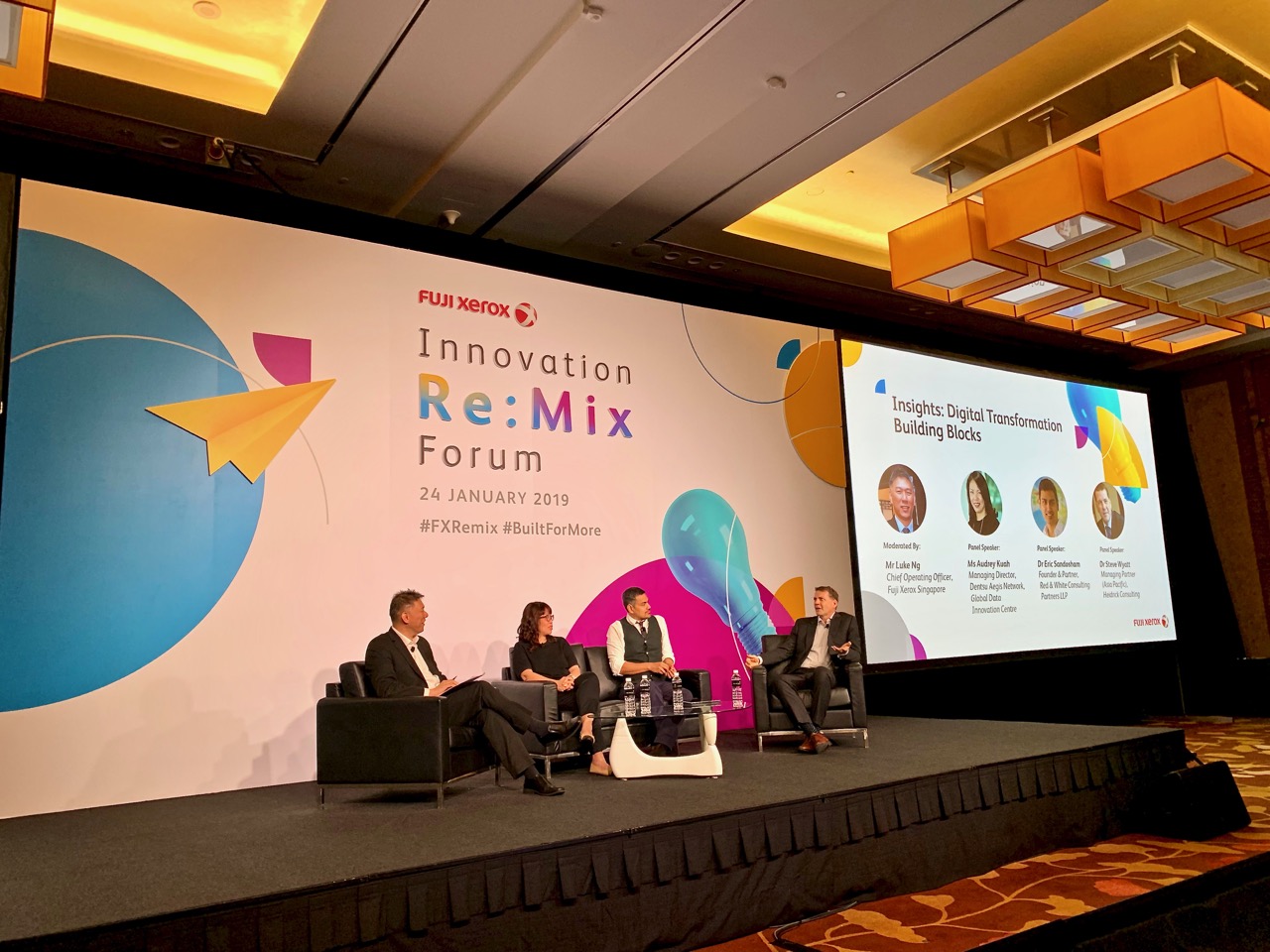 Along with Ms Cheng, CEO, Fuji Xerox Singapore, the list of noteworthy speakers at Fuji Xerox Singapore inaugural Innovation Re:Mix Forum incliudes:
Mr Leon O'Reilly, General Manager, Regional Solutions Group, Fuji Xerox Asia Pacific
Mr Ian Wilson, Senior Vice President of Non-Gaming Operations, Marina Bay Sands
Mr Kevyn Yong, Associate Professor, Management Department Associate Dean for Corporate Programs, ESSEC Asia Pacific
Ms Lay Hoon Tan, Chief Operations Officer, Manulife
Mr Steve Wyatt, Managing Partner (Asia Pacific), Heidrick Consulting
Mr Eric Sandosham, Founder & Partner, Red & White Consulting Partners LLP
Ms Audrey Kuah, Managing Director, Dentsu Aegis Network, Global Data Innovation Centre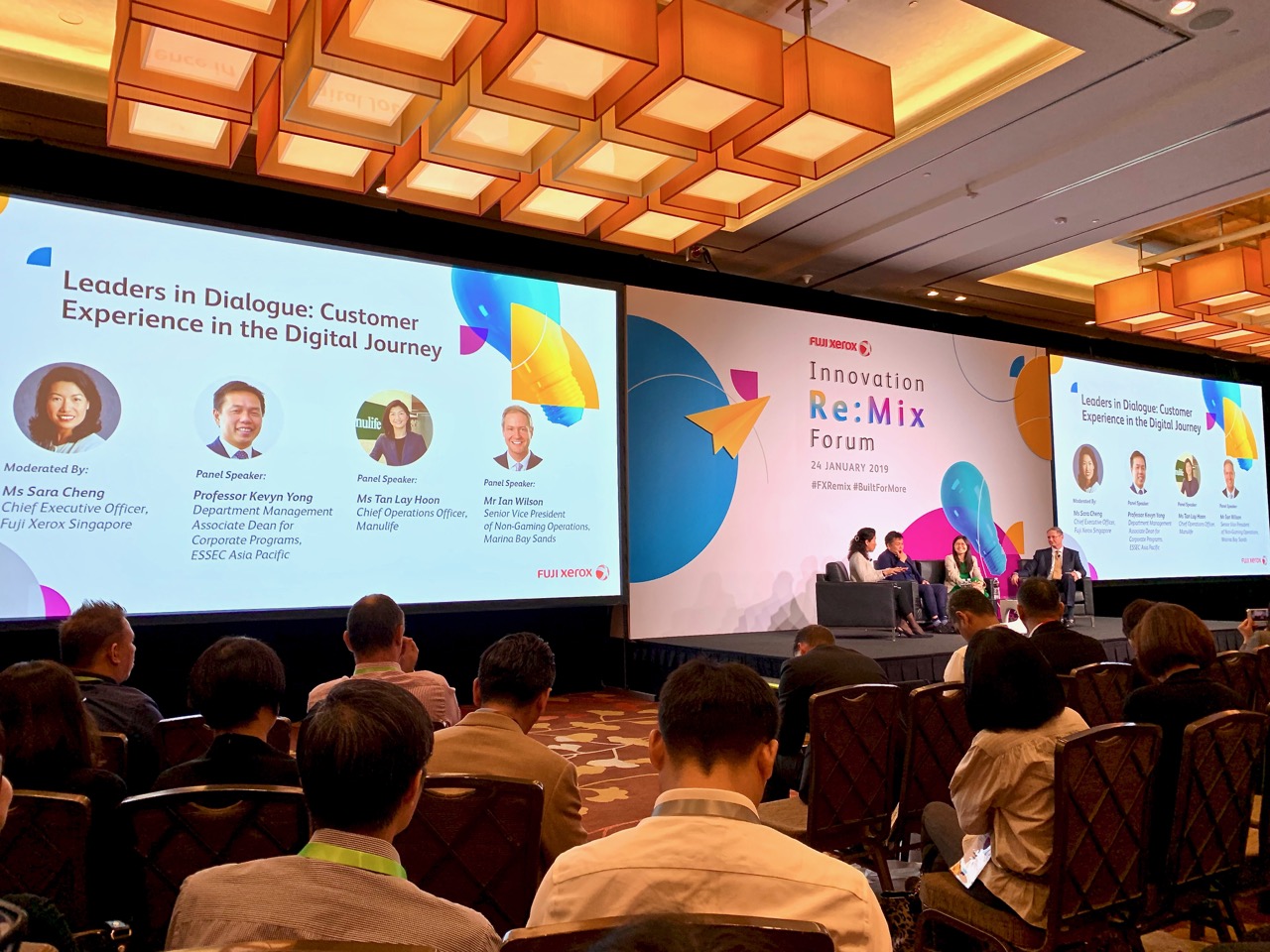 Listening to the panel discussions by the list of speakers were insightful and valuable for me, whereby attendees were able to learn, see, hear and understand real life examples of B2B technology and solutions being used in real life work environments, along with the improvements and challenges  that they faced in their businesses/industries with digital innovation, disruption and transformation.
At the Fuji Xerox Innovation Re:Mix Forum, attendees were brought for an experiential journey through Fuji Xerox's innovation showcase, beyond just showing machines, there were three experiential zones namely, "Machine Intelligence", "Digital Intelligence" and "Human Intelligence"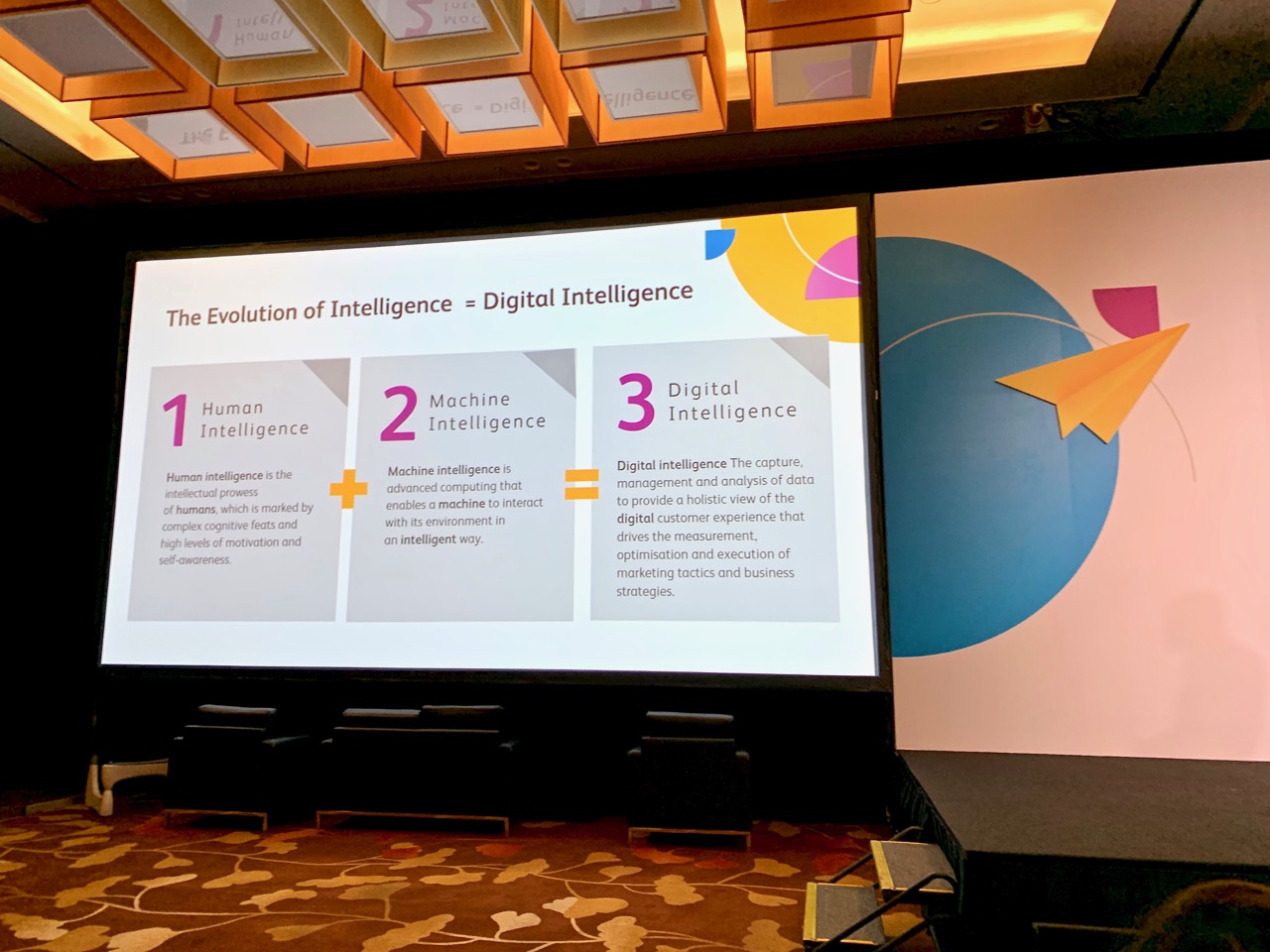 Machine Intelligence at Re:Mix Collection
The main highlight of the Innovation Re:Mix Forum, this zone showcased Fuji Xerox's production printers, presenting cuttting-edge paper couture, creation possibilities, versatility and power of their machines through fasion art.
One of the memorable highlights for me was the fashion show catwalk, featuring amazing paper dresses designed and printed by Fuji Xerox's specialists and equipment.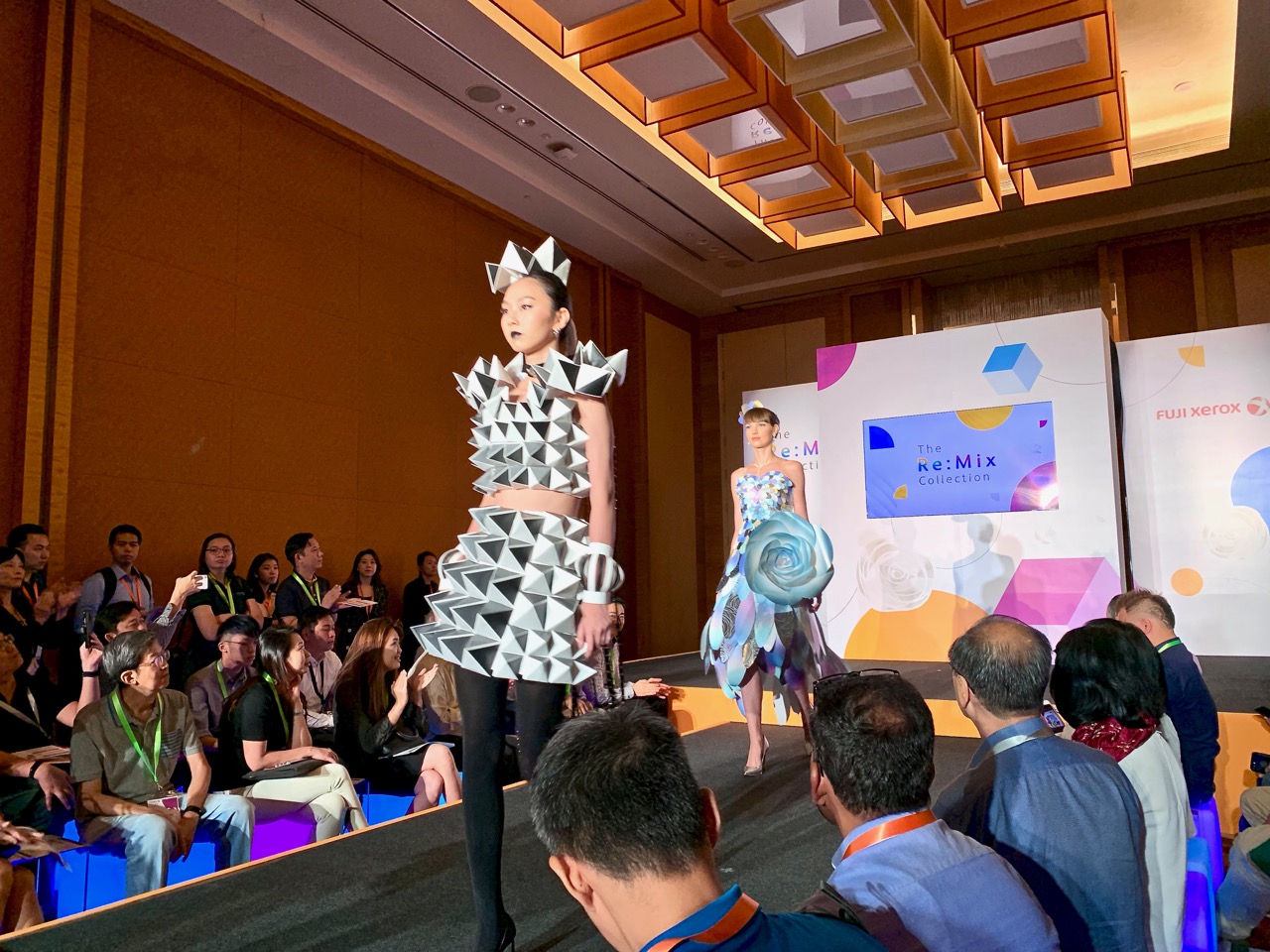 Digital Intelligence at Re:Mix Solutions
A fun video skit performance by two funny, endearing and oddball buys Ken and Sean, showing the administrative/printing troubles in a generic office space (that attendees can probably relate to in real life work) while highlighting the key values of Fuji Xerox's new ApeosPort-VII / DocuCentre-VII Series: Security, Digitization, and Print Management.
This is digital intelligence, the central theme at the Re:Mix Solutions, highlighting Fuji Xeroxs document management solutions.
Human Intelligence at Thinking Lab
At this Thinking Lab zone, this showcased how Fuji Xerox's consultants make a difference during the digital transformation pre-assessment process, an important and critical part of the transformation journey.
The three key sequential lab processes through simple and interactive activity segments are:
Assessment segment: Identify with problem statements and current predicaments
Analytic segment: Understand and analyse information from the assessment
Solution segment: Display intelligence and experience required to produce the most effective solution.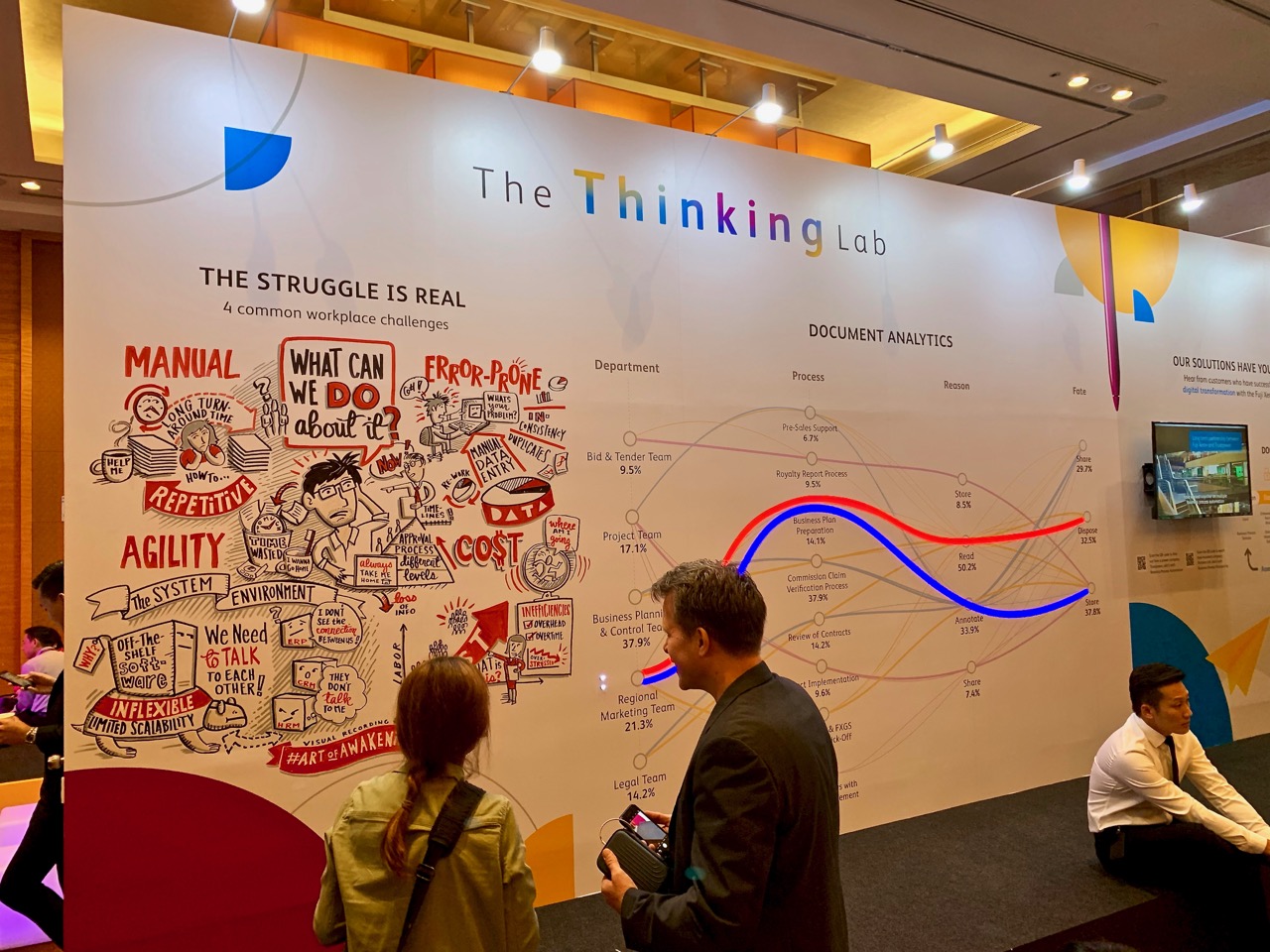 Fuji Xerox's latest solutions and products
Attendees at Fuji Xerox Innovation Re:Mix Forum were able to view Fuji Xerox's latest solutions and products, their new series of production printers, digital automation and workflow solutions.
(New) ApeosPort-VII / DocuCentre-VII Series – Your Smart Business Enabler
(New) PrimeLink C9070/C9065™ Printer Series
(Showcase) Robotic Process Automation (RPA)
(Showcase) Workflow Automation (WfA)
If you are looking for innovative document management solutions for your business, you can learn more about Fuji Xerox at their website – http://www.fujixerox.com.sg/.
I would like to thank Fuji Xerox Singapore and Huntington Communications for the invitation to Fuji Xerox Inagural Re:Mix  Forum.