New Ariston Products for Singapore Market
Ariston recently launched new Ariston products for Singapore market. If you are a Singapore home owner or planning to own your new home, whether it's HDB or private property, check out the new Ariston WI-FI electric storage water heaters  that now comes with voice control, parable with Amazon Alexa and Google Assistant, as well as slimmer and sleeker electric instant water heaters customised to fit Singaporean homes!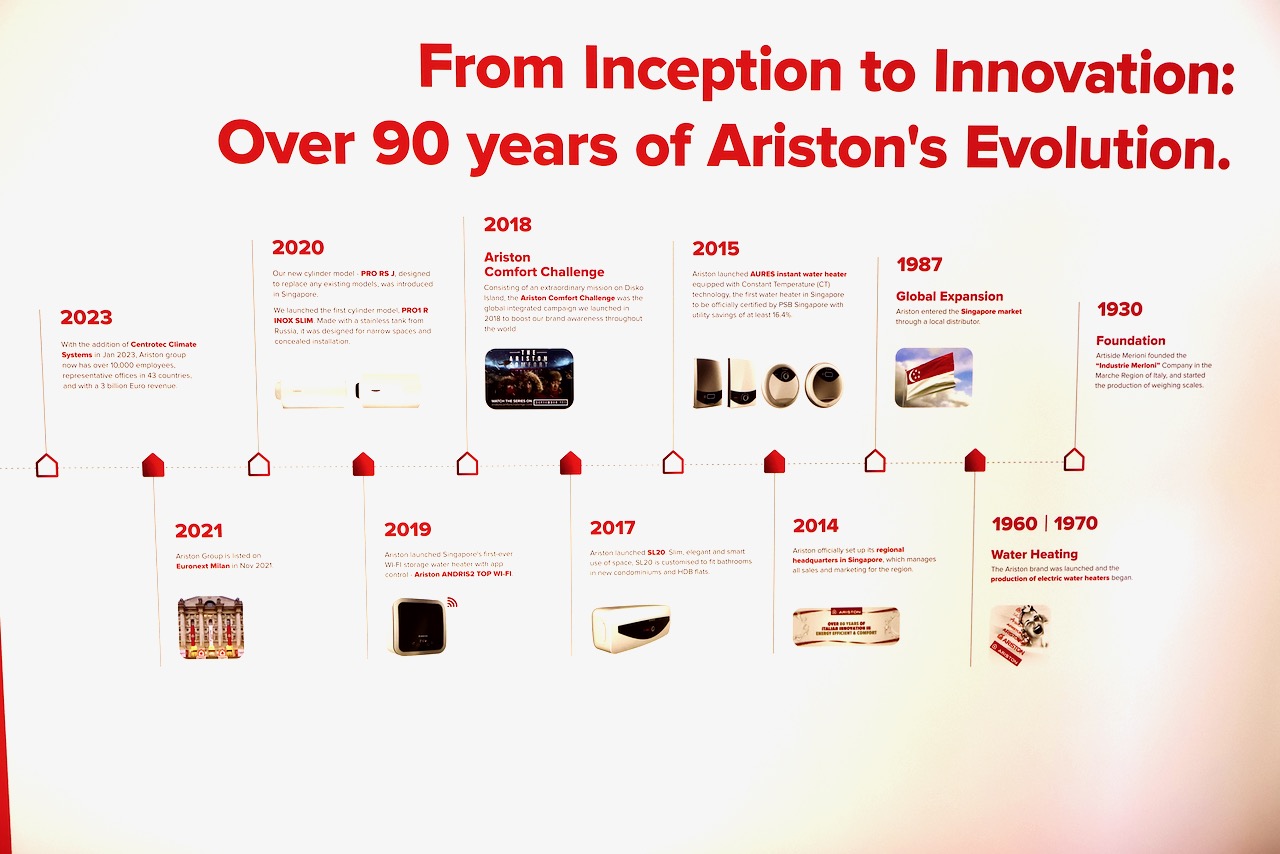 Ariston WI-FI Electric Storage Water Heaters
Ariston once again remains the first and only brand in Singapore to introduce a full new range of WI-FI electric storage water heaters, now with voice control functions. This new range of WI-FI electric storage water heaters is integrated with the main smart home platforms: Amazon Alexa and Google Assistant, connecting users conveniently with their smart water heater. Home owners can now easily turn on/off their water heater, adjust water temperature and receive information about current temperature via voice commands.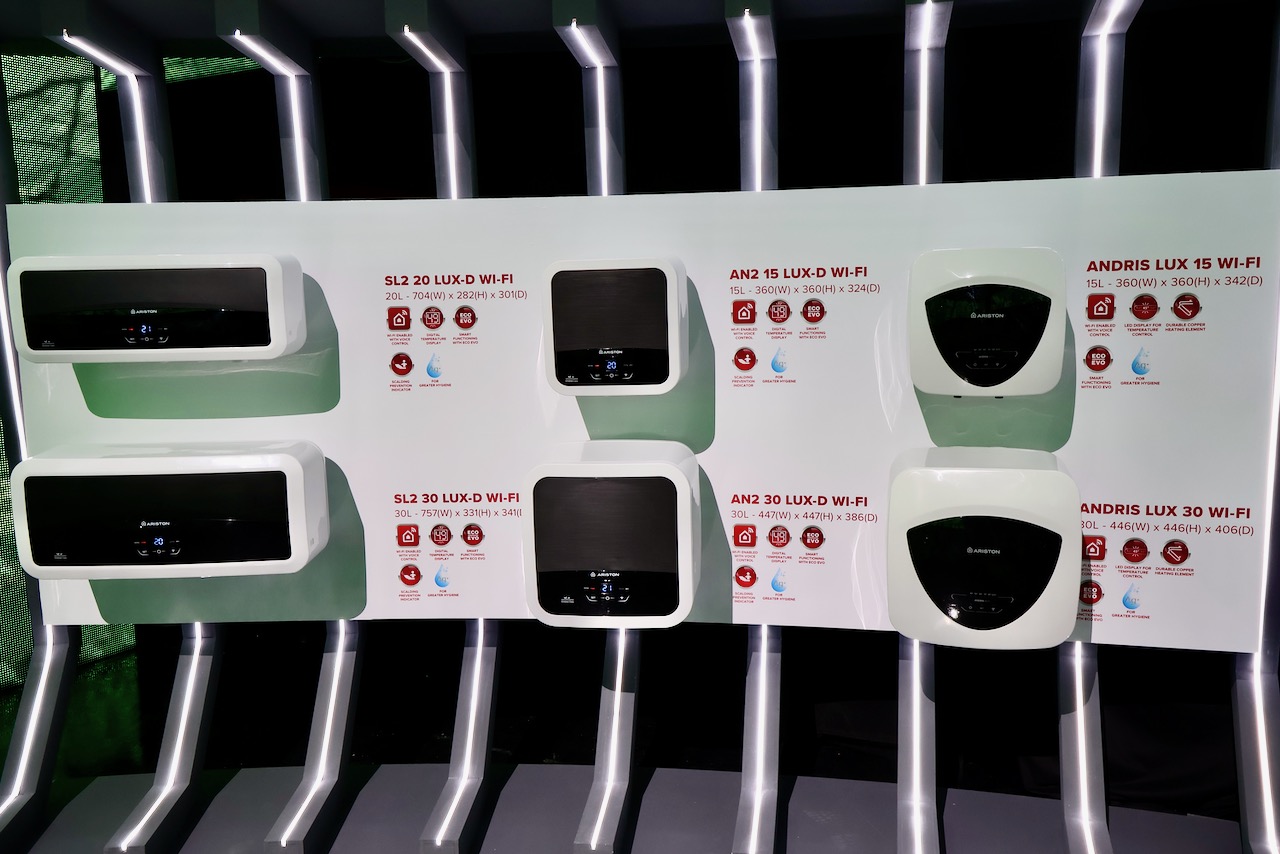 Ariston ANDRIS2 TOP 30 WI-FI and SL2 20/30 LUX-D WI-FI
The Ariston ANDRIS2 TOP 30 WI-FI and SL2 20/30 LUX-D WI-FI are equipped with a patented full-titanium heating element that comes with lifetime warranty, energy saving smart ECO EVO function and AG+ technology that inhibits bacteria proliferation for better hygiene.
Ariston has always been committed to developing products that last through time. They are also the first electric water heater manufacturer in the market to use titanium against water corrosion since 25 years ago.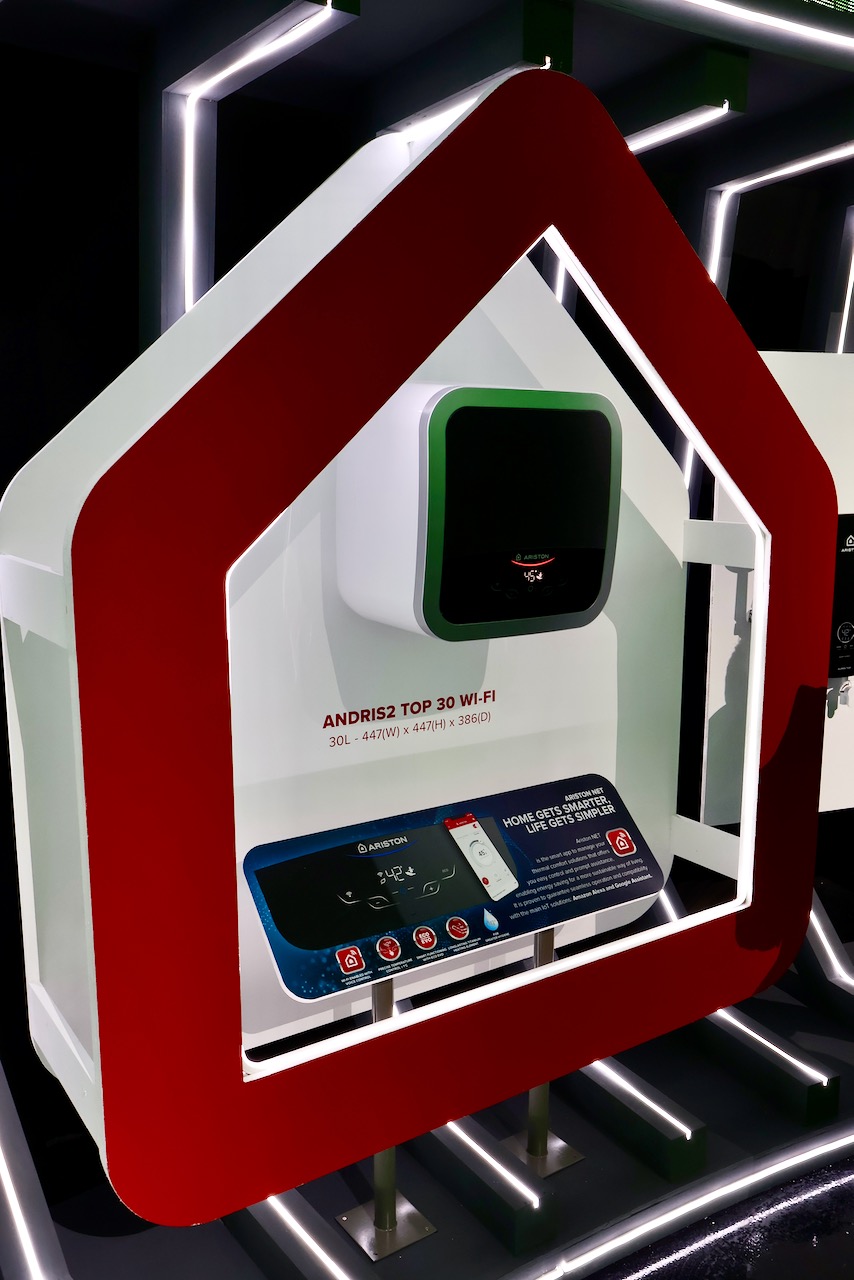 Ariston NET – Smarter Home, Simpler Life
Ariston NET is the smart app that you need to manage your thermal comfort solutions for your home, with its easy control and promote assistance, enabling 25% energy savings for a more sustainable comfort of living.
Voice Control
Ariston NET is the key for smart homes with voice control functions: Pairable with Amazon Alexa and Google Assistant.
Easy Control
Designed for users' comfort. Ariston NET has been designed to give the best user experience possible. Ariston's team of experts are constantly improving the user friendliness-of Ariston NET with a simple and intuitive interface.
Energy Saving
Ariston NET is the best way to learn how to improve energy consumption, allowing users to save up to 25%.
Get Prompt Assistant
Ariston NET helps to identify technical problems and get them fixed as quickly as possible. Users can find all the information without any effort: The error code and description to facilitate technical assistance, and the details of the nearest service centre.
Download Ariston NET on Apple App Store or Google Play Store
Ariston AURES
Arison AURES electric instant water heaters are well known for its Constant Temperature (CT) technology. Now, there is an upgraded range, it's slimmer and sleeker, which are designed specially to fit perfectly into Singaporean homes in looks and in size. The stylish and luxurious Ariston AURES integrates cutting-edge elements for the ideal bathing experience.
Ariston's AURES range has earned the prestigious Good Design Award, thanks to its luxury design and outstanding features, as well as for its high levels of simplicity of installation and operation. Ariston's AURES range that are equipped with CT technology is the first to be officially certified by PSB Singapore to be energy saving of up to 25%.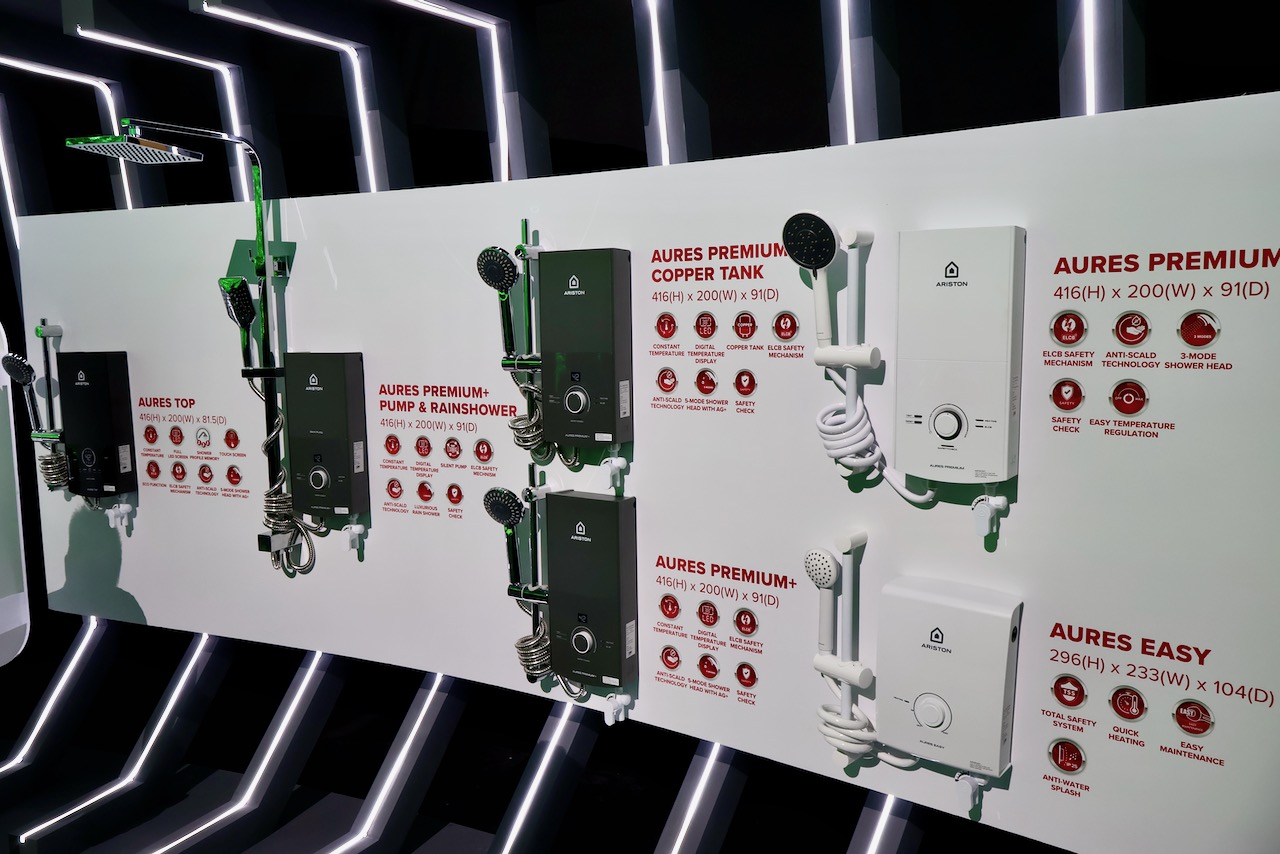 Constant Temperature (CT) Technology
Ariston was the first in Singapore to launch its range of electric instant water heaters with CT technology in 2016. The sensors and newly developed software allow the heater to measure both the temperature, and flow of the inlet water. It also adjusts the heating power to deliver the best electric instant water comfort for the user, while maintaining the constant hot water temperature.
Earth-leakage Circuit Breaker (ELCB) Safety Mechanism
The Ariston AURES electric instant water heaters are now equipped with ELCB, providing an additional safety point. If a dangerous electric leakage is detected, the built-in double pole ELCB in Ariston AURES range will interrupt the electrical circuit, avoiding the risk of electric shock.
Safety Check Feature
When the power is connected, Ariston AURES range proactively scans components to ensure correct and safe operation. If all parameters are functioning properly, the Safety Check lamp will remain blue. If a problem is detected, it will begin to blink.
Memorised Temperature Preference for up to 3 Users
The AURES TOP offers the opportunity for users to memorise their preferred temperature of up to 3 different profiles by using the specific buttons on the interface. Just by a simple touch, users will enjoy the shower temperature that they prefer – this is especially convenient for families with kids and the elderly.
Anti-Scald Technology
With its temperature lock feature, AURES range instantly interrupts the heating cycle when the preset temperature is reached. Moreover, this newly developed patented tank which prevents the residual heat of water when changing the operation mode, further reduces the risk of scalding when users turn on the shower.
Silent Pump for a Powerful Rain Shower Experience
Ariston's brand new AURES Premium+ with silent pump and rain shower provides a strong water jet for an optimal shower experience. This is also the quietest in its class, offering noise levels of as low as 42.7 dB(A).
Pricing and Availability
Ariston AURES range
The Ariston AURES range will be available at all authorised dealers from May 2023, retailing from $139.
Ariston WI-FI Electric Storage Water Heaters Range
The Ariston WI-FI range is now available now at all authorised dealers from $399, as for the  ANDRIS LUX 15/30 WI-FI range, they will be available in Singapore from June 2023.
* Information courtesy of Ariston and Brand Cellar *
** A TGH Photography x Canon EOS R50 Explorer Series Production **