A Fun & Exciting Nike+ Human Race 10k!!
It was early in the morning, boarding the MRT train and seeing a common shirt, it's red in colour,  same design and brand, it's the Nike+ Human Race 10k 2009 running tee ! Many runners were gathering today in Singapore, for a worldwide running event.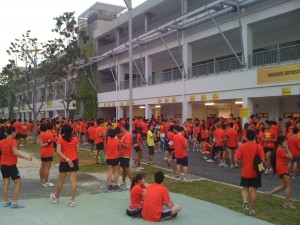 Walking from City Hall MRT Station to the start point at the F1 Pit Stop, it was a trail and sea of Red ! Many more runners participating in the Nike+ Human Race 10k, upon reaching the F1 Pit Stop, depositing my bag, went to the start point and warm up, met Viktor and waited for the run to begin ! The crowds were big, great, lively and awesome, a great carnival and sporting atmosphere, supported by rock bands from the region.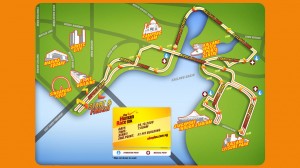 From the running route map, it was a wider running route compared to last year, however, certain parts of the running route was a single lane bottleneck and with the big number of runners, it was quite crowded and slowed runners down. I also felt that the water points could have been more, the weather in Singapore recently was pretty or very hot, more water supply points would be good.
From a running & training perspective, my timing was 1 hr 7 mins 27 s, do check out the Nike+ Human Race 10k Singapore site for my running time ! My personal target was 1 hr, slightly off my target, overall, felt I had an enjoyable run along with a good workout, building up to my Singapore Marathon in December 2009.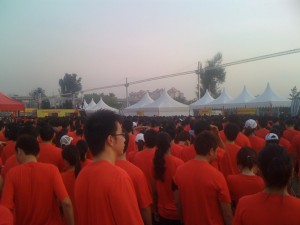 At the end of the run, it was nice to see apples, bananas and ice cream for the finishers, although, I gave the ice cream a miss…. Many happy and tired runners faces, lots of fun, enjoyment and perspiration ! Hope you all have a fun and exciting time at the Nike+ Human Race 10k  Singapore 2009 !