A rainbow, a beautiful sight on Earth, one of the many wonders by our Mother Nature. I was able to spot rainbow a number of times over the years at different locations in Singapore, it's always a blessing to be able to see a rainbow.
A double rainbow, is much harder to spot and I haven't personally spot a double rainbow since the year 2012, check out my previous post here when I shared about my double rainbow story!
On 8th July 2017, I was at the Marina Bay area, on the Esplanade side, photographing National Day Parade (NDP) 2017 rehearsal, this was the National Education 2 (NE2) show. While photographing the pre-parade performances around the Marina Bay, a rainbow appeared above and behind the skyline of Marina Bay Sands! The sight was really gorgeous! A lot of the visitors present around Marina Bay were probably photographing away the view of the rainbow!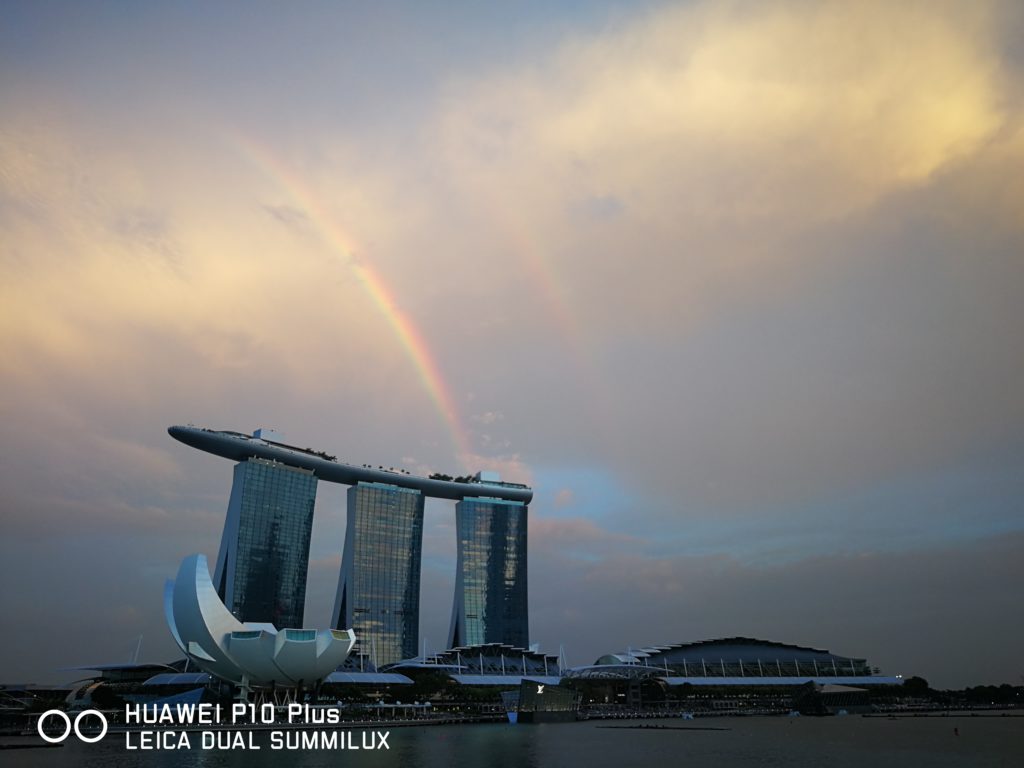 As the time quickly progressed, a faint second rainbow appeared at the side of the main rainbow! Finally, I managed to spot a double rainbow again! I quickly turned my attention to the double rainbow, photographing and capturing this wonderful image down on my cameras and my memories. This photograph, was a perfect theme for my number 5,000th post on Instagram, a personal milestone for me, a perfect fit with this double rainbow!
It's not easy at all to spot a double rainbow and this is a blessing for me, considering the difficult and tough times for my photography business. I am glad that I managed to capture this with the Huawei P10 Plus, a smartphone that I am reviewing currently!
This article titled "Journey with me along with Huawei P10 Plus", is a prelude to my review articles and photographs that I would be sharing at the end of the Huawei P10 Plus review. For the next few weeks, walk with me, through my eyes, thoughts, views and journeys with the Huawei P10 Plus.
I am also taking this opportunity to constantly remind myself again and again, in this post that I wrote … it's time to return back to creating quality content with my photographs and stories, through my own vision and direction.
Concentrating and focusing on this area, I can let the toxic and bad wolfs stay away from my brain, heart and soul. I must and I need to let go of the toxic and nasty people around me.
The Huawei P10 Plus smartphone review set is like a lucky star for me, spotting the double rainbow and re-igniting the photography and creative spark inside me again.
You'll Never Walk Alone! Onward!