For all the Apple Mac users out there, I have this news to share with you! Parallels recently launched the Parallels Desktop 14 for Mac and this would be an ideal solution for you if you need to run Windows applications on your Mac!
At the recent launch event in Singapore, I was introduced to Parallels Desktop 14 as well as a demonstration on Parallels Desktop 14 running on an Apple MacBook Pro. I finally get to understand and know more about Parallels Desktop software, this program is something that suits my needs and uses, as I do need to run some programs that only run on Windows platform.
I can have the best of both worlds, running both Mac OS and Windows OS on my Apple MacBook Pro laptop. If you are a Mac user like me, the Parallels Desktop 14 is something that you can seriously consider or get it installed and running on your Mac devices.
Once I am able to settle down on my upcoming time schedule for my photography business and writing of articles, I would be planning to install Parallels Desktop 14 on my Apple MacBook Pro and share my experiences, with my readers here!
Now, let me share more on information and details on Parallels Desktop 14 for Mac:
 Parallels (parallels.com/about), a global leader in cross-platform solutions and creator of the #1-selling software for running Windows® applications on a Mac®, launched Parallels Desktop® 14 for Mac (parallels.com/desktop), which provides macOS® Mojave–readiness. Upgrading to Parallels Desktop 14 offers significant storage savings, faster launch times, improved graphics and the latest versions of Parallels® Toolbox for Windows or Mac (parallels.com/toolbox). Through Parallels Desktop 14, customers now have access to more Windows features on Mac than ever before. 
"Millions of Parallels Desktop customers highly value performance and efficiency," said Jack Zubarev, Parallels president. "With Parallels Desktop 14, we've taken those to the next level by focusing on graphics and storage, allowing customers to save as much as 20 GB of disk space while enjoying the best-ever performance. Personal productivity enhancements include more Windows features available on Mac devices. Touch Bar™ support for Windows applications—such as OneNote or Quicken—enables customers to add their favorite applications to the Mac Touch Bar so their shortcuts are at their fingertips."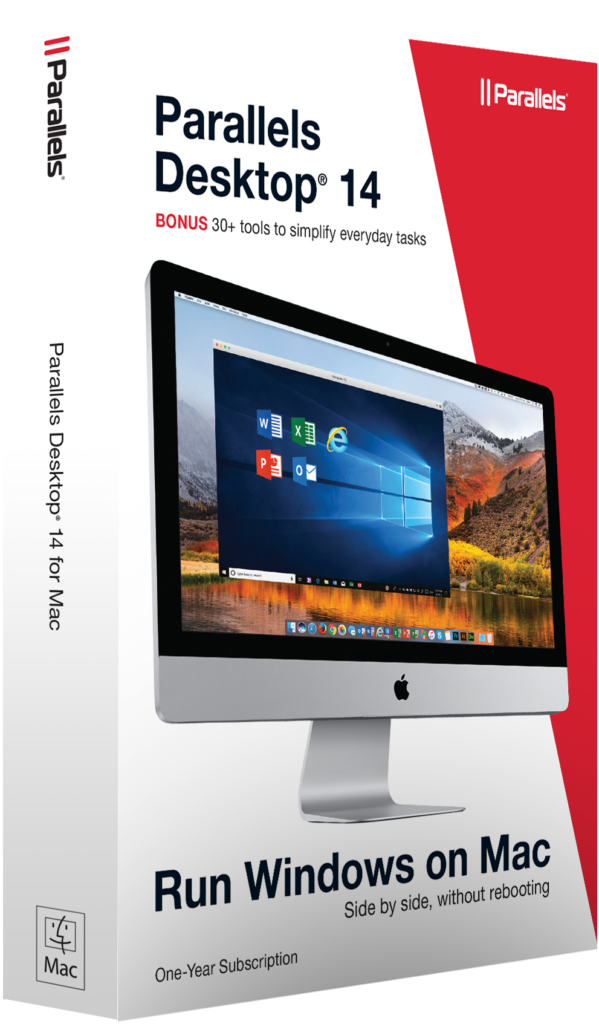 Enhanced Storage Optimisation 
Typically, virtual machines are large, taking anywhere from 15–100 GBs of space or more. With two different storage mechanisms at work (Windows and Mac), newly engineered storage optimisation that takes both Windows and Mac mechanisms into account can result in significant disk space savings.* The new Free Up Disk Space dialog that suggests storage-saving actions now better handles multiple virtual machines. Newly created snapshots occupy up to 15 percent less disk space. 
Keep Melting the Border between Windows and Mac 
Parallels Desktop 14 now enables customers to use Microsoft Ink to edit Microsoft Office for Windows documents on a Mac, including pressure-sensitive support in applications such as PowerPoint, Microsoft Edge, CorelDRAW, Fresh Paint, Leonardo, openCanvas and Photoshop for Windows.** 
Preconfigured Touch Bar sets for the following applications have been added to Parallels Desktop 14: Microsoft Visio and OneNote, SketchUp, AutoCAD, Revit, Quicken, QuickBooks and Visual Studio. They join current Parallels Desktop Touch Bar sets for Windows applications, including: Office 2016 (Microsoft Word, Excel, PowerPoint, and Outlook), Windows Start Menu and desktop (Cortana, Task View and Task Bar pinned elements), File Explorer (File Open and Save As settings), ArcGIS and web browsers (Internet Explorer, Microsoft Edge, Google Chrome, Mozilla Firefox, Opera and Vivaldi). 
The Parallels Desktop Touch Bar Wizard makes it easy for users to customise the Touch Bar for thousands of Windows applications, so their function key shortcuts are at their fingertips when using the 
applications. Additionally, with the use of Touch Bar XML Authoring, users can further personalise the Touch Bar with their own customised function key shortcuts for their favorite Windows applications. 
macOS Mojave–Ready 
Parallels Desktop 14 supports Dark Mode. Quick Look issued on Windows files now shows quick actions. Support for additional Mojave features, which are currently in development, will be tested, finalised and introduced around the forthcoming public release of Mojave. 
The Parallels Desktop 14 for Mac installation image, which is notarised by Apple®, will be seen by users when it is installed on Mojave. 
Enhanced Graphic Support and 4K Shared Camera Support 
Parallels Desktop 14 now features improved OpenGL support for enhanced graphics, with notable improvements in SketchUp 2017/2018, CTVox, DIALux 8 and OriginLab. 
All view modes have been improved in terms of speed and memory usage, which is especially important when working on multiple high-resolution external displays, including those of 5K resolutions. 
Unused virtual video memory is now effectively returned to Mac system memory. Auto mode for graphics allows Windows to use more than 2 GB of Mac system memory for video purposes, while allowing Windows applications to use it when possible.*** 
Additionally, users now get a better frame rate in video conferencing and can use shared camera technology with cameras that support up to 4K resolutions. 
Parallels Desktop for Mac Business Edition 
New Business Edition features include enhanced management, plus security and licensing portals. Additional improvements include: 
Smart card readers are now automatically available in both Mac and Windows for faster access (if enabled).

 

Administrators can invite users via email and assign separate administrators for sublicenses for improved efficiency.****

 

Replace existing virtual machines in Deployment Mode to streamline productivity.

 

Applications deployed in the Single Application mode start faster, along with a new modern-looking splash screen.

 

The Parallels "My Account" portal has been redesigned to be optimised for popular use cases.****

 
More than 30+ Single-Click Utilities from Parallels Toolbox for Windows and Mac New and popular Parallels Toolbox tools include: 
Screenshot Page – Capture and print lengthy webpages that don't fit onto your screen. Take and print screenshots of webpages in one click—even pages longer than your browser screen.

 
Watch demo videos:
"How to Capture Lengthy Webpages – "Snagit 2018 vs. Parallels Toolbox" and "How to Capture a Full Webpage Screenshot with a Safari Extension" 
Free Memory – Reclaim RAM memory and optimise its consumption on your Mac. Add this Free Memory tool to the macOS menu bar to easily check how much RAM is available with just a click and reclaim available memory.

 

Resize Images – Batch convert images to your desired file size and format. Simply drag the source images to the tool's window, specify the desired dimensions/size and output location, and click.

 
Parallels Desktop 14 Performance 
Significant performance improvements include: 
Up to 200 percent performance improvement on the iMac Pro® (audio and video encoding, AI, 3D modelling, cryptography and other complex math calculations workloads) thanks to AVX512 Intel Cannon Lake processor instructions set support

 

Up to 80 percent faster application launch

 

Up to 10 percent faster boot time

 

Up to 30 percent faster suspend operation on APFS partition
Up to 130 percent more frames per second in Shared Camera
Up to 17 percent more frames per second in Coherence view mode
The CPU usage indicator has been added to the title bar to give a better understanding of high CPU usage in Windows. Resource Monitor is completely redesigned to show Mac resources along with the impact that multiple virtual machines have on them. 
Availability and Pricing 
Today, Parallels Desktop 14 for Mac, Parallels Desktop 14 for Mac Pro Edition and Parallels Desktop for Mac Business Edition are available for subscribers and upgraders from Parallels Desktop 12 and 13 (parallels.com/upgradepd14), as well as new customers, online at parallels.com/desktop and at local retail and online stores worldwide. Free 14-day full-featured trials are also available for download. 
The recommended retail price (RRP) of Parallels Desktop 14 for Mac is US$79.99 for an annual subscription or US$99.99 for a perpetual license.
Parallels Desktop for Mac Pro Edition and Business Edition are each available to new customers for US$99.99 per year.
Parallels Desktop 12 and 13 perpetual license customers can upgrade to Parallels Desktop 14 for US$49.99, or upgrade to a Parallels Desktop for Mac Pro Edition subscription for US$49.99 per year.
Parallels Desktop subscriptions include a complimentary concurrent subscription to Parallels Toolbox for Mac or Windows (parallels.com/toolbox), as well as Parallels Access® (parallels.com/access). 
*Results in virtual disk optimisation will not be immediate after upgrade, as these optimisations happen in the background. Only Windows 8 and 10 are supported. 
**Perpetual license. 
***Auto mode is available only after Parallels Tools update in Windows 8 or Windows 10. 
****New Parallels My Account features became available to users before Parallels Desktop 14 release. 
* Information and picture courtesy of Parallels Singapore and IN.FOM *