My training runs for my upcoming Singapore Standard Chartered Marathon 2009 in December 2009 is underway, I started my training schedule this week (was supposed to start last week) and I reset my training mileage to ZERO km and start from scratch. Completed 2 x 2.4km over the past 5 days, glad to have Ray Lim training together. Ray's training for his physical fitness test that is coming up at the end of September while my preparation is for the 42.195km distance.
It's good to have another running buddy or group, they would be able to motivate you and help out one and another during the training runs and pushing you harder at certain stages of the training runs schedule. One reason why people don't run in groups could be due to the peer pressure exerted on them and they would not be able to catch up and "chase" their training buddy or group members.
Some of my current training schedule notes
(1) Week 14th Sep to 20th Sep – Distance to be completed ~ 5km per training run, 2-3 runs for the week
(2) Endurance and physical conditioning and gaining mileage
(3) Building up endurance and gaining mileage before going for speed and timing runs, in a different week after that
My training runs are planned and based on my current physical conditioning and running experiences, it might not be totally applicable, different runners of different running levels and experiences, if it helps you (my running reader), I am more than happy to share my knowledge.
Next up ……. my running shoes. My current Asics Gel Komodo had served me very well for my many many runs, probably over 300km covered, it's not light in weight, however, extremely durable and lasting. On that note, wear and tear is getting into my Asics Gel Komodo and signs had shown …… It's time to "Stand Down" and replace it.
With regards to selection of running shoes, there would be countless reviews, comments, ideas, favorites on which brand and model of running shoes would be suitable and best for marathon running. I respect their point of views and after my own running experience and research, I am looking at Asics Gel DS Trainer 14 to replace my current running shoes –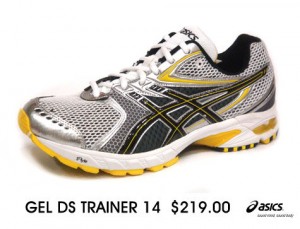 Photo Source : Asics Singapore
Would update my readers here when the replacement and handing over is complete ! Happy running folks ! Lead a healthy and sporting lifestyle !